Into The Fire (Into The series #3) by T.a. McKay
Release date: January 30th 2015
Cover designer: K23 Photography and Design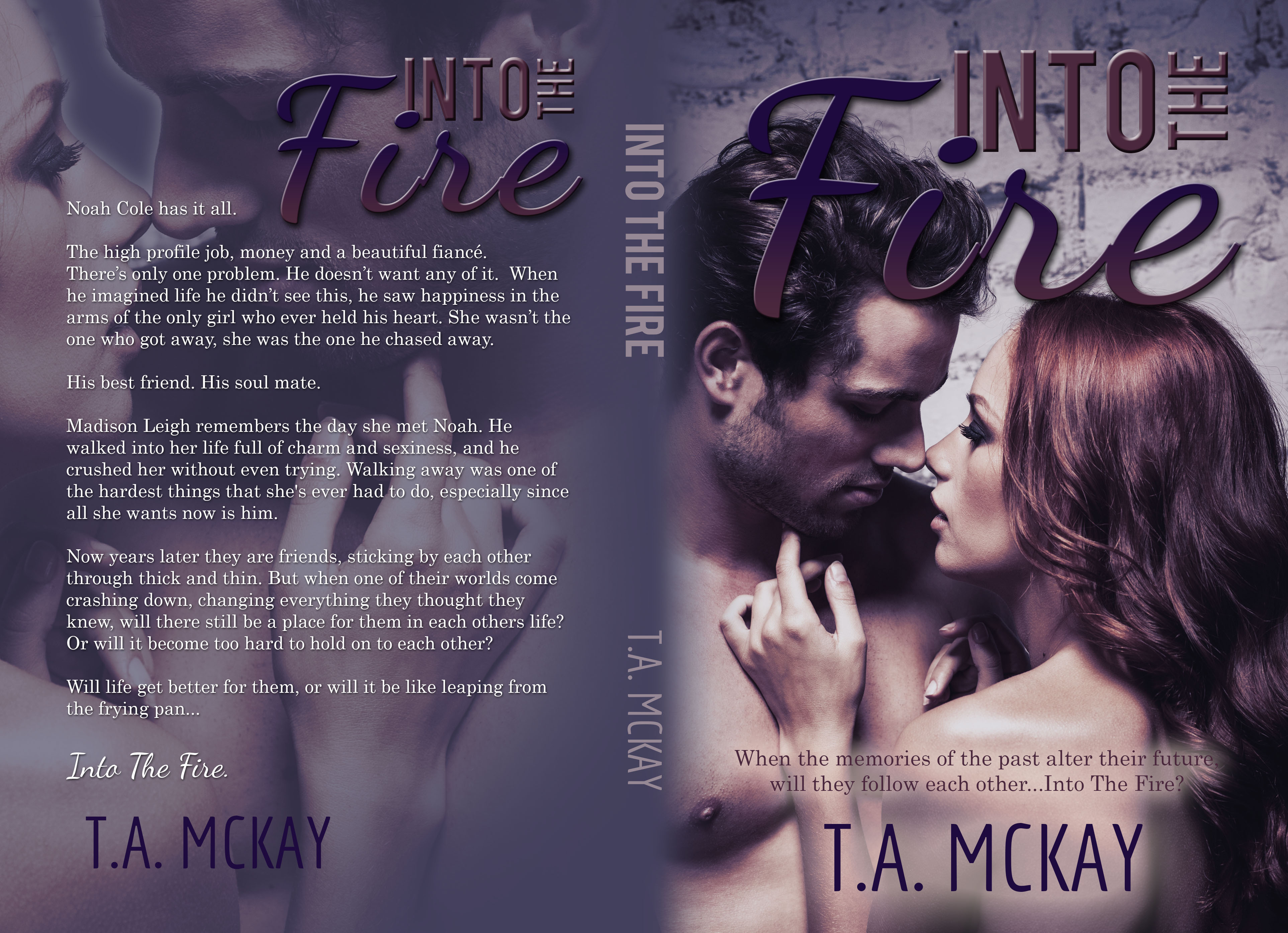 Noah Cole has it all.
The high profile job, money and a beautiful fiancé.
There's only one problem. He doesn't want any of it. When he imagined life he didn't see this, he saw happiness in the arms of the only girl who ever held his heart. She wasn't the one who got away, she was the one he chased away.
His best friend. His soul mate.
Madison Leigh remembers the day she met Noah. He walked into her life full of charm and sexiness, and he crushed her without even trying. Walking away was one of the hardest things that she's ever had to do, especially since all she wants now is him.
Now years later they are friends, sticking by each other through thick and thin. But when one of their worlds come crashing down, changing everything they thought they knew, will there still be a place for them in each others life? Or will it become too hard to hold on to each other?
Will life get better for them, or will it be like leaping from the frying pan…
Into The Fire.
Buy Links:
Uk link: http://amzn.to/1uI2yQD
Us link: http://amzn.to/1zFV9Zy

I'm a contemporary romance author , and I am just about to complete my first series of books called The Into The Series.
I live in Scotland with my husband and three amazing children. I live in a very small village in the country so writing makes it easier to have friends, even if they are in my head.
I have always been a huge reader but it wasn't until 2013 that I was…lets say encouraged…to write my first book. I published on my birthday in 2014 and have been on a crazy roller coaster ever since.
My favorite things to read about are tattooed alphas…and if they have a dirty mouth its all the better!
I have met so many awesome people on this journey and I never imaged talking to some of my favourite authors, never mind calling some of them my friend.
If you ever go to a signing and there is a Scottish redhead fan-girling in the corner….well that's probably me!
Facebook | Goodreads | Twitter | Amazon Author Page
Other books in the series:
 Into The Deep (Into The Series #1)
Goodreads: https://www.goodreads.com/book/show/20485166-into-the-deep
Amazon.co.uk: http://amzn.to/1DcUAUt
Amazon.com: http://amzn.to/1JVPIFg
Into The Dark (Into The series #2)
Goodreads: https://www.goodreads.com/book/show/20695785-into-the-dark
Amazon.co.uk: http://amzn.to/1y2X8AX
Amazon.com: http://amzn.to/15OvPU3

I walk past my dark bedroom and I realise my mistake when I'm grabbed from behind by a strong pair of arms. I can't believe he was hiding, and I can't believe I fell for it. A scream leaves my throat as Noah's arms tighten around my waist and he lifts me off the floor.
"Got you now, little girl. Whatcha gonna do about it?" The words are spoken close to my ear, his breath fanning over my face. I'm torn between being scared of what's about to happen and being more turned on that ever before, but my decision is made when I feel him moving towards … the bathroom I think? I try to pry his hands off me but I know it's going to be useless.
"Noah, what are you doing? This is silly. Lets just call a truce and go tidy up the hall? You don't want anything to be stolen. This is a bad neighbourhood." I feel his body vibrate and his laughter reaches my ear before he speaks.
"Nice try, Angel. That's all tidied up, your door is locked … it's just you and me." How the hell had he cleaned up so quickly? I must have been trying to calm down longer than I thought.
He turns our bodies around and I see we're in the bathroom, and he's moving me towards the bathtub. No, no, no. He wouldn't? I struggle harder but he's just too strong to fight against.
"Noah, don't you dare. I swear if you do this I will make you suffer. It won't be worth it. Noah, no!" He doesn't stop moving, my pleas falling on deaf ears as he moves me under the showerhead and reaches his hand out for the cold tap.
"Noah, please. I'm sorry okay? I promise never to laugh at you, no matter what epically stupid thing you do."
"Wrong answer." He turns the tap and within seconds freezing cold is spraying over me, drenching through my clothes and making my breath catch in my chest.