Title: Ride
Author: JC Emery
Series: Bayonet Scars
Published by: Left Break Press
Date published: October 19, 2013
Genres: Contemporary, Mystery
Book Length: 302 pages
Steam Rating: Risque
Main Characters: Ryan & Alex
Buy on Amazon
"It's tough, dirty, and all out crazy….but the story is so perfectly executed that all I can say is buckle up buttercup, hold on tight and enjoy the ride!" ~Becca 

Death comes in Armani. Salvation comes in leather.

Principessa to the Mancuso crime family, Alexandra knows a thing or two about living outside the bounds of the law. Suffocated by the future her father has laid out for her, she makes a choice she can't take back, changing the entire trajectory of her life.

Thrust into the dark and dangerous world of the Forsaken Motorcycle Club for her own protection, Alex finds herself faced with the last thing she needs right now: the man of her dreams. He's sex in leather, the devil incarnate, and one hell of a kisser. But he's also off-limits. Ryan Stone can be her friend, but he's forbidden to be her lover.

Third-generation Forsaken, Ryan knows nothing other than life on two wheels, and he wouldn't have it any other way. He enjoys the many privileges that come with the patch, and the only laws he recognizes are the ones set-forth by his club. That is, until who he wants more than anything isn't allowed on the back of his bike —or in his bed. Balancing his desire for her body, and need to keep her safe, Ryan tries to keep Alex at a distance. Finally having made a choice for herself, she's done hearing the word "no" and will push boundaries even Ryan himself doesn't dare cross.

Love is never more tempting than when it's forbidden.

COMING SOON by BreathlessInk!

The beginning of this review has VERY LITTLE to do with the Bayonet Series…just let me rant for a minute please 😀
OOOHHH MC (motorcycle club) BOOKS HOW I LOATHE YOU…let me count the ways….
**Please envision the following: toe tapping, severe eye rolling, heavy sighs, head cocked to the side as I tick off annoying points on my fingers….**
Guys that make the term Alpha-Male equate to "Ass-hat"….
Excessive drugs…sex…and rock-n-roll….okay so maybe not rock and roll…but it's a part of the saying dang it!
Degrading behavior towards women…club whores and old ladies. The humiliation, cheating and debauchery is just down right wrong!
Realistic dialogue….I know what you're thinking…how is that bad? Well…the constant grammatically incorrect speech is like nails on a chalkboard to me. Can't we have one book where a biker can at least speak somewhat properly???
Extreme language…I'm pretty sure some of these books would make sailors blush!
Violence….violence and more violence.
Lots and lots of leather….not sure this is really a bad thing…I mean sexy men in lots of leather…hmmm…
The inability to call a woman something other than "bitch"…and the few times they manage it…well it's typically worse!
The lack of anything even remotely romantic between characters…
The fact that as much as I don't want to….I enjoy them! I hate to love these books…but they hook me in and I can't put them down…even with all of the crap they throw at me!
Okay…so now you have heard me rant…you have giggled at my excessive and indecisive arguments on why I hate to love MC Books…let's talk about JC Emery's Ride…because dang it if this book isn't one of the best MC books I have read! I'll admit it…I was hooked from page one and never looked back!
After reading the synopsis of Ride I was intrigued and just HAD to give it a shot…even with my quite strong and extremely negative feelings towards MC books…the story line just sounded too awesome NOT to read! What's not to love about a book series where the Italian Mafia meets a biker gang?!? It would be difficult for this book not to rock and the way that JC Emery writes makes you feel like a part of the story whether you want to be or not.
What about the story line?
As you can guess from the synopsis and my thoughts on it…the story line is AMAZEBALLS! It is unique, captivating, emotional, scarring (yes I said that), raw, real, deep…so many damn descriptions fit this story line it's hard to choose just one. JC Emery has created a fast-paced, white knuckled grip on your Kindle story that will leave you begging for more! In Ride, we get a dual POV that switches between Alex, the mafia Principessa, and Ryan (Trigger), the sexy as sin biker. I honestly wish we had gotten a bit more from Ryan's POV…maybe then I could relate to him more and would be able to see him as more than a douche…because honestly I HATED Ryan. I have read MC books before where I started out hating a character and the author manages to turn things around for me…make me care about them. (Check out the Sons of Sangue series for an example.) Ryan is NOT one of those characters. I hated him from the first time we met him and I still hate him now! But we aren't talking about characters yet…we are still on the story line….more to come on my intense hatred of Ryan later!
Back to the story! When these two worlds collide things get crazy! While the mafia and a biker gang may seem to be completely different…there are quite a few similarities in my eyes. Especially when it comes to a woman's place. They are expected to be seen and not heard…dude…I would SUCK at this life! lol I am far from quiet and I don't like being ordered around that's for sure! Not to mention the danger that comes from living both of these lives. Ride is a fast paced, dark and dirty book with a ton of twists and turns to keep you on your toes! There were so many moments throughout this story that all I could think or say was "What the fuck?? No way that just happened!" Overall, the story is epic and intense…it will leave you with a ton of questions and emotions that you may not know how to deal with.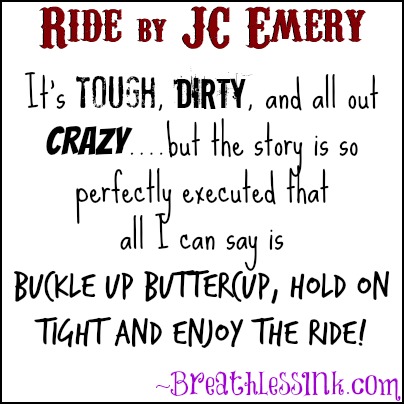 I was angry…
I was scared…
I was pissed…
I was annoyed…
I was excited…
I was terrified…
more than anything…I was hooked!
Now about the characters.
I started talking about Ryan Stone, AKA Trigger, earlier so let's start with his petulant, annoying, bastard self shall we? Let's see…Ryan is an officer in the Forsaken motorcycle club…I don't remember his full title…something about Road Crew…or Street Leader…or heck if I know…basically he is in charge of how the bikers line up when they ride, among other things. Ryan is the club president's son and a real piece of work. Honestly, I'm not sure if JC Emery wanted us to like him or not…it doesn't come across that way. The little added bit at the end of the book where we get to re-read a few chapters from his POV really helped me understand him a bit better. However, he is still an asshole that I don't like. Even with me hating him and understanding why he did some of the things that he did…he is a GOOD character. He is well developed, deep and evokes some pretty strong emotions from me as a reader. I lost count of how many times I wanted to hit him…or how many times I was literally screeching at my Kindle over some crap he pulled! JC definitely did a great job in writing him. No matter how much I hate him, I can't see this story working or the plot line flowing as well without him.
When I was reading reviews of Ride the majority seemed to focus on Ryan being a shitty person….but what they don't seem to realize is that for them to have that strong of a reaction to him he is a well written character. Yeah he is a douche and I hate him…but he is a damn good character and the story wouldn't work any other way. In my opinion you need to remember what you are reading…this is a biker book and he is a young guy. If you are looking for a sweet, romantic and love-dovey book…move on because this is not the book for you!
Alexandra Mancuso is the Princepessa of the Italian Mafia…she has been raised to understand her role in life from an early age…but when things pop up that cause her to realize the little bit of freedom she expected will never happen she gets a bit freaked out. She is only 19 years old…and yet she has some pretty serious decisions she has to make when she accidentally gets in the middle of a gun fight. Little does she know that her decisions during those moments will change her life forever. When Alex finds herself on the other side of the country in the home of the president of a biker gang she has no idea what to think. These crazy bikers have saved her life…but at what cost? Her father will never let her go, not after what she has done. When she realizes that she is falling for the biggest bastard ever, one she has been told specifically to stay away from, her life gets even more hectic than it was before.
As a couple these two are explosive. Both know that they aren't good for the other…and yet they aren't willing to stay away. Ryan is a young (20 something) man with hormones that usually end up with him being with a different club whore most nights of the week. He isn't used to having feelings…let alone the kind that make him want to be with just one person. I know that I said I hate him…and I do…but I also get it. The first time he feels something for a girl/woman it just has to be for the one woman that could cost him his patch? The Forsaken is his life, his family, his blood…but Alex is quickly becoming just as big of a part of it. To make matters worse, Ryan knows that having Alex be a part of his life will only cause her more troubles…he honestly doesn't think he is worth it. (Or at least that is my view on the situation.) The sexual tension between these two is insane! I was honestly a little scared for Alex when she and Ryan finally manage some alone time…I wasn't sure if it would be the type of explosion that leaves them clinging to one another and panting for breath…or the kind that leaves you hunting for body parts with no idea how you got here or what you are supposed to do now.
While Ride is definitely a romance novel…it sure isn't a typical one! Ride is what I would categorize as a DARK Romance. The roller coaster ride that these two go on is intense and one that I'm not sure I could have survived. Ryan is a dick that sleeps around and screws up a lot. Alex is a spoiled kid that makes some pretty stupid decisions and cries a ton…but somehow they figure out a way to work things out. I do wish that there had been more HEA or romance in general in the story. I get that MC books aren't all lovey-dovey and all that jazz, but I'm just not sure if maybe this one went a bit over board on the harsh crap. The way the characters treat one another is harsh to say the least and was difficult to read at times. With that being said, what JC Emery managed to pull off in this book is crazy! Each page of Ride is filled with action, suspense, sexual tension and a touch of humor and romance. Reading this book left me dizzy and a tad bit pissed, but in a way that had me digging for the next book in the series!
So again I am to this place where I think…OOOOH how I hate MC books! But…well…I didn't hate Ride!
Yep, Ryan is an asshat that makes me so mad I want to throw things….but he is a character that has been written so damn well that you can't help but react to him.
Drugs…sex…again yeah those are there and they are a huge part of the book. But they are described in such a way that makes me feel like I understand why these big, bad, biker boys do what they do.
Degrading behavior towards women? Oh hell yeah…this one almost TAKES OVER the entire story! It was difficult to read and relate to…most of the time I found myself shaking my head and saying that I would NEVER let someone treat me that way.
Realistic dialogue…well yeah! But it honestly wasn't as bad as some books. I could even understand these guys!
Don't get me started on the extreme language! I curse (heck I've done it quite a bit in this review…) but just wow! I'm pretty sure JC hit some world records with the creative uses of the words "Fuck" and "Bitch" in this one! Yet somehow it didn't bother me, it just felt natural for the biker boys and therefor totally okay to me.
Violence….this book didn't go overboard on the violence but it is definitely there. Again, JC manages to write it in a way that I could handle reading.
Lots and lots of leather…hehe yep that one was covered, but these bikers tend to wear jeans and a t-shirt under their cut…
Luckily the "bitch" calling issue wasn't too bad in Ride….it was thrown around a bit, but not overdone.
The lack of anything even remotely romantic between characters…well yeah. Sadly, there isn't a ton of "romance" in Ride. Part of me wishes that there had been…but then again a bigger part of me knows that had JC worked in more "romance" it would have felt forced and unnatural. The way things flow in Ride is perfect and believable. 
Well, while I hate to love MC books, I HIGHLY recommend Ride. It's tough, dirty, and all out crazy….but the story is so perfectly executed that all I can say is buckle up buttercup, hold on tight and enjoy the ride!
Check out the other books in the series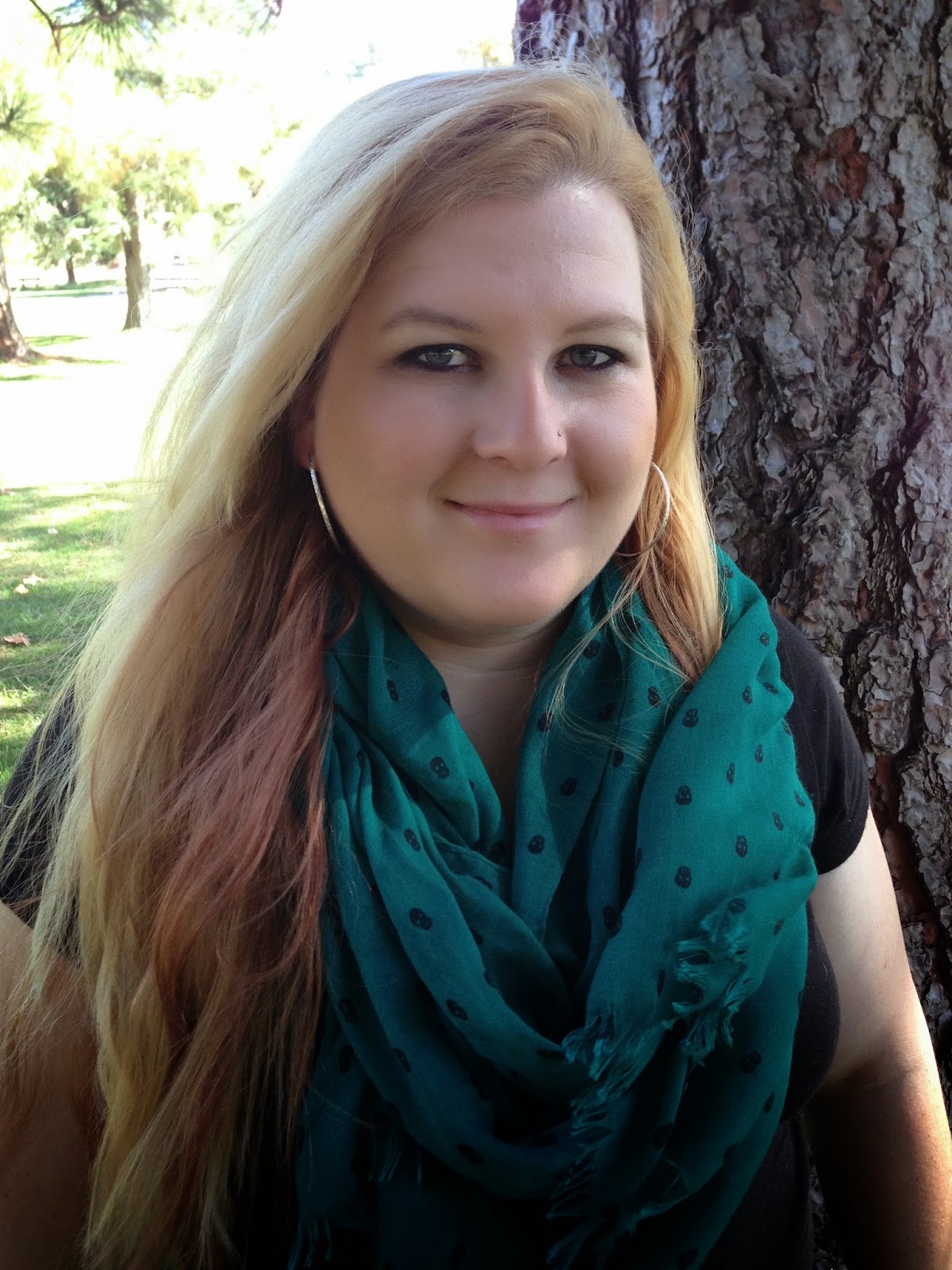 As a child, JC was fascinated by things that went bump in the night. As they say, some things never change. Now, as an adult, she divides her time between the sexy law men, mythical creatures, and kick-ass heroines that live inside her head and pursuing her bachelor's degree in English. JC is a San Francisco Bay Area native, but has also called both Texas and Louisiana home. These days she rocks her flip flops year round in Northern California and can't imagine a climate more beautiful.
JC writes adult, new adult, and young adult fiction. She dabbles in many different genres including science fiction, horror, chick lit, and murder mysteries, yet she is most enthralled by supernatural stories– and everything has at least a splash of romance.
Find JC Emery on the web…
Website     Twitter     Facebook     GoodReads
Do you hate to love MC books? Or maybe you just plain love them…
either way I want to know why!