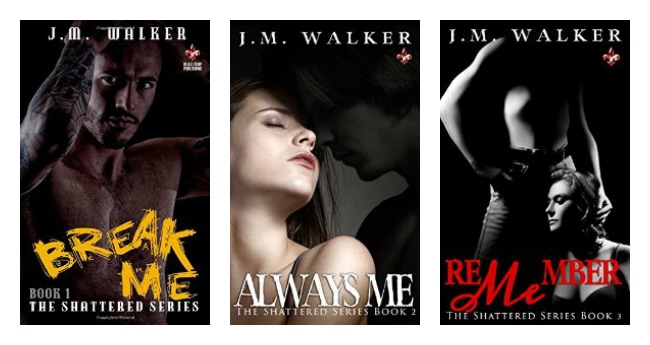 Title: Break Me, Always Me & Rembember Me
Author: JM Walker
Series: Shattered
Published by: Beau Coup Publishing, LLC
Date published: Sept. 22, 2914
Genres: Contemporary
Book Length: 238 pages
Steam Rating: Steamy/Risque
Main Characters: Sebastian & Tori
Buy on Amazon
"I so wanted Sebastion to be a good guy! hahaha It killed me to learn who he really was…"~Becca

Break Me:
Running is always easier.
Tori McLeod moved to the big city to get away from her mother—and her past. Her new routine is destroyed when she meets a mysterious stranger who won't take no for an answer. Sebastian intrigues her, but his eyes hold secrets she would rather avoid.
Sebastian Chelios, a hard-as-nails enforcer, is a new-in-town loner. He has to have her. Control her. Possess her. But he can't—won't—lose control, even though Tori's innocence fascinates him. The last thing he's going to do is love her, even after he gets her in his bed.
Losing control is dangerous, especially when someone from Sebastian's past covets Tori, putting more than just her heart in danger.
Can Sebastian protect Tori from Jose's sadistic obsession? If he gets his hands on her, will she make it out in one piece?
Always Me:
Forgetting is hard to do.
Tori McLeod survived the sadistic wrath of a madman at the cost of the love of her life. Always a survivor, she's determined to move on, for her sake and the sake of her son, even if she has to leave everything and everyone behind.
Two years have passed since she lost Sebastian Chelios. He is gone, but Tori can still feel the raw magnetism pulling her toward a ghost. Relationships change and new bonds form. Budding feelings tempt Tori, but she continues to ache for Sebastian.
Whispers of danger lurk around the corner and questions regarding Jose remain unanswered. Can Tori move on with her life when a dark shadow from her past revisits her? With Jose still being out there, will Tori and her son ever be truly safe?
Remember Me:
Remembering is just the beginning.
Keisha Lee had her life ripped apart at the hands of Jose Alvarez. Not having anywhere to turn, she seeks solace from the one man who could give her everything she needed. Only problem is, she doesn't remember him.
Garrith Jameson, FBI agent on a leave of absence, has been in love with Keisha his whole life, and she's always gotten under his skin. They were happy. Complete. Until that horrible day destroyed them, tearing them apart.
Having amnesia is one thing but remembering the mistakes that had been made could separate Garrith and Keisha forever.
A world of trust, healing and new memories arise, making Keisha need more than just the man she knew she once loved.
Will Keisha remember Garrith and give in to the submission her body craves?

While the book took me a bit to get into, once I did I was totally hooked on the characters and just had to know more. I think my main issue was that it was only from Tori's POV and not a dual POV. I am so used to getting both sides of a story that it was hard to adjust to. I know that a few other reviewers mentioned that the story line was confusing and hard to follow…while I agree to an extent, I also have to disagree. Yep, the whole deal between Sebastion, Jose and Brett is hard to keep up with, but it was still interesting and kept me on my toes.
The relationship between Sebastian and Tori moves extremely fast, but that is brought up in the book and even they admit that it's crazy. I so wanted Sebastian to be a good guy! hahaha It killed me to learn who he really was…but book two sort of redeemed him a bit so that helps

Overall I feel that this is a really good read and would definitely recommend giving it a try!
Book 2, Always Me, was definitely one that kept me wanting more. I'm pretty sure that I read it in one sitting! I really loved getting even more of Tori and Sebastian's story and the emotions that these two books brought out in me were epic and unbelievable. I was definitely ugly crying my way through this Trilogy!
There isn't a whole lot I can say about Always Me other than that it continues the story picking up 2 years later with Jose still out there. There are quite a few twists and turns and surprises along the way. This is one book that left me with my jaw on the ground and gasping around every page.
While book 1, Break Me, may not have been my favorite ever, Always Me definitely finished the job of hooking me and making sure I would be reading more J.M. Walker books in the near future!
Book 3, Remember Me, is by far my favorite so far. I adored getting the feel of a dual POV and learning more about Garrith and Keisha. I was amazed by some of the things that popped up in this book! Just wow, didn't realize those two had it in them! hehe
Trust me when I say that while my review may be short due to me trying to avoid spoilers (this is one trilogy that has so many plot twists that it's hard not to give anything away), this is a trilogy that you will regret not reading! So head on over to Amazon and give it a go! 
BTW WHILE PREPARING EVERYTHING FOR THIS REVIEW I FOUND OUT THAT BRETT HAS HIS OWN SERIES CALLED TORN!! OMG YEEEEAAAAHHHH!! I'LL BE BUYING THAT SOON HAHAHA

J.M. Walker
Bringing you Alpha Males and Happily Ever Afters…always
Email: jmwalker.author@gmail.com
Do you prefer a dual POV or single?