Title: The Geek Billionaire Makeover
Author: Theresa Meyers
Series: Sexy in Seattle
Published by: August 18, 2014
Date published: Entangled: Indulgence
Genres: Contemporary
Book Length: 158 pages
Steam Rating: Steamy
Main Characters: Carolina & Josh
Buy on Amazon
"Theresa Meyers' writing style is engaging and witty, I was hooked pretty early on!" ~Becca

She wanted revenge. He wanted the only thing he couldn't have—her.
Image consultant Caroline Parker is willing to resort to corporate espionage to get revenge on Seattle tech billionaire CEO Joshua Martin. He may be king of the computing world now, but when they knew each other in high school, he was just the geeky friend of her younger brother she refused to date.
 
To successfully launch his new venture, Aeon Industries, Josh's got to shake off his geek veneer and get into beast mode, and he needs her help to do it. Josh always thought the brass ring was his next big business coup, but once he sees Caroline again, he realizes that old desire to have her has never waned. Now he's determined to make her his, no matter what the cost.
 
Caroline knows she can create  a superstar from the geek, but she's got a deeper reason to sign on for the job. Helping Josh remake his image gives her an opportunity to get close to him–and get her hands on the plans for Aeon that could save her brother from a ruthless blackmailer. But as Josh's image makeover takes hold, and she starts to fall for her creation, she realizes too late that her venture into espionage could ruin more far more than Josh's empire.

The story line behind The Geek Billionaire Makeover was unique and so much fun to read. While reading I couldn't help but sort of wish we had gotten a little more detail in a few areas, but I didn't feel like so much was missing that I couldn't become a part of the story. Theresa Meyers' writing style is engaging and witty, I was hooked pretty early on!

The characters are decently developed and relatable. Josh is super sweet and a total gentleman. I was absolutely in love with him before I even hit the half way point. Caroline is a tough chick. She takes what life throws at her and deals with it with minimal crying and whining. This is a majorly positive aspect of her character. I hate to say it but I have read so many whiny heroines lately that I'm just plain tired of them…it was rather refreshing to get my hands on a book that didn't have a weak and terrified chick.

As a couple these two fit together pretty well and make for a geeky and yet sexy couple. I loved that The Geek Billionaire Makeover takes a popular story line, falling for my best friend's sister, and puts a twist on it. The way that the story is written honestly kept me from thinking about the played out theme. I never once felt the story was predictable or boring. I can't say too much about them as a couple or the story line without giving away some important plot points…so I'm just going to stop here!

The Geek Billionaire Makeover totally would have been a 5 star book for me if the ending had been as strong as the build up. I felt like things were rushed and didn't flow naturally. The blackmail issue is just sort of dropped and passed over, the Connor issue is never explained…he is just thrown back into the mix. ..and the proposal, while heartwarming and sweet, was kind of rushed after the way Josh behaved for the past two weeks!

Anyways, this book was totally worth reading and the story kept me wanting more! I definitely recommend that you give it a try!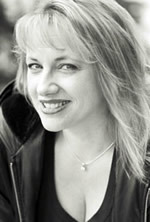 The progeny of a slightly mad NASA scientist and a tea-drinking bibliophile who turned the family dining room into a library, Theresa Meyers learned early the value of a questioning mind, books and a good china teapot. But it wasnt until third grade that Theresa overcame her dyslexia and learned to read, going on to make words her lifes work. With a degree in Mass Communications she became first a journalist, then a public relations officer in both the corporate and agency realm. But by far the most challenging has been using her writing skills to pen paranormal and steampunk novels in the turret office of her Seattle-area Victorian home. Shes spent nearly a quarter of a century with the boy who took her to the Prom, drinks tea with milk and sugar, is an adamant fan of the television show Supernatural, and has an indecent love of hats. 
What do you think? Do you love the geeky guy or are you all about the just plain hot ones?