Title: Scandalous Endeavors
Author: Amanda Mariel
Published by: Three Worlds Press
Date published: Dec. 12, 2014
Genres: Historical
Book Length: 137 pages
Steam Rating: Sweet
Main Characters: Lady Amelia & Lord Goldstone
Buy on Amazon
" I could visualize everything that was going on which is really good. Some books can be boring and not get into the storyline."~Karen

Lady Amelia has only known the comfort of life in mid-eighteenth century English aristocracy. But when first her mother and then her father die, she finds herself alone, grief stricken and….. not of age. Her appointed guardian, an American uncle, has ordered her travel to his plantation where she must remain for at least two years when she will come of age.
With the help of Lady Grace and Lady Sarah, Lady Amelia gets her uncle to agree to give her four weeks to settle her affairs and unbeknownst to him…find an English lord to marry so she can remain in her beloved England. Despite her mourning period she endeavors to trap one of London's eligible bachelors in matrimony.
Lord Goldstone, Lady Grace's nephew is devilishly handsome, but a Scottish Duke and so entirely unacceptable as a possible husband. After all Scotland is not her beloved London and environs. He also has a nasty habit of showing up at all the wrong moments and thwarting her carefully laid plans to ensnare a suitable husband. Sparks fly as the pair find themselves at odds with each other and drawn to each other at the same time. Can they find a way to stop arguing long enough to explore their growing passion? Is it strong enough to make Lady Amelia give up her English home after all? Or will Lady Amelia find a suitable English lord and avoid social exile in America? Time is running out.

Lady Amelia – Viscountess of Everthorne was extremely sad after her father died. Her mom also passed on when she was young. She was now parentless. What was she going to do? She didn't want to leave her townhome or London for that matter. Amelia's Uncle Lewis, (her mother's brother), from America has come to get her. She has only 1 week to get all of her affairs in order
A week? How is this even possible?
This is definitely not enough time to pack, close the townhome, and let the servants go. Lady Amelia visits her friend Lady Sarah to get a plan in order.The plan is to find an English husband for Amelia within a week!
Is this possible? Will It actually work? What will Amelia have to do so she can stay in London and not go to America with her Uncle Lewis?
Lady Sarah and Amelia together visit Lady Grace Abernathy who has been good friends with Amelia's Dads' side of the family. There's no way she would say no, or would she? Will Lady Grace become a chaperone for Amelia? Of course, an approval would be needed too by Uncle Lewis!
Lady Sarah's brother; Lord Roseington is single and she would most definitely would like Amelia to be part of her family. They have been friends forever. They plot that at an upcoming ball, Lady Sarah will ask her brother to retrieve a book from the library that lady grace will lend to her where Amelia will be sitting as well to make a commotion by falling in the lap of Lord Roseington to have a kiss planted between them. This will cause major chaos!
Someone overhears the plan that is set forth in action? Who is it? What does this person do? How will Lady Amelia react to this?
Lord Goldstone is visiting in town. He is the nephew to Lady Grace. Amelia goes to her horse ruby by the stables is trying to put her thoughts together but says them out loud. She thinks she is alone but someone is there and startles her. She gets alarmed! She is being laughed at by Lord Goldstone. Even though she looks him in the eye she must admit there is an attraction there that she just can't figure out and even why! He is a Scottish Lord, not an English Lord!
Scandalous sensations went through Lady Amelia's body when she relived Lord Goldstone kiss between them. It sent shivers through her body.
What I liked about this book?
It took me 2 days to read and finish this book! I could visualize everything that was going on which is really good. Some books can be boring and not get into the storyline. I didn't have this problem here. I kept reading as I wanted to know more of what was going on and happening! I do wish there is a part 2 Sequel of this book! I think there is more to write about with these Characters: Lady Amelia, Lady Sarah, Lady Grace, Uncle Lewis, Lord Roseington, and Lord Goldstone!
What I didn't like about this book?
I was looking for more Scandalous sections! I didn't find a lot of Scandalous activity here. That was a little bit of a disappointment. 
I would give it 3 (3 /2 if we did halves) deep breaths as it was still a good n interesting read! 
I just wish there was more juice to it (hotty scandalous behavior- lol)
And there you have it! Head on over to Amazon and give it a go!
~Karen L. (Guest Reviewer)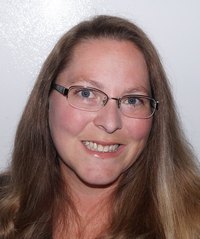 Amanda Mariel dreams of days gone by when life moved at a slower pace. She enjoys taking pen to paper and exploring historical time periods through her imagination and the written word. Her hobbies include reading, writing, crocheting, traveling, photography, and spending time with her family. Some of Amanda Mariel's favorite places in the continental U.S. are Harper's Ferry West Virginia and Sea Brook New Hampshire. She loves the history that surrounds them and visits them every chance she gets.
Amanda Mariel lives along the Lake Huron shore line in northern Michigan with her husband and two kids. She holds a Master of Liberal Arts Degree with a concentration in literature and has a long standing love affair with sugary junk food.
Join Amanda Marie on Facebook | Visit her blog | Write to Amanda Mariel | Follow her on Twitter