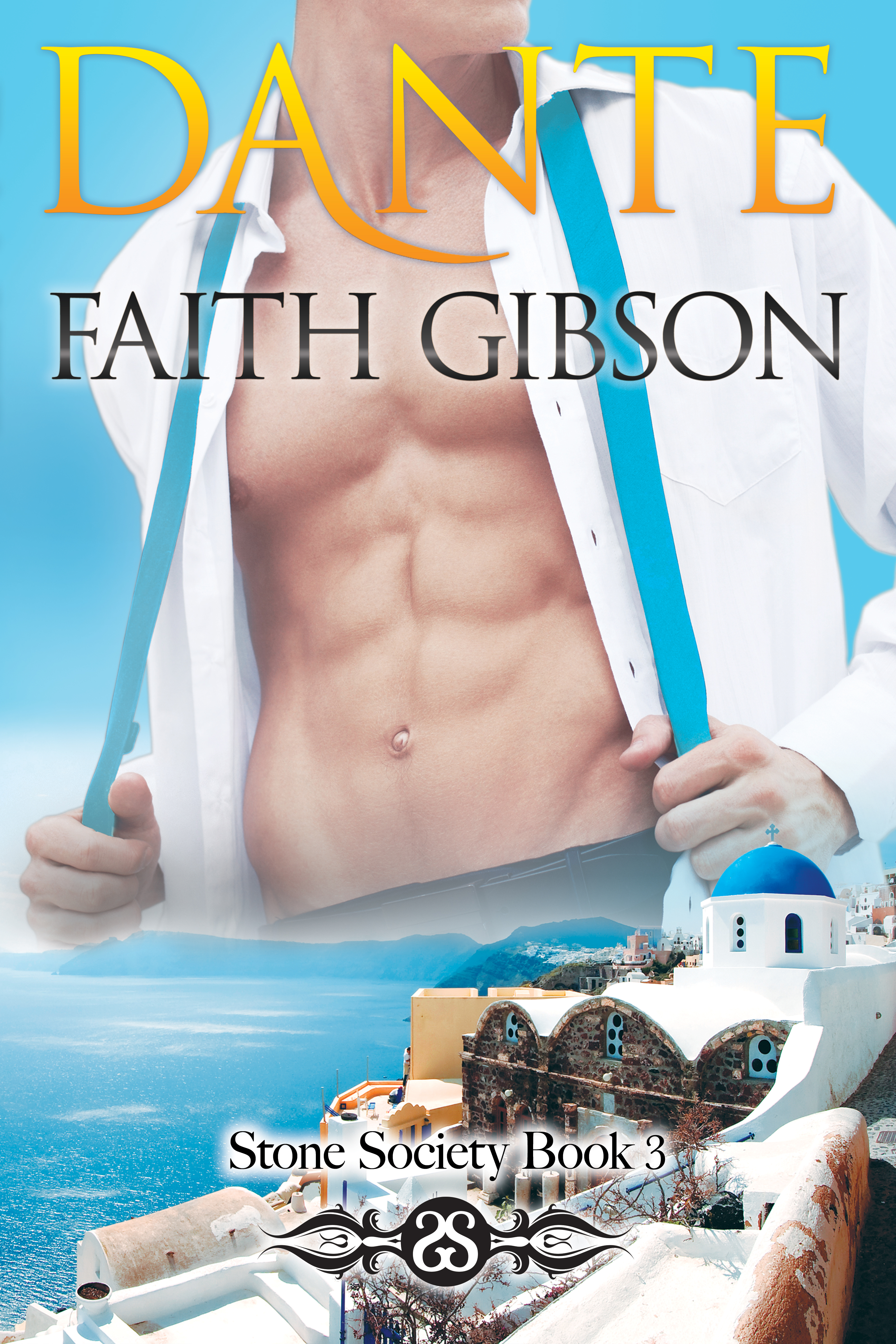 Dante
Buy on Amazon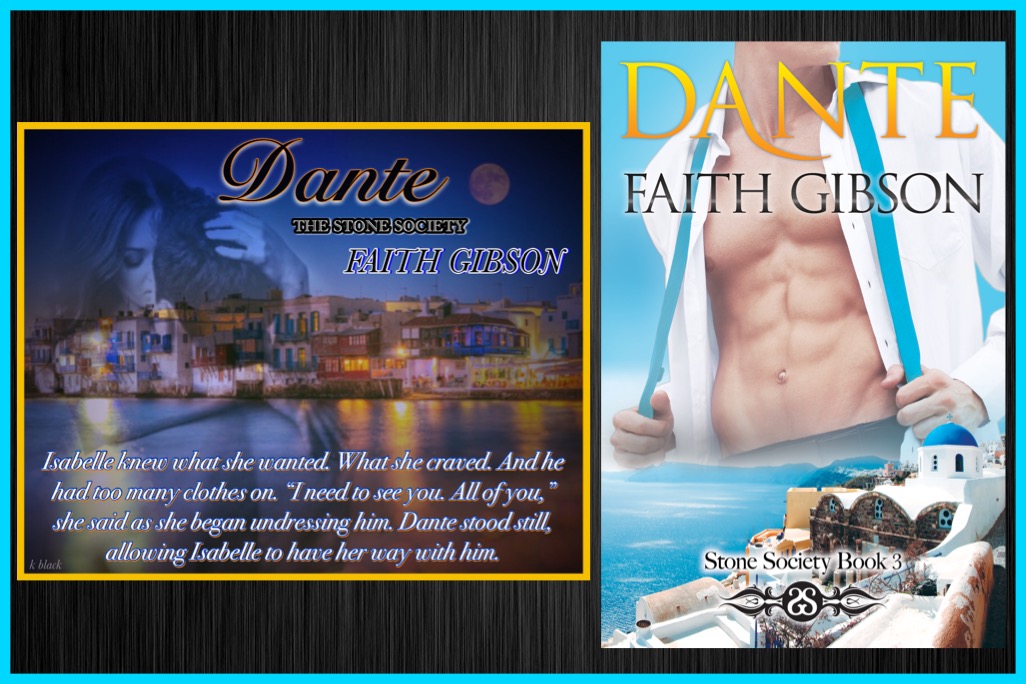 When one enemy is taken out, another rises up. One who is hell bent on destroying The Stone Society.
Dante Di Pietro is the New Atlanta Medical Examiner. Over 500 years old, Dante has resigned to living his life alone until he finds his mate, the pretty doctor he is working closely with at the prison. She is well aware of the fact that Dante is a Gargoyle. She herself is a half-blood who comes from the Original line of shifters.
Isabelle Sarantos' life has not been easy. When she was 12, her parents sent her to live with a foster family, hiding the truth of what she is. Now, 20 years later, Isabelle's life has been thrown into another tailspin. Not only has she just found out she's a half-blood shifter, but the fates have decided Isabelle is the perfect mate for the sexy Medical Examiner. Isabelle is not only guarding her heart, but a secret from her past that may take care of any feelings Dante has for her.
Book 3 is an adventure full of passion, secrets, action, and hot sex.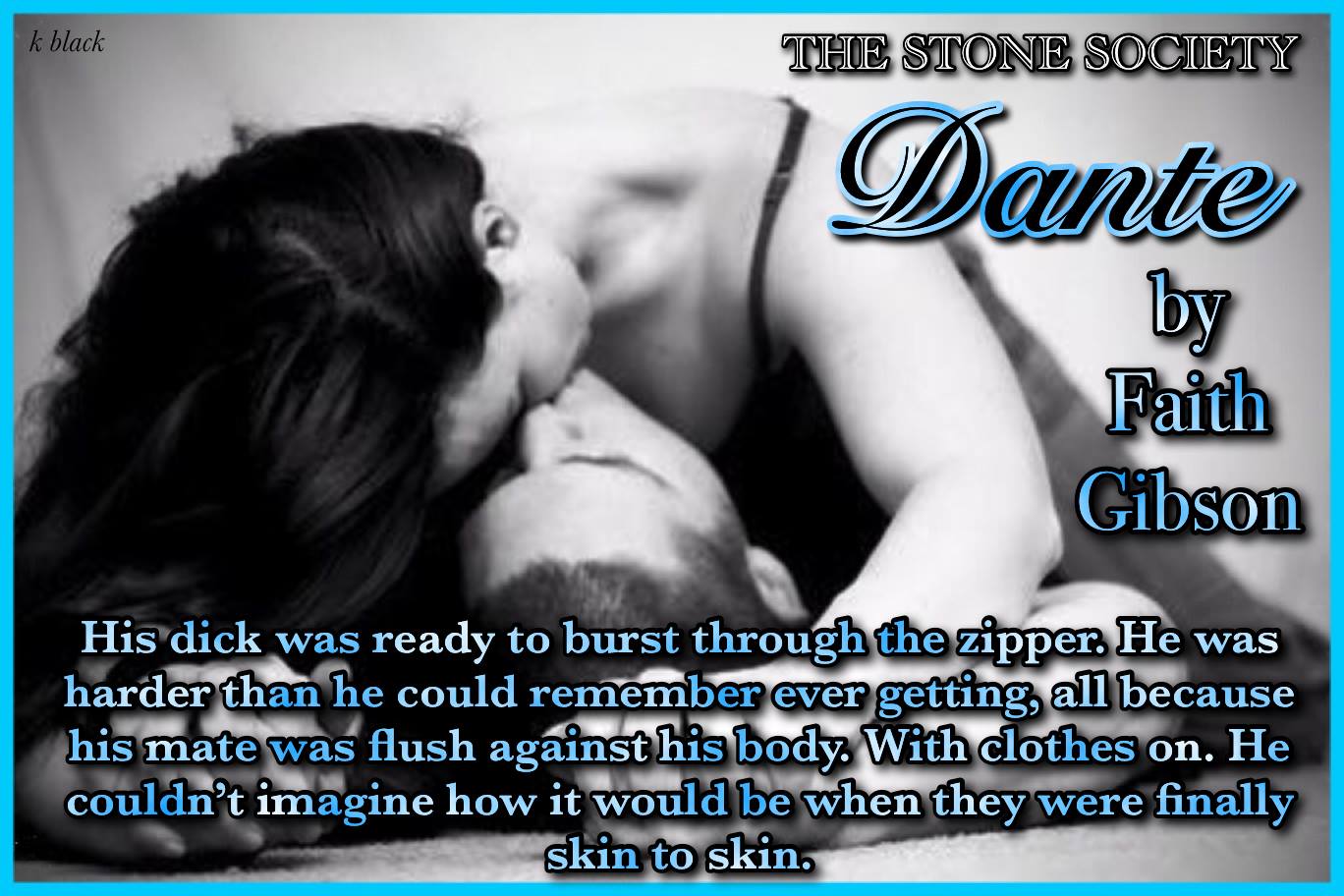 Buy links:
Amazon US     Amazon UK     Barnes and Noble     All Romance Ebooks

Faith Gibson lives outside Nashville, Tennessee with the love of her life, and her two-legged best friends. She began writing in high school and over the years penned many stories, and poems. When her dreams continued to get crazier than the one before, she decided to keep a dream journal. Many of these night-time escapades have led to a line, a chapter, and even a complete story.
Describe your book/series in 15 words or less!
Hot Alpha Gargoyole Shapeshifters in a Post-Apocalyptic World finding their mates
When did you start writing? How did your first book evolve into what it is now?
I started writing in high school. the idea for my first book came about 6 years ago that started as a sci-fi bounty hunter story. over time, the bounty hunters turned into shapeshifters
What made you go indie?
The opportunity to call all the shots, choose the covers that are right for me, make the money.
What made you go with a traditional publisher?
I'm a hybrid, having both a publisher and publishing myself. the publisher asked for short stories to be included in a valentine's anthology so I sent them something I wrote and they accepted.
What issues popped up for you through the indie channel? Formatting, covers, platforms, etc.
Marketing, definitely. It's taken a while to figure out how to get my books in front of people. That's something i'm still working on
Writing style…what is your writing process like? 
Most of the time i have the beginning and ending in my head. I sit down, write what comes to me and the characters dictate where the story goes from there. I tried outlining, but when the characters have minds of their own, I'm wasting my time with an outline.
How do you develop your characters?
They develop themselves. I have someone in mind, give them a name, an occupation, and the rest evolves from the story.
Tell us a little bit about your cover art. Who designed it? Why did you go with that particular image/artwork?
A friend of mine is an excellent graphic designer, so I asked her to do the first cover. She did such an amazing job, i beg her to do all my covers. this cover was a little different, in that it isn't dark/night time. But the story is set in Greece and I had to show the beauty of the waters and architecture.
How do you spend your time when you aren't writing?
Reading, riding my Harley when the weather permits, playing trivia.
Are you the driver or a passenger in your book? (Are you in control of where the story goes or does it sort of just happen?)
I drive the first leg of the journey, the characters take over about a fourth of the way in, then I bring it home.
What's next for you?
Book 4 (Frey) in the series
Now for the SILLIES

If your book/series was a dessert, what would it be and why?
Chocolate mousse, sweet, decadent, and oh so yummy!
 If you were a toy, what would you be and how would people play with you?
Is this a family show? I'd be a vibrating dildo and men would have their wicked way with me!
Now do you people see why I ADORE this woman?? Trust me when I say you won't want to miss out on following her on Facebook and reading everything she puts out!
What is something about yourself that most of your readers don't know?
I'm adopted.
We all need a hero! Tell us about your protagonist(s)? Was there a real-life inspiration behind him or her?
My heros are all different. Some are more alpha than the others, but they are all badasses in their own right. Dante is a little more passive in the bedroom than some of the others, but he is all male when it comes to his mate. My alphas are all figments of my imagination, the way I think men should be.
You're having a party. What character from your book do you hope attends? Why? What character do you hope doesn't attend? Why?
I hope all my Gargoyles attend because they are just HOT! If I had to choose one, though, it would be….Frey I hope Alistair doesn't show up because he's an absolute ass.
Characters often find themselves in situations they aren't sure they can get themselves out of. When was the last time you found yourself in a situation that was hard to get out of and what did you do?
That's an easy answer but it was a hard time in my life. I married the absolute wrong person. He was abusive, but I did what I had to do and left.
Who is your favorite "Book Boyfriend"? What series is it from and who wrote it?
Kane Dalton, from Always by Kindle Alexander
If you could have one super power what would it be? Why?
Premonitions, so I could stop the evil bastards from destroying our world.
What do you think about when you are alone in your car?
Singing, really loudly. driving is my time to let loose and have a concert
.
What song best describes you? Why?
Amen by Halestorm. It's about taking control and ownership of your life. Live the life you want to live with no regrets. That, I do.
Ask me one question…any question at all and I have to answer it no matter what!
Do you think I'm sexy? lolol
Oh good lord woman! Of course I do!! Have you looked at yourself?? Hehe that hair…(that apparently EVERYONE wants to touch)…your smile…everything about you is sexy!! Hehe

Just thinking about all of the fun we had (no you pervs not of the sexual sort…I mean the type of fun you have by eating pizza and drinking beer in the lobby of a rather fancy hotel lol or better yet a group of awesome authors (and me) playing Cards Against Humanity…yeah that sort of fun) at Pay It Forward makes me super thrilled that I can count you as my friend! I may never be able to thank you for everything that you have done for me in the short time that I have known you! I hope that we are able to get together again soon…I mean seriously I'm going through sexy Faith withdrawals!

ENTER TO WIN 1 OF 5 GIVEAWAYS HERE!