Title: My First
Author: Melanie Shawn
Series: Crossroads
Published by: Red Hot Reads
Date published: June 7, 2013
Genres: Contemporary
Book Length: 282 pages
Steam Rating: Steamy
Main Characters: Jason & Katie
Buy on Amazon
"The short flash backs that give us a peek into Jason and Katie's life growing up…insight into who they really are and the secrets that they have kept made this an EPIC must read!" ~Becca

Jason Sloan is known as Harper's Crossing's resident Romeo, and he's never had to work too hard to live up to that nickname. With his easygoing charm, whiskey-colored brown eyes, and sinfully sexy half smile, women just seem to fall all over themselves when he's around.
Well…most women, anyway. Katie Lawson's the one woman who isn't putty in his hands, and she's the only one he's ever wanted in his arms.
Katie Lawson left Harper's Crossing in the middle of the night ten years ago, immediately after her high school boyfriend Nick's funeral. She left behind all memories of Nick, and she left behind her life-long best friend, Jason Sloan.
Now she's on the fast track to junior partner at one of San Francisco's top law firms. She's made a life for herself that's all about maintaining order and sticking to the rules. Rule #1 is keeping herself WAY too busy to think about all that she ran away from. If she can do that, after all, she can keep everything under control.
But that rule is about to be broken. She's headed back home to be the maid of honor in Nick's little sister's wedding. It's time to face the truth she's been avoiding all these years, the same one that sent her running ten years ago – that maybe she didn't lose her first love the summer after high school. Maybe her first love has been waiting for her all this time, at home in Harper's Crossing.

This was my first Melanie Shawn book, I ran across it as a #FreeRead on Amazon
and the blurb just hooked me!
My First is a book about forgiveness on so many levels. Forgiving yourself, forgiving those around you, just remembering that we all make mistakes. The way that the book is written makes it a little difficult to review and not give anything away, but I think I have it figured out!
Let's look at the characters.
First we have Katie. She is a lawyer with panic attacks who is flying back home for her long time friend's wedding. Heading home after ten years means finally coming face to face with the reason she left in the first place.
Then we have Jason. My…my….my….damn if this man isn't sex on a stick! While Jason is thought to be a ladies man and quite the Romeo…it's important to remember that everything isn't always quite what it seems. Jason has been in love with Katie since kindergarten…literally! But he is terrified to face her and fess up to how he feels, let alone find out how she feels.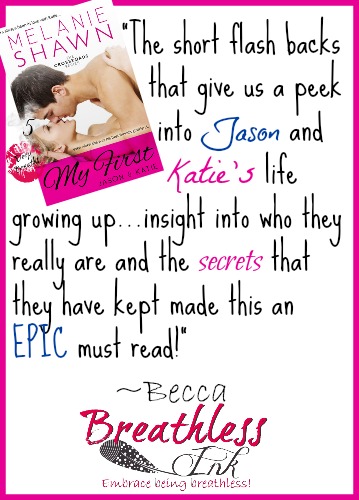 I ADORE the way that Melanie Shawn wrote My First! The short flash backs that give us a peek into Jason and Katie's life growing up…insight into who they really are and the secrets that they have kept made this an EPIC must read! I have to say that the way she kept a major plot twist (which I sort of figured out…but didn't all at the same time) until the very end…it really kept me on my toes and begging for more. I loved it! I don't think the story would have been nearly as amazing had we known about this in the beginning, it just gave the story so much more mystery…so much depth and angst.
The story line is fun and absolutely adorable. While you would think that a romance taking place over just a few days (I think it's like a weekend or something) would feel rushed and unrealistic…it didn't. Every interaction between Jason and Katie flowed beautifully and felt right. Maybe that's because they had been friends for so long…maybe it was the flash backs that made everything feel so perfect…I honestly can't explain it. All I know is that this story felt right. The characters are well developed and easy to care for. 
I think what pushed this book over the edge of a four to a five for me was that Melanie somehow managed to make this book sexy, steamy, funny, sweet and yep…CUTE! How in the world can a book be sexy and cute?? I mean really…all of the flashbacks of Jason being Katie's hero?? There were just soo many 'awe' moments in this book! I definitely shed tears of joy, panic, sadness, anger and love throughout My First.
Melanie Shawn's writing style seems very natural. The characters are not only easy to relate to but also extremely addictive! While I'm not usually a huge fan of third person POV…Melanie Shawn made it work. She managed to write it in a way that felt real and kept me turning pages…even when I kept telling myself just one more chapter…until 3 am! lol
I am definitely heading over to pick up book two now! I can't wait to read more about these characters!!

Melanie Shawn is the writing team of sister duo Melanie and Shawna. Originally from Northern California, they both migrated south and now call So Cal their home.
Growing up, Melanie constantly had her head in a book and was always working on short stories, manuscripts, plays and poetry. After graduating magna cum laude from Pepperdine University, she went on to teach grades 2nd through 8th for five years. She now spends her days writing and taking care of her furry baby, a Lhasa Apso named Hercules. In her free time, her favorite activity is to curl up on the couch with that stubborn, funny mutt and binge-watch cable TV shows on DVD (preferably of at least eight seasons in length – a girl's gotta have her standards!).
Shawna always loved romance in any form – movie, song or literary. If it was a love story with a happy ending, Shawna was all about it! She proudly acknowledges that she is a romanceaholic. Her days are jam-packed with writing, being a wife, mom aka referee of two teens, and indulging in her second passion (dance!) as a Zumba instructor. In the little free time she has, she joins Melanie in marathon-watching DVDs of their favorite TV programs.
They have joined forces to create a world where True Love and Happily Ever After always has a Sexy Twist!
Do you find it hard to forgive? Could you look past your own faults and let yourself love?