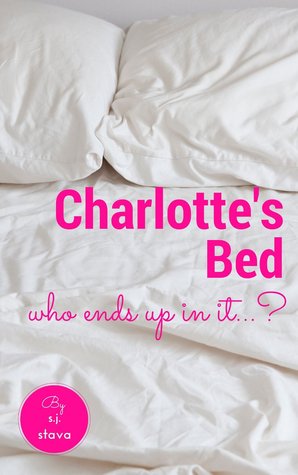 Title: Charlotte's Bed
Author: S.J. Stava
Published by: Indie
Date published: Nov. 27, 2014
Genres: Contemporary
Book Length: 291 pages
Steam Rating: Steamy
Main Characters: Charlotte & Mason
Buy on Amazon
"I am so very happy that I put my biased thoughts aside and gave Charlotte's Bed a fighting chance. The story is fun and humorous, with just a touch of deepness that makes you crave more." ~Becca

How do you choose between the life you've always imagined and the love you've suddenly discovered?
At thirty, Charlotte is sick of the single life. Sick of online matchmaking, sick of bad first (AND second) dates, and sick of the dreaded "I can't believe you're not married yet!" pitying stares. So when her boyfriend proposes – who just happens to be a Dean at the university where she works – she's thrilled to bid her singledom adieu. At the start of the new semester, she seems to have it all: a great job, great friends, and now. . . a great fiancé.
So what's the catch? An annoyingly handsome new teaching assistant and the opportunity to direct the school's fall production. Still can't see the downside? Neither can Charlotte until suddenly, what she thought she wanted, might not be enough anymore.
With wit and humor, Charlotte's Bed explores what happens when your heart interferes with your head.


In all honesty…I had to set my own beliefs and feelings towards cheating aside and read this book without bias. Not always an easy thing to do! So…once I got past the cheating and made myself focus on the story and how well the book was written…well…the only way to explain it is…
I WAS HOOKED! I didn't want to put it down…I would get to the end of a chapter and think 'okay, now I can go to sleep' and then add on 'well, I really want to know what happens…so one more chapter won't hurt right?'
Charlotte is such a strong character. It was difficult to watch her being walked all over by Richard. Don't get me wrong, I totally understand why she felt that he was the 'right' choice. But sometimes we have to remember that the 'right' choice may not actually be the best choice for us.
Charlotte's Bed is a quick read with an amazingly new plot line. While I have read books with similar plot lines in the past…nothing has come close to this one! The way that S.J. writes really pulls you in as a reader and makes you want to be a part of the story. I was cringing and crying and shaking during so many parts of this book. I just knew that things weren't going to end well and I cared for the characters so deeply that I wanted things to have an HEA.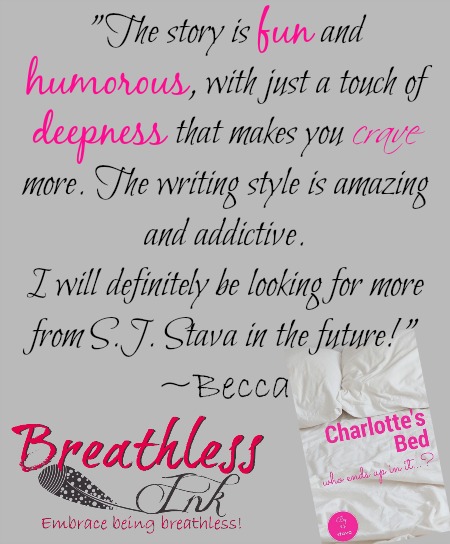 I think what made it possible for me to enjoy this book and connect with the characters so completely was the angst, the confliction, the honesty, the confusion. Charlotte didn't take what she was doing lightly. She knew what she was doing was wrong…she wasn't doing it to get Richard's attention or to feel wanted or special. She didn't even go into it expecting the outcome that she got. The huge differences between Richard and Mason made her situation just that much more real. 
I was surprised by the depth of emotion and self-exploration that this book evoked. Reading about Charlotte's struggle with her choices and where she wanted her life to go made me think back to when I had to make similar decisions. While mine didn't involve a guy…it still made me feel that much more connected to the story and characters.
Character development was back and forth for me. I felt that Charlotte's character was very well rounded and I learned so very much about her. On the other hand, Mason and Richard's character development was rather lacking. I kept finding myself wishing for some more insight into Mason's character. Possibly a scene or two from his POV. 
I am so very happy that I put my biased thoughts aside and gave Charlotte's Bed a fighting chance. The story is fun and humorous, with just a touch of deepness that makes you crave more. The writing style is amazing and addictive. I will definitely be looking for more from S.J. in the future!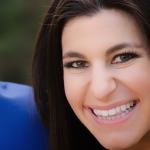 S.J. Stava is a young, new author who knows that "chick lit" can be smart, funny, and provocative and aims to prove it.
She has loved to read for as long as she can remember. Most childhood summers were spent schlepping to and from the local library with shopping bags full of books. Her passion for books led her to study literature at UCSB, where she graduated with her B.A. in English. After working in a plethora of different careers – from wedding planning to market research to fundraising – she's never stopped reading…or writing.
Having spent time dallying in ghostwriting, she got bit by the bug and decided to publish her very own book, Charlotte's Bed, under her very own name.
Connect with S.J. Stava
Have you ever read a book that you didn't expect to fall quite so in love with?