Title: Breaking Up With Barrett
Author: Katy Regnery
Series: English Brothers
Published by: Indie
Date published: July 21, 2014
Genres: Contemporary
Book Length: 171 pages
Steam Rating: Steamy
Main Characters: Barrett & Emily
Buy on Amazon
"On a serious note, this book was simply AMAZING! I still cannot get over how sweet of a love story this managed to be."~Becca

Breaking Up with Barrett is the first of six books about the Philadelphia-based, wildly-handsome English brothers who are all on the look-out for love.
(Except Alex. He's a womanizing manwhore. And maybe Stratton, because he's wicked hot, but super awkward around girls.)
Barrett English, aka "the Shark," is the fair-haired, first-born of the English brothers, and the CEO of the oldest, most prestigious investment banking firm in Philadelphia. He rules the boardroom with an iron fist, refusing to take no for an answer and always getting his way.
Emily Edwards, a first-year doctoral student at the University of Pennsylvania, grew up in the gatehouse on the outskirts of Barrett's childhood estate. The daughter of his family's gardener and housekeeper, she was always looking through the window of privilege, but forced to remember her place at the very periphery of the kingdom.
When business partners suggest that a fiancee might soften Barrett's image over business dinners, he approaches Emily for the "job" of fiancee. And while love wasn't necessarily on Barrett's radar, he begins to realize that Emily always has been. But will his take-no-prisoners boardroom tactics work on the heart of the woman he loves.

Seriously?!? What an absolutely…100% EVIL book! lol
This was my first Katy Regnery book and goodness if I'm not hooked and addicted! How dare she offer this sigh worthy book for free on Kindle…only for me to be so addicted to not only her writing style, the characters, the story, the family, the town, the…well everything that I am on the verge of 1 clicking all 6 in the series?!? Heck I'm ready to stalk Katy online and bug her daily about more books!!
On a serious note, this book was simply AMAZING! I still cannot get over how sweet of a love story this managed to be. For such an over played trope (fake fiance turns love) she kept me on my toes. I never once knew what was coming or what to expect. All that I did know was that I wanted more.
More sexy Barrett…
More sweet and gorgeous Emily…
more of this perfectly written romance!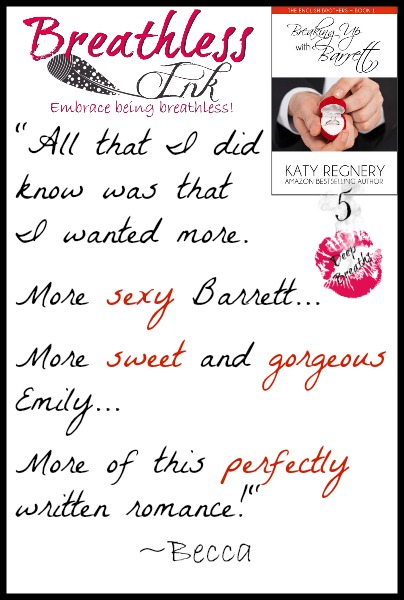 I know that when I 1click a freebie I'm always skeptical. ..you just never know what the quality is going to be. You never know if it's going to be one you can't put down or one you wish you had never picked up…
Breaking Up With Barrett managed to be both for me haha I was so mad at myself for starting this book knowing that my book budget was done for the month…and I was going to have to wait to get the rest!!
So not cool…how dare she write a book that makes me want more haha
Let's talk a bit about the book, romance and story line.
This romance is super sweet and angsty. I've never read a book where the couple met at such such a young age and fell in love. I will say that it took me a bit to adjust to the idea that there was something strange about a billionaire business man dating his gardener's daughter. ..guess to us lowly normal people it just didn't seem strange or like something wrong.
The romance flows beautifully and is very realistic. So much so that I swear I may run across all of these characters one day! Their backgrounds are so well developed that I know these people. I feel like I am a part of their lives, a part of their story. Just wow!
The way that Katy writes is so flawless, so organic and real…I just can't imagine not wanting to read more from her! Needless to say, Barrett and Emily are 100% MFEO!
So what are you waiting for?!? Head over to Amazon and one click that bad boy!!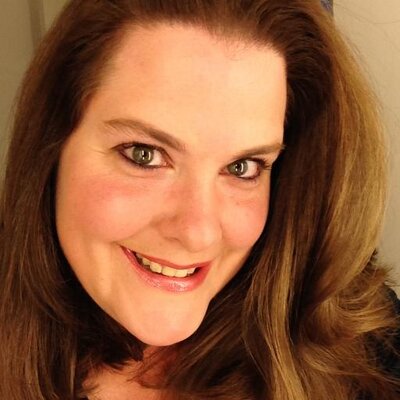 Katy Regnery, award-winning and Amazon bestselling author, started her writing career by enrolling in a short story class in January 2012. One year later, she signed her first contract for a winter romance entitled By Proxy.
Now a hybrid author who publishes both independently and traditionally, Katy claims authorship of the six-book Heart of Montana series, the six-book English Brothers series, and a Kindle Worlds novella entitled "Four Weddings and a Fiasco: The Wedding Date," in addition to the standalone novels, Playing for Love at Deep Haven and Amazon bestseller, The Vixen and the Vet.
The Vixen and the Vet is included in the charity anthology Hometown Heroes: Hotter Ever After, and Katy's novella "Frosted" will appear in the upcoming (Jan '15) anthology, Snowy Days Steamy Nights. Additionally, Katy's short story, "The Long Way Home" will appear in the first RWA anthology (Feb '15), Premiere.
Katy lives in the relative wilds of northern Fairfield County, Connecticut, where her writing room looks out at the woods, and her husband, two young children, and two dogs create just enough cheerful chaos to remind her that the very best love stories begin at home.
Connect with Katy:
Katy LOVES connecting with her readers and answers every e-mail, message, tweet and post personally!
Website | E-mail | Facebook | Pinterest | Twitter
Could you pretend to be engaged to the man you secretly love?