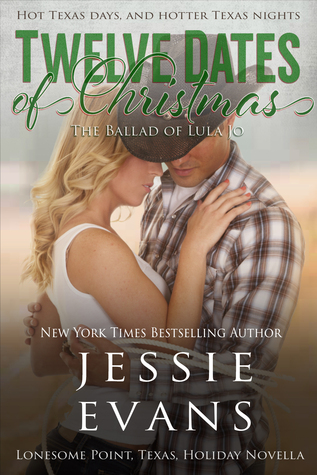 Title: Twelve Dates of Christmas
Author: Jessie Evans
Series: Lonesome Point Texas Series
Published by: Self Taught Ninja
Date published: Nov. 9, 2014
Genres: Contemporary
Book Length: 172 pages
Steam Rating: Steamy
Main Characters: Lula & Carter
Buy on Amazon
"The romance in this book is epic and undeniable! The sexual tension and connection that Carter and Lula share is intense. Even with this being a novella the relationship didn't seem forced or rushed. It just felt right. Jessie has managed to earn the MFEO stamp of approval for a novella…which is a first on Breathless Ink!" ~Becca

THE TWELVE DATES OF CHRISTMAS: The Ballad of Lula Jo
A Lonesome Point Novella
It's the time of year for miracles…
Once upon a time, Lula and Carter were inseparable and Christmas was Lula's favorite time of the year. But when Lula refused Carter's proposal one dark December night—unwilling to abandon her hometown to live the dangerous life of a treasure hunter's wife—the holiday lights went out in her heart. She abandoned all hope of romance and embraced a hermit's existence, keeping her distance from dangerous men and untamed cowboys. Until now…
Years of hard knocks have taught Carter that the greatest adventure is the one he once found in Lula's arms. He's back in Lonesome Point determined to win back the only woman he's ever loved, but Lula is just as determined to keep her heart under lock and key. She gives Carter twelve days—and twelve dates—to make his case before she sends him on his way, not counting on the fact that the two of them have grown into people even more meant to be.
It looks like Lula and Carter are on track to Happily Ever After take two, but when Lula's old fears are reawakened Christmas Eve it will take a holiday miracle to keep them together.

Hi, my name is Becca and I am addicted to the Lonesome Point Texas series by Jessie Evans.
"Hi, Becca." Hehe come on, you know you echoed the expected response!! No? I'm the only one…well damn!
Moving on from my insanity….
Twelve Dates of Christmas is a novella, which I typically hate because things feel rushed and I always end up feeling like I missed so much of the story. Some how Jessie managed to pack one hell of a punch in this novella and I can honestly say that I didn't have a single moment during this book where I felt like I was being rushed or missing anything. It takes a special type of writer to be able to pull this off, to be able to fit an entire love story into such a short book.
So let's talk story line and characters, shall we?
Lula, who we met in Leather and Lace as well as Saddles and Sin, gets to tell her story! I was so excited when I heard about this book, I just knew that Lula had a story worth reading and boy was I right! When I read the first two books in the series I got the idea that Lula was much older than she is. I was rather surprised to find out her age! Anyways, in Twelve Dates of Christmas Lula gets the surprise of her life when the man who crushed her heart eleven years ago shows up in town hell bent on getting her back. It's a bit difficult to tell you much about the story line and not give away spoilers…so this will unfortunately be a short review LOL
Carter is sexy as sin (as are all of the men in the Lonesome Point series) and has a heart of gold! He may have made mistakes in the past, but the way he treats Lula and does everything in his power to earn back her trust is just perfect. He only has 12 dates….just 12 days to convince her that he is a changed man! Can he do it? Can he break down her walls and show her that his love for her never stopped??
The romance in this book is epic and undeniable! The sexual tension and connection that Carter and Lula share is intense. Even with this being a novella the relationship didn't seem forced or rushed. It just felt right. Jessie has managed to earn the MFEO stamp of approval for a novella…which is a first on Breathless Ink!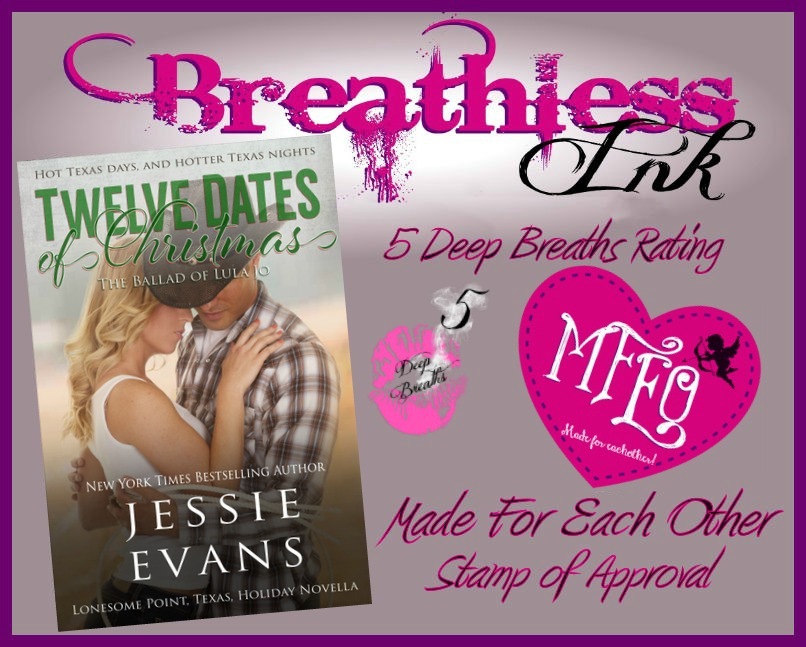 Twelve Dates of Christmas is a DEFINITE must read! If you haven't already started the Lonesome Point series then head on over and pick up Leather and Lace and get your hiney to the LPA (Lonesome Point Anonymous) meetings lol Jessie Evan's writing style is addictive, fun and just plain amazing! The stories flow beautifully and the characters are so well developed that I feel like I could easily pull up in that town at any moment and run into the characters!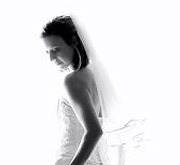 New York Times and USA Today bestselling author, Jessie Evans, gave up a career as an international woman of mystery to write the sexy, contemporary romances she loves to read.
She's married to the man of her dreams, and together they're raising a few adorable, mischievous children in a cottage in the jungle. She grew up in rural Arkansas, spending summers running wild, being chewed by chiggers, and now appreciates her home in a chigger-free part of the world even more.
When she's not writing, Jessie enjoys playing her dulcimer (badly), sewing the worlds ugliest quilts to give to her friends, going for bike rides with her house full of boys, and drifting in and out on the waves, feeling thankful for sun, surf, and lovely people to share them with.
Connect with Jessie Evans
Website | Twitter | Facebook | Goodreads | Newsletter
How do you feel about novellas?