Title: Our Lives Entwined
Author: Lilliana Anderson
Series: Entwined
Published by: INDIE
Date published: August 13, 2013
Genres: Contemporary, Mystery
Book Length: 206 pages
Steam Rating: Steamy
Main Characters: Mia, Natalie, Eric & Cayd
Buy on Amazon
"Our Lives Entwined is totally worth reading if for no other reason than to get some closure and find out where each relationship leads!" ~Becca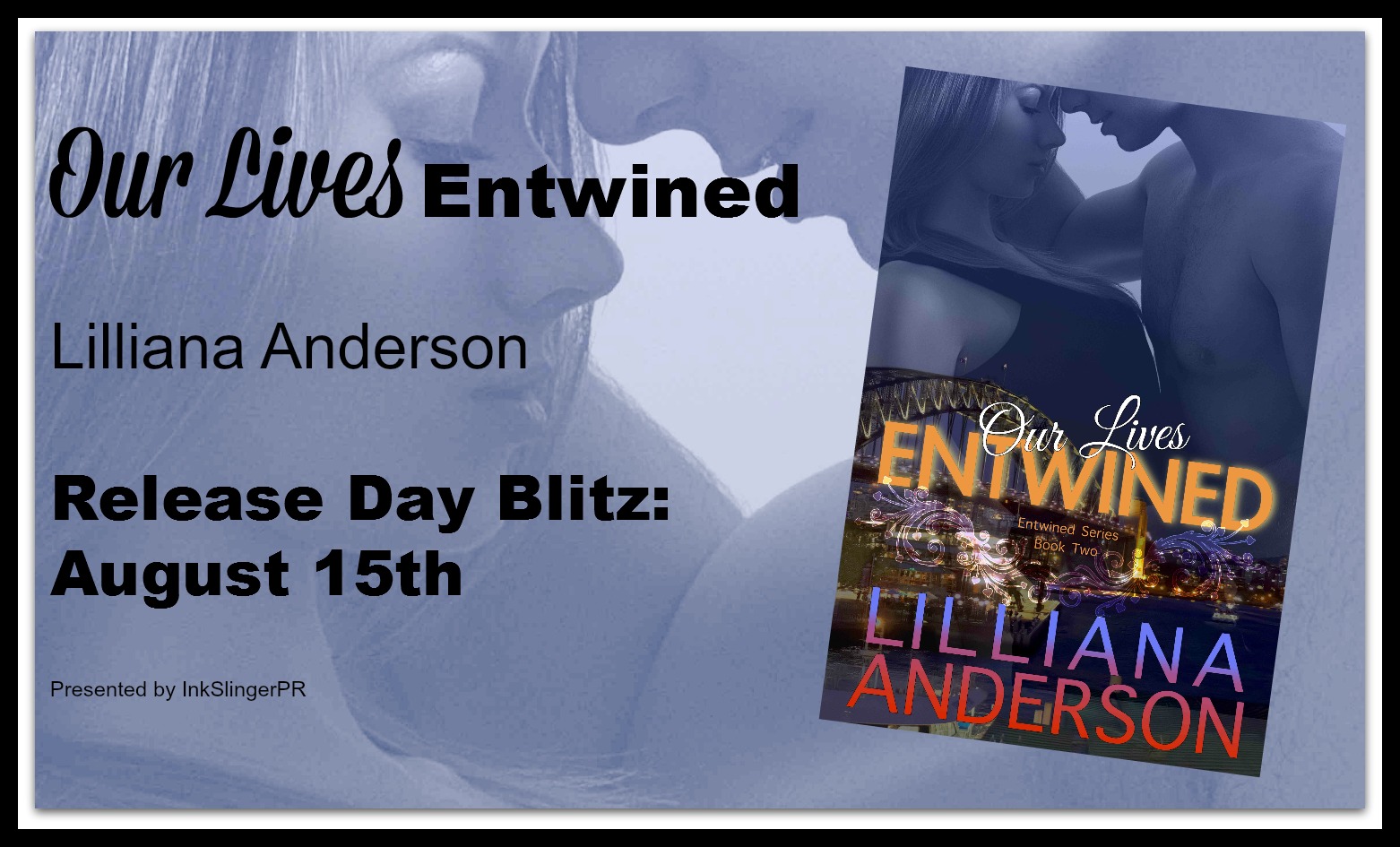 ***Adult content warning*** New Adult Romance, containing sexual acts and adult scenarios. For 18+

After the disastrous reunion between twin sisters Mia and Natalie, Natalie returned to Sydney, leaving Mia, Cayd, Eric, Louise and Josh to get on with their lives.

Over the next year, they all try to move on. Louise and Josh become engaged, and Mia and Cayd now live together. But Eric is still lost, he fell hard for Natalie, even though he didn't really know her – and can't stop thinking about her.

Natalie wants a second chance. She's been trying to find her birth mother in the hopes that her twin will want to meet her too. And if she can get Mia to forgive her, then maybe Eric can forgive her too…

But when the past is uncovered, huge secrets are revealed that will once again threaten everyone's happiness.

Mia just wants Natalie to leave her alone. Every time she enters her life, everything falls apart. First she ruined her relationship with Eric, and now she's uncovering things about Cayd that Mia's not sure she can get past.

And then there's their mother… without realizing it, their lives are already entwined – far more than any of them will ever be comfortable with.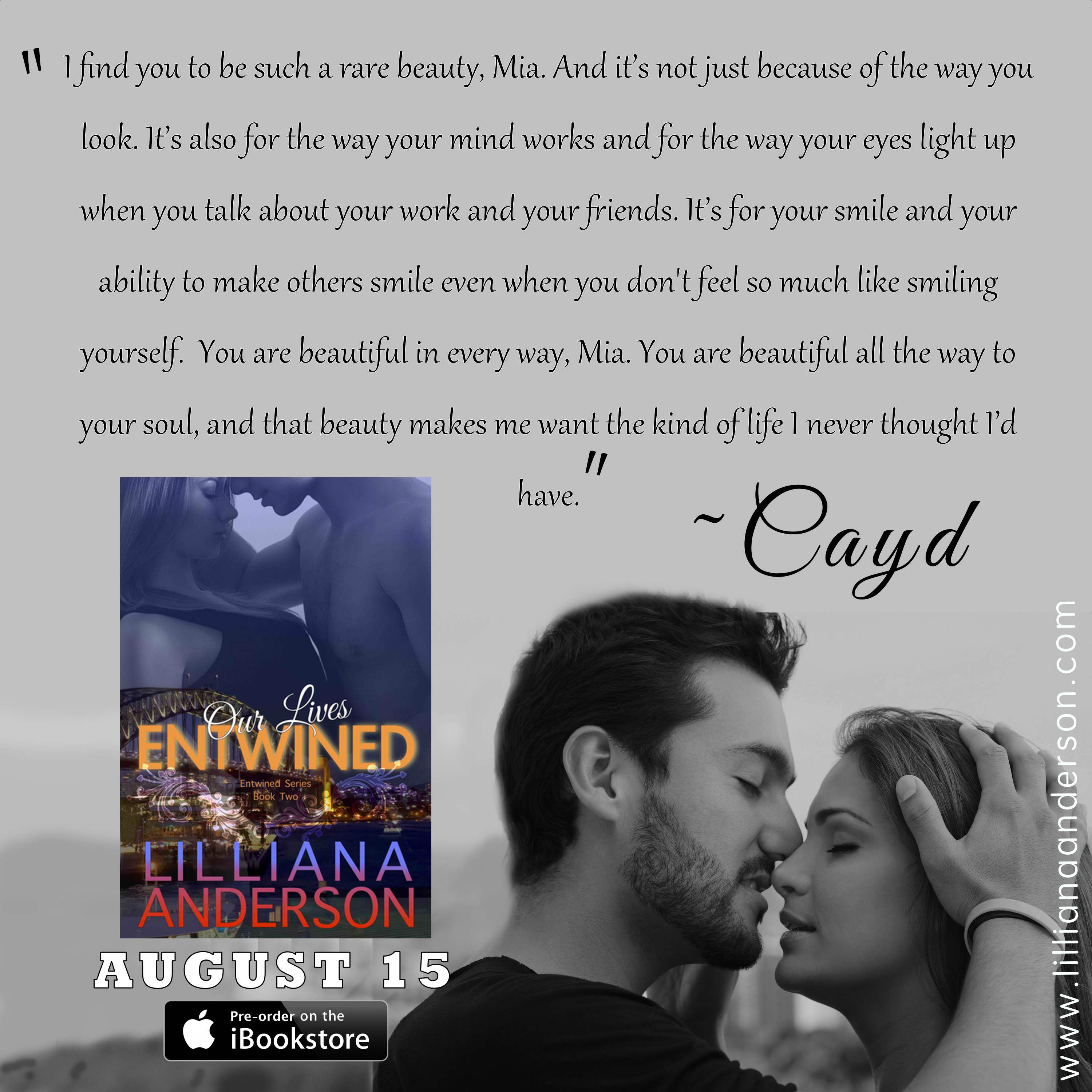 Book one in this series was simply to die for! The twists and turns were unexpected and fun but didn't take away from the romance at all. Our Lives Entwined was interesting and had a TON of potential to be awesome…however, for me it just didn't reach the heights I had hoped it would.

After the crazy discoveries from Our Hearts Entwined, there is a lot of healing and dealing that needs to be done. I really love that these books don't focus in on one couple. Instead we get to read from everyone's POV and get a glimpse at their lives and relationships.

Mia and Cayd are trying to live out their happily ever after…but things are not always that simple.

Eric and Natalie are both trying to move on…but failing miserably.

Josh and Louise…well they are awesome! (Possibly my favorite characters in the book lol very little whining or self-absorbed behavior from these two!)

With all of these couples there is a certain level of chemistry and sexual tension. Lilliana Anderson's writing style makes it easy to feel like a part of the story and this book is no different. There is a lot of drama between…well everyone and some of it just started to get to me. I kept thinking "Umm…well that was childish….what about your love…ever think of forgiving someone? Past is past, people…especially when they didn't even KNOW you when it happened!"

Okay…so from my mini rant there you may have a feeling why this book didn't get the 4 or 5 star rating. While the story line has a decent amount of suspense and romance…the characters just got plain out whiny and self-absorbed! I know that Natalie's character is supposed to be that way…I get that…and I dealt with it! I couldn't fully understand how or why Eric wanted to deal with that…but hey his choice! However, somewhere along the way Mia joined in on the crazy-train and things went down hill from there for me. I found myself really disliking the characters! (Don't get me wrong, the book is written beautifully and I couldn't put it down, I really wanted to know where things would go…but I literally cringed every time Mia or Natalie spoke…all they cared about were themselves and it just got to be too much!)

Cayd puts up with a ton of crap in this book…Mia goes from being a mature woman to someone who runs at the drop of a hat and doesn't give anyone the chance to explain. I know that a lot has happened to her and it is a lot to deal with…but none of it was cause for her to treat her friends the way that she did. I just can't get over the personality change from book 1 to book 2! I still adore Cayd though…even if he did live a "playboy" life for a bit, that doesn't make him a bad guy now.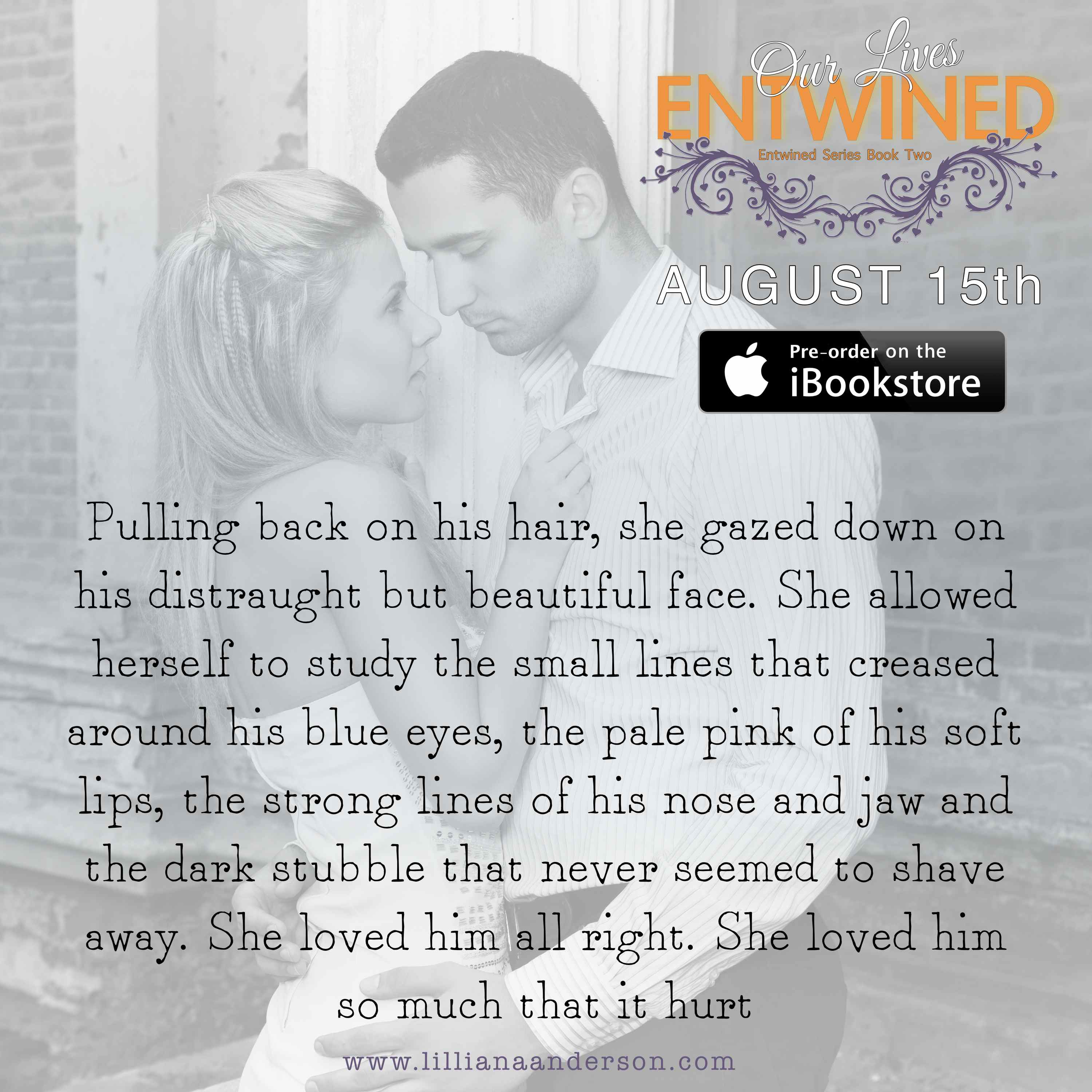 As I mentioned before, Our Lives Entwined pulls out some awesome twists and turns on the mystery/suspense front. I remember when things came to a head over who the twins mother was…I was lying in bed reading and my first thought was "There is NO WAY IN HELL…nope…nu uh…fate couldn't be so cruel!" But yep…it made for a good read!

I know that this review may seem like I'm saying the book isn't good or worth reading…PLEASE UNDERSTAND THAT THAT IS NOT WHAT I AM GETTING AT! I am simply trying to explain why I didn't enjoy it as much as I did the first one. 

Our Lives Entwined is totally worth reading if for no other reason than to get some closure and find out where each relationship leads! The story is still unique and fun to read (if you aren't bothered by some childish behaviors) and the sexual tension and chemistry is intense. If you enjoyed Our Hearts Entwined then I HIGHLY RECOMMEND giving Our Lives Entwined a chance


"Mia," Cayd called after her, as she made a beeline for the ballroom's exit doors.
Glancing over her shoulder at him, she pursed her lips together and pushed through the doors, heading straight for the elevator bay. She called out to hold the lift as the doors were about to close and was lucky that the occupants waited to let her in.
"Thank you," she smiled, as she took her place near them, closely followed of course, by Cayd.
"Where are you going?" he demanded, as soon as the lift doors were closed.
Mia hadn't bothered to punch a button, she was just willing to ride the lift tow her where ever it was going, in the hopes that Cayd would be left outside it. But now, she glanced at the levels.
"The bar of course." She leaned forward and pressed the floor that stated 'bar and restaurant'. "I have some 'picking up' to do."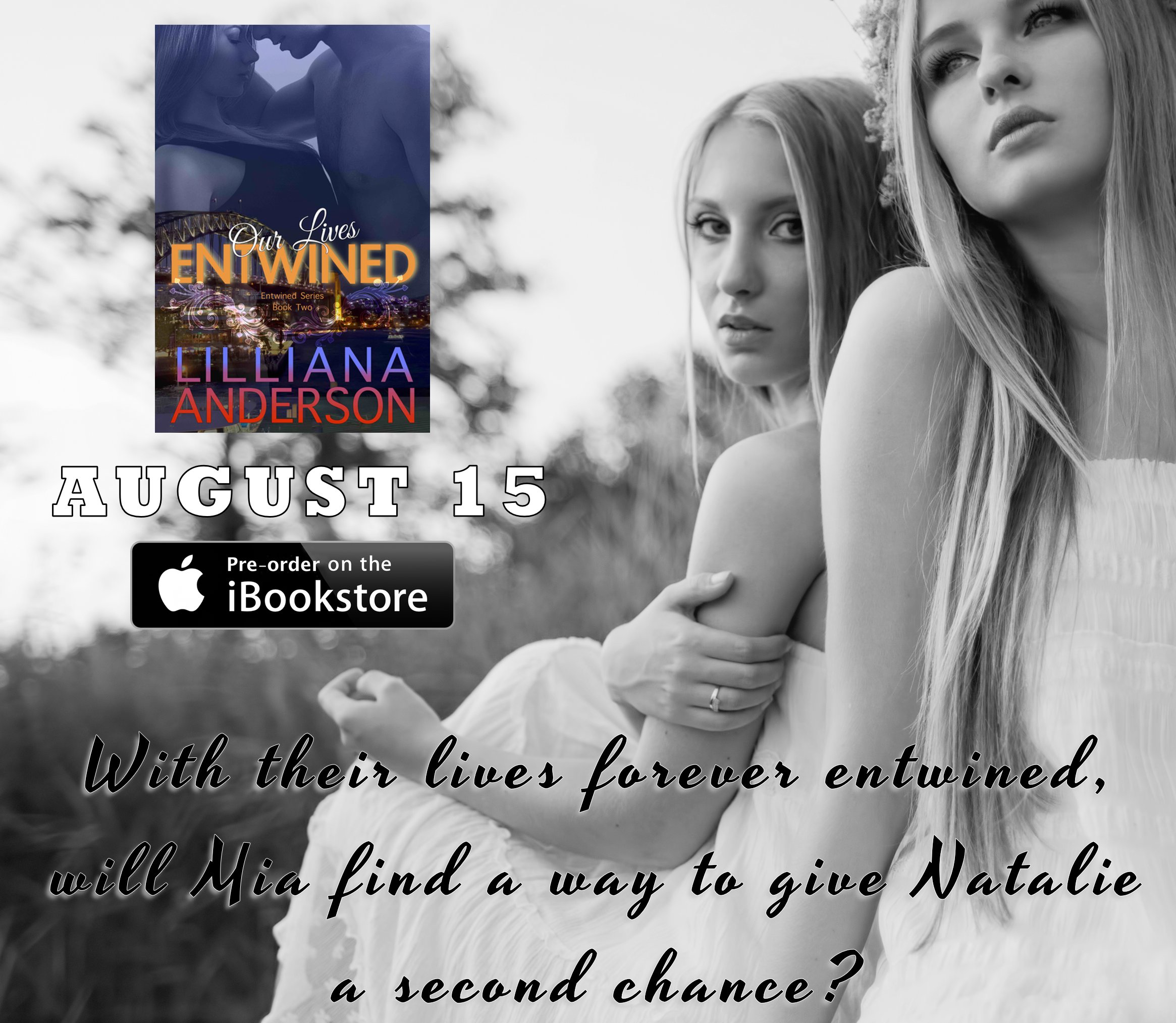 Choosing to ignore her childish insinuation, Cayd tried to keep his voice calm. "You're headed in the wrong direction for the bar. This lift is going up," he pointed out.
"I'll get there eventually."
When the elevator doors pinged open, the couple inside made a hasty retreat, glad for freedom away from what was about to turn into a lover's quarrel.
Although, the moment the doors closed and the lift once again began to move, Cayd pressed the stop button.
"Tell me what you're upset about."
"Cayd. What are you doing? Start the bloody lift or they'll call the fire brigade."
"Tell me what she said to you."
Mia folded her arms and leaned against the wall of the lift. "She said that you'd slept with her and every other girl out there, and that you got some girl pregnant and took off. But mostly, she just went on about how young I am, and how you'll get bored with me and toss me aside once I'm over thirty."
Cayd let out a sigh, and stepped toward her, sliding his hands up to either side of her face. "Mia, I'm not going to lie to you. I have been with a lot of those women out there. But not one of them even holds a candle to you. She's just trying to upset you. You, my love, are the only one I see. The only one I want to be with. You're the only one who can run and have me pursue. I don't care what those women think. I care about you. I love you. Only you," he whispered, gently kissing her forehead, her cheeks, her eyes and finally her mouth.
Mia let out a whimper as his tongue entered her mouth, sliding against her own as he possessed her with his adoration. A frenzy overcame them, as her body screamed with want and he moaned in response. Suddenly, he was pulling her dress up as she reached between them and unbuckled his pants, reaching her hand inside…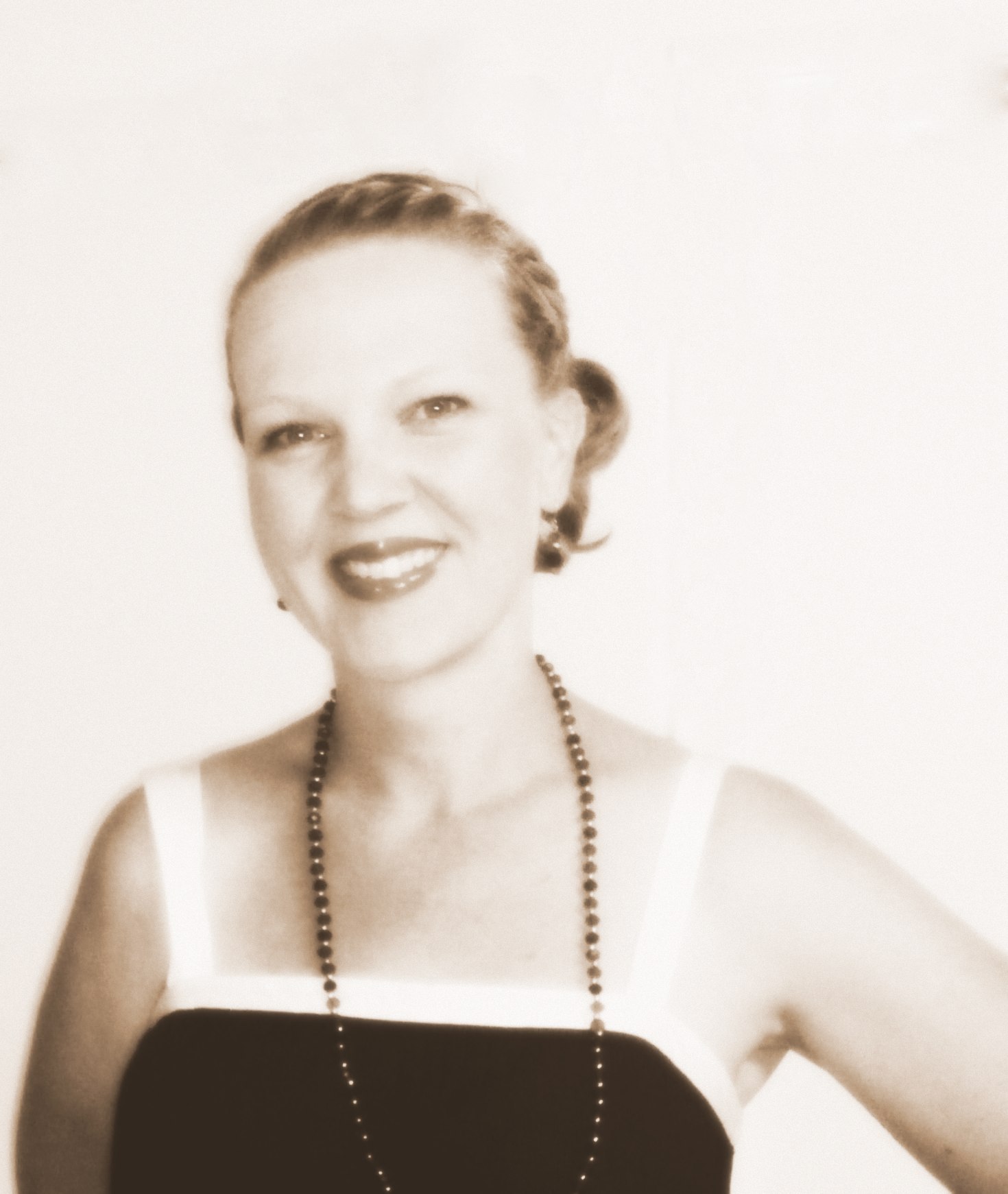 Bestselling Author of the Drawn Series, the Beautiful Series, and the Confidante Trilogy, Lilliana has always loved to read and write, considering it the best form of escapism that the world has to offer.
Australian born and bred, she writes New Adult Romance revolving around her authentically Aussie characters as well as a biographical trilogy based on an ex-Sydney sex worker, named Angelien.
Lilliana feels that the world should see Australia for more than just it's outback and tries to show characters in more of a city setting.
When she isn't writing, she wears the hat of 'wife and mother' to her husband and four children.
Before Lilliana turned to writing, she worked in a variety of industries and studied humanities and communications before transferring to commerce/law at university.
Originally from Sydney's Western suburbs, she currently lives a fairly quiet life in suburban Melbourne.
Blog | Twitter  | Facebook  | Author Goodreads  | Newsletter | Website

a Rafflecopter giveaway
What do you think of romance novels with a twist? Would you be interested in reading one with a psychological aspect?