Title: Falling for Fitz
Author: Katy Regnery
Series: English Brothers
Published by: Indie
Date published: July 27, 2014
Genres: Contemporary
Book Length: 166 pages
Steam Rating: Steamy
Main Characters: Fitz & Daisy
Buy on Amazon
"The witty banter, epic second chance romance, and the sweet gestures were just perfect when mixed with Katy's superb writing style!"~Becca

"Falling for Fitz" is the second of six books about the Philadelphia-based, wildly-handsome English brothers who are absolutely not on the look-out for love.
(Except Barrett, who fell in love when he was eight-years-old. And Fitz, who met the girl of his dreams at nineteen. And maybe even Weston, who just doesn't know it yet.
Fitz English and Daisy Edwards fell in love during one magical summer when they were teenagers. When something tragic happens at the end of the summer, Daisy tells Fitz she never wants to see him again. Despite his feelings for her, he respects her wishes and for almost a decade Fitz and Daisy go their separate ways.
Almost ten years later, when Daisy moves home to Philadelphia, they meet again, and both are shocked to discover that the feelings they had that summer are just as deep and real today. There's a little snag, however. It seems that Daisy is engaged to someone else, and she's come home to get married.
Can Fitz get Daisy to fall for him all over again before it's too late? Only if Daisy can learn to trust the man who shattered her heart once upon a time.

From book one in this series I was hooked on Katy Regnery's writing and couldn't wait to get started on book 2! I mean come on…who doesn't want a little Fitz??
I adore a second chance romance book! Something about them just really make me grin and giggle and I can never get enough!
To make this book even more to die for and addictive Katy added in the fun aspect of the main character being such a serious non-rule breaker…except around Daisy of course! Watching as Fitz let loose and showed more of a laid back romantic side was just awesome!
The break up between these two (the first go round) was epic and life changing. Who would have thought that uptight Fitz was capable of such things. What an awful thing for both of them to have to go through!! I definitely teared up quite a bit while reading about their summer romance.
We learn rather quickly that both Fitz and Daisy both use one another as their "measuring stick" when it came to relationships…both miss the other terribly…. and both regret their decisions during that summer.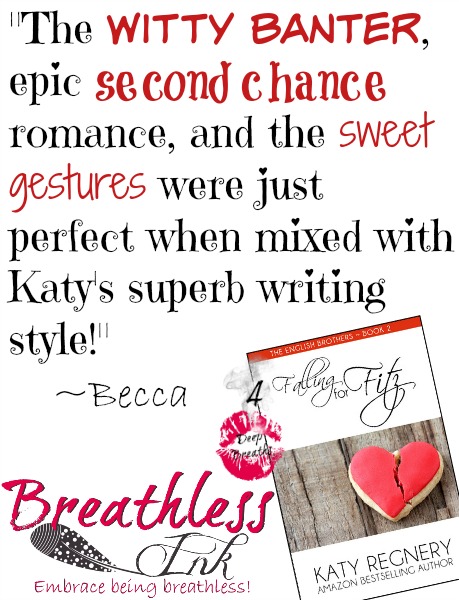 Needless to say that this book is impeccably written and just as great as Breaking Up With Barrett. The witty banter, epic second chance romance, and the sweet gestures were just perfect when mixed with Katy's superb writing style! I adore the fact that we get glimpses of Emily and Barrett. I am always thrilled when I get to read a book about a new couple while keeping up with the others

Trust me when I say that this book, this series, is one that you will not want to, nor be able to, put down!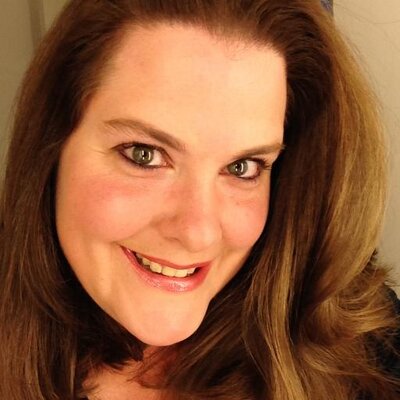 Katy Regnery, award-winning and Amazon bestselling author, started her writing career by enrolling in a short story class in January 2012. One year later, she signed her first contract for a winter romance entitled By Proxy.
Now a hybrid author who publishes both independently and traditionally, Katy claims authorship of the six-book Heart of Montana series, the six-book English Brothers series, and a Kindle Worlds novella entitled "Four Weddings and a Fiasco: The Wedding Date," in addition to the standalone novels, Playing for Love at Deep Haven and Amazon bestseller, The Vixen and the Vet.
The Vixen and the Vet is included in the charity anthology Hometown Heroes: Hotter Ever After, and Katy's novella "Frosted" will appear in the upcoming (Jan '15) anthology, Snowy Days Steamy Nights. Additionally, Katy's short story, "The Long Way Home" will appear in the first RWA anthology (Feb '15), Premiere.
Katy lives in the relative wilds of northern Fairfield County, Connecticut, where her writing room looks out at the woods, and her husband, two young children, and two dogs create just enough cheerful chaos to remind her that the very best love stories begin at home.
Connect with Katy:
Katy LOVES connecting with her readers and answers every e-mail, message, tweet and post personally!
Website | E-mail | Facebook | Pinterest | Twitter
How do you feel about a second chance romance?