Author: Victoria H. Smith
Published by: Victoria H. Smith
Date published: June 26, 2014
Genres: Contemporary New Adult
Book Length: 235 pages
Steam Rating: Steamy
Main Characters: Griffin Chandler and Roxie Peterson

Buy on Amazon
  "I was quickly drawn into Roxie and Griffin's world of love and basketball, and I fell in love with Griffin from page one."

He's noticed by everyone…
Griffin Chandler.
He's captain of our college's basketball team. I swear to God I've already seen him in a Nike ad, and he's one of the top picks when he goes pro following our spring graduation.
His life is on display for the world. Both his accomplishments and demons there for judgment.
I'm a girl who likes to play roller derby from, of all places, Wisconsin. My own demons better concealed. And one day…
He notices me.

Found by You is a sweet NA contemporary romance with plenty of steam. I was quickly drawn into Roxie and Griffin's world of love and basketball, and I fell in love with Griffin from page one. Although Griffin is a star at her university and Roxie considers herself nothing out of the ordinary, these two find a common denominator that soon finds them head over heels.
What I loved most about this novel is how the characters, despite outward appearances, have perfectly flawed pasts that weave into the current events of the story-not too much, but just enough to have you appreciate their ability to move beyond who they were and focus on who they are now. While some people may dwell on their pasts, Roxie and Griffin do not and manage to move on with their lives, finding a happy place within each other, despite differences that may be more obvious to others than to themselves.
Griffin Chandler is the sexy superstar on campus. Captain of their college's basketball team, he is looking forward to a promising professional career following his upcoming graduation. Though he's had his fair share of past transgressions, he has straightened out his life by the time he meets Roxie. And although he knows she is not his usual type, he is drawn to her anyway, finding she is exactly right for him. THIS is my favorite type of chemistry~when one can look inside another, not focusing on the shallow surfaces~which is why I fell in love Griffin from the start.
While Griffin has managed to move on from his past, Roxie's problems are still ever present in her life and it takes Griffin's acceptance and love for her to overcome them. Not his usual type as far as Roxie is concerned, she slowly begins to open up despite every bone in her body telling her to run. For one, she is not a 'skinny' barbie doll like most of Griffin's ex's and two, she isn't white. Although their backgrounds played a part in the story, her race had very little, if anything to do with it and the two find that they have much more in common then not, which eventually becomes the tie that binds them together.
I really enjoyed Found by You. There were plenty of sweet moments between Roxie and Griffin while the two find their way and as for the steam~let me tell you, the hot trysts did not disappoint.
Griffin and Roxie are a lovely couple, and I officially appoint them MFEO.

Victoria H. Smith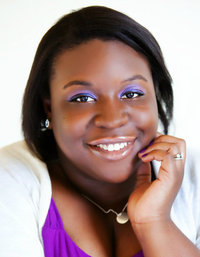 Victoria H. Smith has a Bachelor's Degree in Political Science. She puts it to good use writing romance all day. She resides in the Midwest with her Macbook on her lap and a cornfield to her right. She often draws inspiration for her stories from her own life experiences, and the twenty-something characters she writes give her an earful about it.
In her free time, she enjoys extreme couponing, blogging, reading, and sending off a few tweets on Twitter when she can. She writes new adult fiction romance in the sub-genres of science fiction, urban fantasy, and contemporary, but really, anywhere her pen takes her she goes. She's also co-founder of NA Alley, a group fiction blog dedicated toward the spread of the 'new adult' fiction category.

Victoria is giving away a copy of her new novel, Found by You!
A Little Tease…