Title: My Last
Author: Melanie Shawn
Series: Crossroads
Published by: Red Hot Reads
Date published: July 28, 2013
Genres: Contemporary
Book Length: 259 pages
Steam Rating: Steamy
Main Characters: Riley & Chelle
Buy on Amazon
"I found myself paying close attention to the background characters constantly wondering who I would get to read about next…who will fall for who and how will it happen. By the end of this book I had come up with all sorts of love connections that should happen…I even have something in my head for Grandpa J! Lol" ~Becca

He was the bad boy…
After twelve years in the Marines Special Forces Riley Sloan is more than ready to start his new civilian life. No one to answer to. No one depending on him. No more dangerous rescues…he thought. After receiving a distress call he is sent on a recon mission to check on the one girl that is completely off limits and the only girl that ever made him question his loyalty. His best friend's little sister. She is the last girl he should want…but the only one he does. This could end up being the riskiest operation of his life.
She was the good girl…
Rachelle Thomas wouldn't hurt a fly. She is honest, kind and always sees the best in people. So she is completely blindsided when her fiancé dumps her for his pregnant 18 year old secretary. Confused and heartbroken she decides to head out of town to regroup. When her attempt to hide from the world worries her friends and family they send out a search party of one, Riley Sloan. Her brother's best friend and the star of all of her teenage (and adult) fantasies. She knows wanting him is wrong but she is tired of always doing the "right thing"…especially when Riley made the "wrong thing" feel so right.

Soo…book 1 (My First) ended…needless to say that I was pumped and ready for book 2! I mean come on…Jason and Katie's story was just SOOOO good, how could I not want to read more?
My Last focuses on Riley and Chelle. While we met Chelle a bit in book one, we never really got much on Riley…other than the fact that he is Marine and has been away for a really long time. Chelle is the sweet good girl that everyone loves…and Riley is the bad boy that no one knows anymore. I think my one issue with this story was that it was extremely sweet. I think what I'm trying to say is that there wasn't any big suspense or issue that they had to deal with other than Riley deciding to stay or not…
Not that being sweet is a bad thing. I mean, I adored this story and think that it is really well written. It just felt like there was something missing…something that would have made me worry for the characters…bite my nails as I turned the page…that sort of thing. (Now there is a bit of a twist near the very end…but still not really a nail biter.)
Now, lets talk about the story a bit. Basically, if you've read a best friends little sister book…the story line is sort of predictable on that front. However, Melanie Shawn manages to work in fun little things that do make it unique and totally worth reading. Honestly, I couldn't put it down. While My Last doesn't come close to the amount of love I have for My First, it was definitely an awesome read!
I was disappointed in Chelle's big brother Eddie though. That man was pretty freaking rude about things…I mean come on! You haven't seen him in 12 years and you expect him to be exactly the same as he was as a teenager? Not fair man…not fair at all! Riley is a total sweet heart alpha male and I adored reading about him.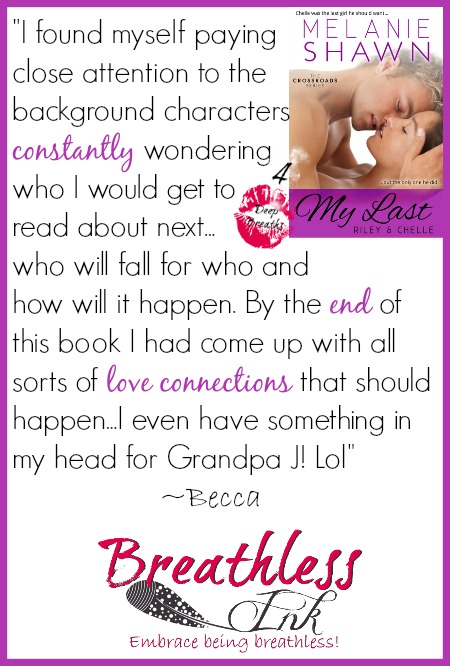 Each of the characters was, yet again, extremely well developed and absolutely addictive! I found myself paying close attention to the background characters constantly wondering who I would get to read about next…who will fall for who and how will it happen. By the end of this book I had come up with all sorts of love connections that should happen…I even have something in my head for Grandpa J! Lol
The romance is adorably sweet and absolutely magical. These two together left me in tears and had me crossing every known appendage that they would figure out a way to make their love work…I mean come on! Riley and Chelle are totally MFEO material!!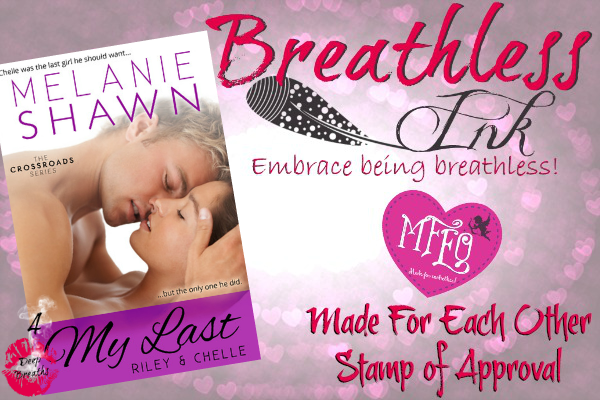 Anyways…over all this was an excellent read. Not my favorite ever…but definitely worth picking up! So pop on over to Amazon and give it  a go!

Melanie Shawn is the writing team of sister duo Melanie and Shawna. Originally from Northern California, they both migrated south and now call So Cal their home.
Growing up, Melanie constantly had her head in a book and was always working on short stories, manuscripts, plays and poetry. After graduating magna cum laude from Pepperdine University, she went on to teach grades 2nd through 8th for five years. She now spends her days writing and taking care of her furry baby, a Lhasa Apso named Hercules. In her free time, her favorite activity is to curl up on the couch with that stubborn, funny mutt and binge-watch cable TV shows on DVD (preferably of at least eight seasons in length – a girl's gotta have her standards!).
Shawna always loved romance in any form – movie, song or literary. If it was a love story with a happy ending, Shawna was all about it! She proudly acknowledges that she is a romanceaholic. Her days are jam-packed with writing, being a wife, mom aka referee of two teens, and indulging in her second passion (dance!) as a Zumba instructor. In the little free time she has, she joins Melanie in marathon-watching DVDs of their favorite TV programs.
They have joined forces to create a world where True Love and Happily Ever After always has a Sexy Twist!
What would you do if the guy you have been secretly in love with your ENTIRE life popped up in your bedroom?!?