Title: The Marriage Agenda
Author: Sarah Ballance
Published by: Entangled Indulgence
Date published: August 18, 2014
Genres: Contemporary
Book Length: 223 pages
Steam Rating: Steamy
Main Characters: Knox & Chloe
Buy on Amazon
"Knox and Chloe as a couple are captivating. They are so real and believable that I found myself with my fingers crossed hoping things would smooth out and they could be happy." ~Becca

There's a scandal brewing in Washington…  
 
Knox Hamilton wants his father's recently vacated Senate seat, but the only way his conservative constituents are going to vote for Knox is if he loses his playboy reputation. Which means Knox needs a wife. There's only one woman with whom he's willing to share his life, but after the way he broke things off with her, will she give him another chance?
 
Chloe Lochlan's job is on the line. If she doesn't grab a big headline, she'll be ousted from her gig at the major newspaper where she works as a reporter. Knox's offer of marriage chills her to the bone. He already crushed her heart once and she has no intention of letting it happen again. But being with him gives her the kind of access to top tier social events rarely granted to media, access that could land her the story of a lifetime. When the truth she uncovers threatens to destroy the man she still loves, will she bury the story…or his career?

Okay, to start I have to say that The Marriage Agenda literally left me in tears!
This was my first Sarah Ballance book, heck this was my first politcally based book….and I adored it! While I honestly couldn't care less about political races and polls….I mean come on a politician will say anything to get voted in, it doesn't mean they will follow through…the story line in this book hooked me and had me giggling and sniffling rather quickly. The idea behind the characters is so real, raw and deep that I couldn't help but become attached. I honestly felt like this story could be taking place right now.
Knox is a super sexy son of a senator that wants to follow in his family's shoes….well in most ways. He is also a grown man that is terrified of love and pushes away the one person that cares for him for something other than his name or money because of it.
Chloe is a reporter and a strong woman. But even strong women having breaking points…and being in love with a man that keeps insisting that he will never love you could just be hers.
Knox and Chloe as a couple are captivating. They are so real and believable that I found myself with my fingers crossed hoping things would smooth out and they could be happy. They brought out the best in one another and the fact that things weren't perfect made the romance flow more realistically.
The ending was perfect! Things flowed well and made sense without feeling sluggish or rushed. All of the main issues were brought to attention and I didn't feel left wanting. I will say that I saw the potential for a second book focusing on Toby and Lila maybe…or well maybe just Toby and a love interest …. who knows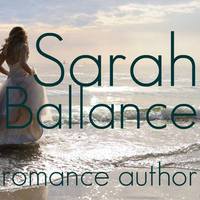 Sarah and her husband of what he calls "many long, long years" live on the mid-Atlantic coast with their six young children, all of whom are perfectly adorable when they're asleep. She never dreamed of becoming an author, but as a homeschooling mom, she often jokes she writes fiction because if she wants anyone to listen to her, she has to make them up. (As it turns out, her characters aren't much better than the kids). When not buried under piles of laundry, she may be found adrift in the Atlantic (preferably on a boat) or seeking that ever-elusive perfect writing spot where not even the kids can find her.
She loves creating unforgettable stories while putting her characters through an unkind amount of torture—a hobby that has nothing to do with living with six children. (Really.) Though she adores nail-biting mystery and edge-of-your-seat thrillers, Sarah writes in many genres including contemporary and ghostly paranormal romance. Her ever-growing roster of releases may be found on her website

Describe your book/series in 15 words or less!
Reporter meets politician in a sheet-scorching, high-stakes standoff. Scandal has never been so sexy!
We all need a hero! Tell us about your protagonist(s)? Was there a real-life inspiration behind him or her?
THE MARRIAGE AGENDA went through so many (AMAZING) changes between the original submission and the published version that if I'd had anyone in mind the connection would have been long lost, LOL. I will say there is a piece of my husband inside each of my heroes. On the surface he and Knox have very little in common – my husband only wears suits to weddings and funerals and he'd be miserable as a politician – but that sense of humor and sexiness is all him.
What was your favorite chapter (or part) to write and why?
I had to think about this question for a long while. It's almost a tossup, but I'm going with the sex scene near the beginning (which spans about two chapters). I've always had so much trouble getting those just right, and this one practically wrote itself. It was such an amazing experience, and what I really love is that the way it's written belongs entirely to those characters. It's wry and funny and playful and I've been told it totally works. Which is…ERMAGERD. Such a thrill.
Was there a music playlist for you while writing? If so can you share a few songs from it?
​I put every Jason Aldean song out there into one playlist and I have listened to it nonstop for at least two years. Every now and then I'll listen to Luke Bryan, but I do my best writing to Jason. A couple of my favorite songs are: Grown Woman, Fly Over States, The Heartache that Don't Stop Hurting, On My Highway, Relentless, Staring at the Sun, Talk, Asphalt Cowboy, and Texas Was You. I have to give an honorable mention to Luke Bryan for "Shut it Down" because OMG do I ever love that song!
What's next for you?​
I am hoping to snag a few more books with Entangled Indulgence, but in the meantime the third and final book in my Sins of Salem historical romance series releases in October from Entangled Scandalous and I have a new romantic suspense out 9/9 from Samhain.
Is there anything else you'd like to say?
Thank you so very much for having me here today. I appreciate your time and that you didn't bar the door and pretend not to be home when I arrived. J I'm, erm, sorry about the damage to the furniture. I should come with a warning label, really. LOL.
Are you the driver or a passenger in your book? (Are you in control of where the story goes or does it sort of just happen?)
A little of both. I have a synopsis in front of my when I write, so I know I need to get from point A to point B to point C. How we get there is often up to my characters, and I have to also give credit to my editors, whose suggestions made THE MARRIAGE AGENDA rock!
You're having a party. What character from your book do you hope attends? Why? What character do you hope doesn't attend? Why?
My main characters are a given, so I'll go with Toby. He's Knox's campaign manager and a real smart ass, but in a rather endearing way. He has a tendency toward wry humor and deadpans like nobody's business. As for who shouldn't attend, that's easy. Rex. He's a no-show in my book and I'd love for him to be a no-show at my party. J
Characters often find themselves in situations they aren't sure they can get themselves out of. When was the last time you found yourself in a situation that was hard to get out of and what did you do?
I guess I'm going to out myself as boring because I have no idea. I've put a dirty pan in the oven because I ran out of time to scrub it down before guests arrived for a party we hosted. Does that count? LOL. I pretty much go to my husband with anything so should a real issue occur I would expect that to be my solution. (I didn't tell him about the pan, though. LOL.)
Who is your favorite "Book Boyfriend"? What series is it from and who wrote it?
If I have to pick a guy, I'm going with Marek from Melissa MacKinnon's RETURN TO ME. He's a highlander, a warrior, and a man who values honor. He also melts the screen during the good parts. So HAWT.

Don't forget to check out our Monthly Giveaway page to see what else is included in this awesome giveaway!
Sarah is giving away a 10 dollar gift certificate to Barnes and Noble or Amazon! 
a Rafflecopter giveaway
Could you date a politician?