Title: A Fighting Chance
Author: Annalisa Nicole
Series: Running Into Love
Published by: INDIE
Date published: September 29, 2014
Genres: Contemporary
Book Length: 157 pages
Steam Rating: Steamy
Main Characters: Max & Chloe
Buy on Amazon
"This book was action packed, filled with love, tears, A SHIT TON OF SNOT and romance that left me absolutely breathless and begging for more!" ~Becca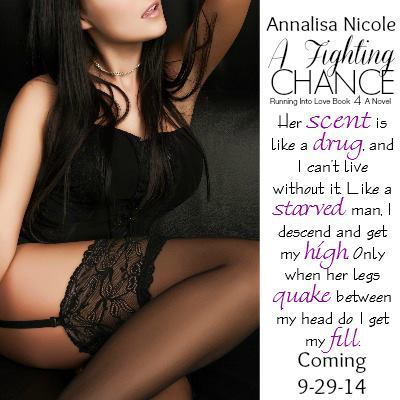 Max "Slick" Jones has never led an easy life. He's rough, hardened and tatted on the outside and never once thought that he deserved to be loved. Despite his upbringing, he's dedicated his life to helping others. When his old friend Asher Wellington calls upon his services, he drops everything knowing he has a lifetime of debt to fulfill to this family. But, what he didn't expect was to meet Chloe.
Chloe Peters grew up in a privileged, picture perfect life with amazing parents and her twin brother, Kyle. She and Kyle were living out their lifelong dream until one second, one moment in time changed everything and sent her into a tailspin she thought she could never recover from.
Will the exchange of deep dark pain in the eyes of two hardened souls open the door to a happily ever after?
Can Max show Chloe that there can be life after tragedy? Can Chloe Show Max that he is worthy of love?
Sometimes the hardest person to forgive, is yourself.
This is a mature audience book, and is intended for adults only.

Isn't sleep just totally adorable when it tries to compete with the book your reading?
I just dealt with this!! I finished my writing for the night and thought 'Oh, it's only 10:30, I can totally start reading A Fighting chance by Author Annalisa Nicole and finish it tomorrow to review on Monday's release day!' Yeah…guess finished the book at nearly 3 am and fell asleep with tears in her eyes over the story?!?!
While the writing style was a tad different than what I'm used to, basically the dual POVs overlapped a bit along with some wording, but by the time I was half way through chapter one…I just didn't care and I ADORED it! The story line captured me so fully and completely that nothing else mattered! Including the fact that my time to sleep was quickly disappearing without my noticing!
Guys…seriously…this book…just WOW!
Before I was part of the way through chapter one, which is just there to sort of catch you up on what has happened in the previous book with the main characters (I totally appreciated this seeing as I have yet to read the other books in the series), I had developed such an attachment to both Chloe and Max that I simply had to know what happened. There was no 'Well here is a good stopping point, I think I'll sleep now so I'm not a zombie tomorrow'. Oh no! This book was action packed, filled with love, tears, A SHIT TON OF SNOT and romance that left me absolutely breathless and begging for more!
It was intense.
It was heart wrenching.
It was emotional.
It was crazy and perfect and epic and flawless and …. well you get the point!
Max had his 'stupid man' moments…but the book wouldn't be worth reading if everything was all 'sunshine and floaty hearts'. Every book needs it's drama. It's tension. Trust me, Annalisa Nicole has tension down to a science…an art form! It's just amazing how perfectly she manages to make me both adore and loath Max during parts of this book. I get why he did what he did…and yet I still got pissed off at him as I read in Chloe's POV.
I am still amazed and perplexed by the fact that I connected with both characters to such a point that as the POV switched…my outlook and thoughts and feelings towards the situation switched along with it! I can honestly say that this is a first for me!
The romance flowed naturally. I love it when a book makes the characters take their time, not rush into the physical relationship, especially with extenuating circumstances such as these. The sexual tension and desire wasn't overwhelming and the sex scenes, when they finally came, were well written and left my mouth a little dry and my thoughts in some pretty naughty places!
The characters are well developed. Deep. Real. Raw. Emotional. Addictive. And so well written that I couldn't help but feel as if I was one of the other characters along for the ride! I love that we get a glance at the characters from the past book (which I am totally dying to read now) while still focusing on the main characters in this book. This family was so close and so loving and accepting. I couldn't help but fall a little bit in love with every last one of them!
Overall, this author and this book are amazing! I definitely recommend you heading over to Amazon
and falling in love with the characters just as I did! The story is impeccable, the characters are extremely well developed and lovable and the romance is one that will leave you wanting more and yet knowing that they totally got the HEA that they deserved!
Check out the other books in the series: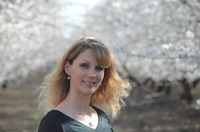 I am an "Indie" contemporary romance author. I live in California with my husband and two teenage boys. I love being a stay at home mom. My husband and I enjoy wine tasting and camping with our kids with our four wheelers in the middle of nowhere, where you can find me with my pink Ryder BB gun! We have a handful of pets, a dog named Lucy (who is in my books) and a guinea pig named Flufy (my son spelled her name that way) and a cat who adopted us many years ago and has never left. She is a spoiled outdoor cat with her own two story house and a heated bed.
I never liked reading as a kid. I only started reading romance novels in the past few years. My Kindle and I are inseparable now. A thought occurred to me in December of 2012 that maybe I could write a romance novel. So I went to work with the encouragement of my husband and my sister-in-law. It didn't take long to figure out that I really enjoyed writing.
Today I am a self published author and it has been an amazing journey.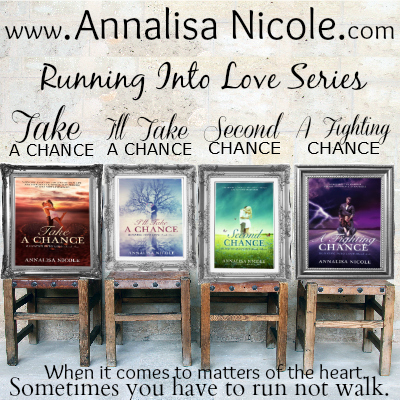 What did you think of that excerpt?!? The emotion in her voice and the excerpt itself both had me in tears!!