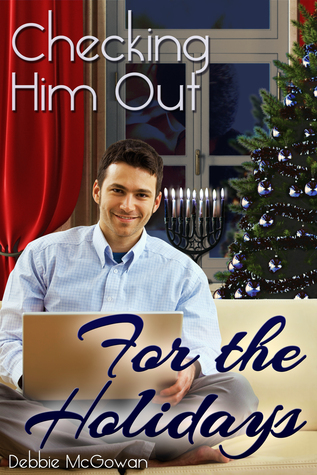 Title: Checking Him Out For the Holidays
Author: Debbie McGowan
Series: Checking Him Out
Published by: Beaten Track Pub.
Date published: Dec. 21, 2014
Genres: Contemporary, LGBT
Book Length: 75 pages
Steam Rating: Steamy
Main Characters: Sol & Adam
Buy on Amazon
"I enjoyed the easy going plot line (which had a few small and quickly resolved twists thrown in), the steamy and sweet romance and the holiday fun that mixed together in this story. Thanks for giving me a chance to fall in love with Sol and Adam Debbie!!" ~Becca

Freelance engineer Sol Brooks doesn't do the festive season. He thinks it's boring and overly sentimental. With the rest of the household laid up with 'the flu', Sol's planned on using the time to crack on with some work.
His mother, however, has other ideas.
And so does Sol's husband, Adam.
A stand-alone holiday special featuring Sol and Adam from Checking Him Out.

Woohoo…Sol and Adam are back…and like I said in my last review, I'm willing to give them a fighting chance to win me over!
I'm excited to say that I didn't have to cringe and bite my tongue in this one….there is NO CHEATING! Yay for that!
Another really awesome thing is that Elise is finally not being a massive bitch! From the looks of things she is actually being a pretty decent human being and a relatively good friend. I was very happy to see this. I loved that she got a small part in this book and we got to see that maybe she isn't as bad as we originally thought her to be. Fingers crossed she gets her own book soon and we can find out just what makes her tick and hopefully I will fully adore her instead of standing on the edge.
So on to the main characters…our sexy alpha men: Sol and Adam!
Again, you wouldn't think that this would work. Two alpha guys together? Umm…that's a recipe for disaster! But somehow these two make it work. Yep, the butt heads and have issues…but overall they have a solid relationship.
Both guys really stepped it up a notch in Checking Him Out For the Holidays. Neither is overly whiny or needy, even when they are sick! There is a decent amount going on in this relatively short novella, however, at the same time…nothing really happens. lol
This isn't exactly a bad thing…just a relatively non-eventful book. I read it in about an hour or so and actually enjoyed it quite a bit. I liked that the book wasn't over flowing with action and suspense. I got to focus on the characters and who they are. It really helped me to understand more about book one in the series and get a better handle on why they behave the way that they do. I liked that the story focused solely on their romance and not on so many different struggles. The only real 'issue' that pops up is that Sol doesn't 'do' celebrations and his and Adam's families are coming down for Christmas/Hanukkah.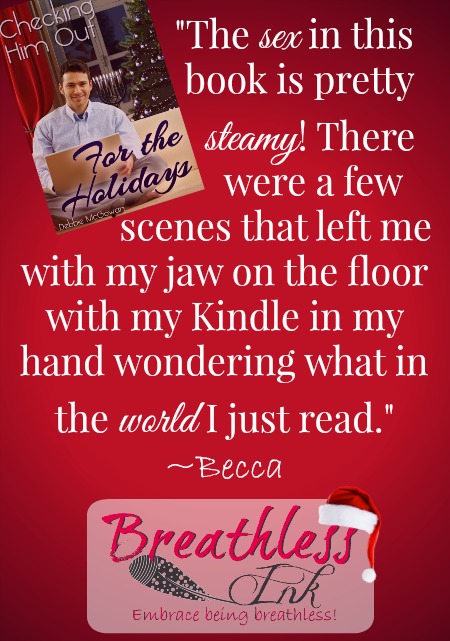 The sex in this book is pretty steamy! There were a few scenes that left me with my jaw on the floor with my Kindle in my hand wondering what in the world I just read (I guess it's just me but there is one part that honestly I just couldn't ever imagine doing or having done to me…but everyone has their thing right?) and then there were scenes that were so sweet and perfect that I couldn't put it down! Trust me…no matter what your preference sex wise…there is something in here that you will enjoy reading! Sol and Adam pretty much cover it ALL in this one!
I thought it was a really sweet story and thoroughly enjoyed learning more about Matty. I honestly have my fingers crossed for a book that focuses on him as well. I think he could make for an extremely intense and interesting story if written properly.
Overall, this book is a solid 4 deep breaths for me. I enjoyed the easy going plot line (which had a few small and quickly resolved twists thrown in), the steamy and sweet romance and the holiday fun that mixed together in this story. Thanks for giving me a chance to fall in love with Sol and Adam Debbie!!
So there you have it…head on over to Amazon and check it out!

Author, publisher, social scientist. Debbie's academic specialism is gender and sexual politics and identity, so you can expect this to crop up now and then in her writing too! Not in an "in your face" kind of way – subtlety wins hearts and minds.
She lives in Lancashire, UK, with family and rescued dogs. It's green and pleasant, and they get long, long, lovely perfumed days in late spring / early summer. Her favourite place in the world is Watergate Bay, Cornwall, but she hasn't traveled much. The most amazing thing she has ever experienced is the call to prayer at 11 p.m. on a terrace in Istanbul. Goosebumps+ and she's an atheist!
She writes character-based/driven fiction – mostly general/contemporary, some (M/M & F/M) romance and a bit of sci-fi fantasy (light). Basically, she writes about life. She's written a few stand alone novels and short stories, but her main work is the Hiding Behind The Couch series, which these days she referring to as a literary soap opera. Each novel/novella concludes, but there are always a few loose ends to be picked up and threaded on to the next instalment. There are longer threads and shorter threads.
Connect with Debbie McGowan
Website | Twitter | Facebook | Goodreads
How do you feel about holiday books? Love them or hate them…or just plain addicted?