Title: The Baby Arrangement
Author: Samantha Chase
Series: Life, Love & Babies
Published by: Sourcebooks Casablanca
Date published: Feb. 10, 2014
Genres: Contemporary
Book Length: 76pages
Steam Rating: Steamy
Main Characters: Derek & Kayleigh
Buy on Amazon
"All I could do was focus on how wonderful the story was and how much I didn't want to put the book down."~Becca

What do you do when a baby is dropped on your doorstep and you're not sure if the father is you or your wayward brother? If you're Derek Sloan you freak out as your perfectly organized world suddenly becomes filled with chaos. With his brother nowhere to be found and fatherhood is suddenly thrust upon him, Derek is desperate for any help he can get.
What do you do when the man you've been crushing on suddenly has a need and you are the only one he wants to fill it? You do a little happy dance and pinch yourself to make sure you're not dreaming! For five years Kayleigh Mitchell has longed for her boss to notice her and now that he has, she can only hope that he'll come to see her as more than a temporary solution to his problem, but someone that he wants around for the long haul.
This is a Valentine's Day SHORT STORY of approximately 27,000 words

Alright, I will admit it….
The Baby Arrangement is predictable…
it is an extremely quick read…
and yep…you got me…it is a bit cheesy!
Want to know something else that it is!?!
IT IS ABSO-FREAKING-LUTELY AWESOME!!
Hehe, this story had me giggling, ooohing, aaahhhing and crying! As I read I honestly didn't even care about any of the things I listed above! All I could do was focus on how wonderful the story was and how much I didn't want to put the book down.
For such a short story, Samantha really did an amazing job of character and plot development. Nothing felt rushed or skimped on.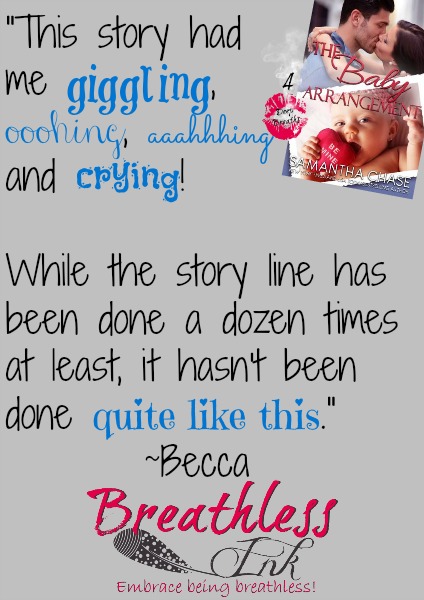 While the story line has been done a dozen times at least, it hasn't been done quite like this. The crazy and unexpected occurrences were a welcome distraction from the slightly predictable plot line.
To put it mildly, The Baby Arrangement is short, sweet and an epic romance. I highly recommend it and cannot wait to dig into the next book in the series!!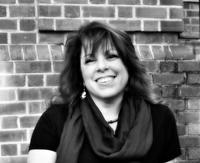 New York Times and USA Today Bestseller/contemporary romance writer Samantha Chase released her debut novel, Jordan's Return, in November 2011. Although she waited until she was in her 40's to publish for the first time, writing has been a lifelong passion. Her motivation to take that step was her students: teaching creative writing to elementary age students all the way up through high school and encouraging those students to follow their writing dreams gave Samantha the confidence to take that step as well.
When she's not working on a new story, she spends her time reading contemporary romances, playing way too many games of Scrabble or Solitaire on Facebook and spending time with her husband of 25 years and their two sons in North Carolina.
Website | Pinterest | Facebook | GoodReads| Twitter | Google+
Don't you just love running across a book that makes you forget you've read the story line before?