Title: Thrash
Author: JC Emery
Series: Bayonet Scars
Published by: Left Break Press
Date published: January 6, 2014
Genres: Contemporary, Mystery
Book Length: 293 pages
Steam Rating: Risque
Main Characters: Duke & Nic
Buy on Amazon
"I am totally addicted to JC Emery's writing style, it is so raw and real that it drags me, kicking and screaming, in to the story whether I want to be there or not. Thrash is a fast paced and action packed book that doesn't have a dull moment in sight!" ~Becca 

Loneliness suffocates the heart. Acceptance breaks down walls.

As a Lost Girl to the Forsaken Motorcycle Club, Nicole Whelan knows how to party. She's not cut-out for relationships and her life is way too complicated for anything more than casual encounters. But one night when she falls into Duke's bed at the clubhouse, he sees something in her that he can't let go of—no matter how many times she tries to run.

Having been left to raise her teenage brother, Jeremy, she's already got her hands full and isn't looking for anymore complications. But Duke's just watched his best friend fall for the only girl he couldn't have, and then almost lose her so shortly after, shaking him to his core. Faced with his own loneliness, he's more determined than ever to break down Nic's walls and show her that he can be good for her; but he's got a bad track record and she's got a bad temper. Changing his ways isn't easy when he's not sure what he's even changing for.

The violence and turmoil are at an all-time high, and Forsaken is in a vulnerable place when a twist of fate breathes new life into the club. It's a much-needed beacon of hope for the embattled biker family, even if everyone's not exactly on board. With Duke and Nic's relationship already on shaky ground, and something even more important at stake, the Forsaken Motorcycle Club will fight like hell to keep their family together and whole.

Love is never more precious than when it's new.

COMING SOON by BreathlessInk!

Alright, so I thoroughly covered my feelings on MC novels while reviewing Ride, book one in the series, so I will try not to bring that up…much! I will say that Thrash took some of my 10 reasons I LOATHE MC books a bit further than Ride did…but hey…no one is perfect! Honestly, with the plot line of Thrash I sort of expected it to be a bit on the rough side.
Thrash doesn't pick up where I thought it would. In my mind I pictured the books sort of picking up where the last one finished…boy was I wrong! JC Emery decided to challenge herself and write a sort of continuity series, like the Wedding Dare series, where each book overlaps and we see some scenes over and over again from different POVs. This means that with Thrash following Duke and Nic we get to see a few things that the doors were closed in our faces on in Ride. While Ryan is totally still an asshat and I don't care for him…reading Thrash caused me to second guess a few things and have a much better understanding of why he behaved the way that he did. It doesn't clear him of all wrong doing towards Alex…but it does make his "hot and cold" attitude make a bit more sense.
Let's talk story line and characters in Thrash.
Unlike Ride, Thrash focuses solely on the biker side of things. We still get the action and suspense from the mafia issues but it's a bit different. Nic, the step-daughter of a Forsaken that is in prison, has a lot of responsibilities on her shoulders. Nic not only has to take care of herself, she also has to keep her 17 year old brother in line as well as try to figure out a way to get her dad out of prison. She was raised in this world and knows exactly what it means to be a Lost Girl…and an Old Lady. She has done everything in her power to avoid the one biker that can do major damage to her…but after one drunken encounter her life gets a lot more complicated. Growing up with her mom as a club whore, even once a decent man claimed her, made Nic a bit rough around the edges and bitter towards the life. Even though she knows what it means and doesn't exactly like it, she somehow manages to become a Lost Girl in order to let loose and forget about some of her troubles.
Duke…mmm…Duke! I don't know about you guys but Duke's straight forward, brutally honest, and extremely sexual self totally caught my attention in Ride. Even if he was a total douche for what he did with Alex…he was still a sexy as sin douche! Anyways, moving on from his sexy side…Joshua "Duke" Wilcox is the Sexretary…I mean Secretary for the Forsaken. Duke has had a "thing" for Nic since high school and when he finally gets his hands on her he realizes that for her he is willing to give up sleeping around and have an Old Lady. Unfortunately for Duke…Nic isn't going to make things easy. Her strength and independence that has drawn him to her may just be the death of their relationship. 
When Duke realizes that something more is going on with Nic than he, or any of the Forsaken, realized he knows that he has to step up and make sure that she is taken care of. But is he too late?
Chemistry? Romance?
With Duke and Nic there is definitely chemistry…these two are so explosive I can't even begin to explain it. It is easy to see that both of them have spent so much time fighting their sexual attraction that they have lost sight of themselves. They are both sleeping around and being…well…slutty in order to keep away from the other. I can't say that I approve of the slutty behavior, but hey..who am I to judge? Needless to say, when Duke and Nic finally let go and give in to the sexual tension…well there is a reason this book is named Thrash! The sex between these two is anything but sweet and gentle…it is rough, dirty and just plain fun!
Romance…hmm was there romance in Thrash? Actually yes! Not as much as you would find in a traditional contemporary romance novel…but it was there! Duke made a show in front of his "brothers" and played the part of asshole very well. However, when it was just the two of them…Duke showed that he has a whole different side of himself. He can be sweet and thoughtful…now don't get me wrong…he is always in control and demanding…basically he is always a Forsaken. But when the lights go down and it's just him and Nic…he has his moments of almost lovey-dovey!
That being said…Duke screws up…A LOT! He sleeps around, he gets pissy, he doesn't think things through…he is your basic Forsaken biker dude! I can't imagine how Nic felt while trying to overcome some of the positions Duke put her in…I mean just wow! I'm not sure I could forgive so easily. Because of all of Duke's screw ups, I felt like I missed out on the good times. They were constantly at one another's throats for some reason and it made it so that I honestly wasn't sure if they SHOULD be together…maybe they weren't good for each other. Once things settle down a little and they stop fighting their attraction, I changed my mind. If they can both control their tempers I think they could be VERY good for each other….that's a big if though.
Nic's character evolves greatly from the beginning of the book to the end. She comes across as strong and flippant in the beginning. However, over time we learn that maybe that isn't exactly true. Maybe what we are seeing is more of a mask that she wants the world to see. Nic has had some pretty shitty things happen to her in life and unfortunately being a Forsaken's daughter didn't stop it. Watching as Nic grows and becomes even stronger was heart wrenching and wonderful. Some of it was a bit difficult to read…but I understand why it had to be in there as well. (For example…the wrench scene…goodness…I will never look at a wrench the same way again! Hehe JC did add in a touch of humor there for us….Jeremy stating that he will never give Nic attitude again was priceless! Oh and a little later on Duke making it clear that Nic isn't allowed around his tools in the garage was just as great!)
Over all, Thrash is a very deep, very dark, and very good book. I am totally addicted to JC Emery's writing style, it is so raw and real that it drags me, kicking and screaming, in to the story whether I want to be there or not. Thrash is a fast paced, drama filled and action packed book that doesn't have a dull moment in sight!
Check out the other books in the series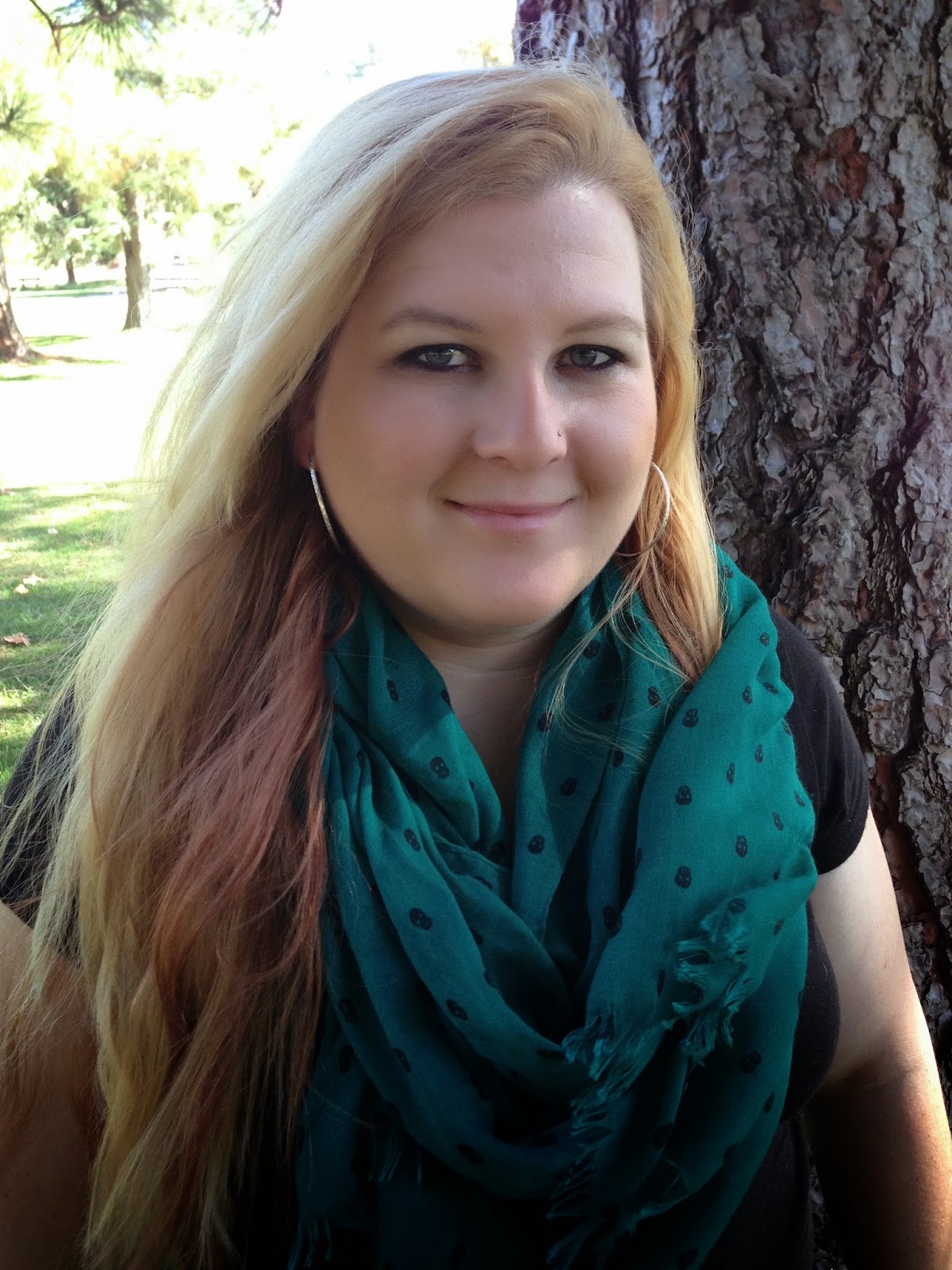 As a child, JC was fascinated by things that went bump in the night. As they say, some things never change. Now, as an adult, she divides her time between the sexy law men, mythical creatures, and kick-ass heroines that live inside her head and pursuing her bachelor's degree in English. JC is a San Francisco Bay Area native, but has also called both Texas and Louisiana home. These days she rocks her flip flops year round in Northern California and can't imagine a climate more beautiful.
JC writes adult, new adult, and young adult fiction. She dabbles in many different genres including science fiction, horror, chick lit, and murder mysteries, yet she is most enthralled by supernatural stories– and everything has at least a splash of romance.
Find JC Emery on the web…
Website     Twitter     Facebook     GoodReads
How do you feel about the idea of Lost Girls?