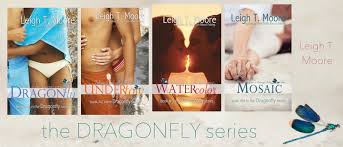 Title: Dragonfly series
Author: Leigh T Moore
Series: Dragonfly
Published by: Amazon digital services
Date published: June 4, 2103
Genres: contemporary 
Book Length: approximately 260 pages each
Steam Rating: upper YA/NA levels of steam here
Main Characters: Anna, Jack, and Julian
Add to GoodReads
Buy on Amazon
Check out the review of the series in the post below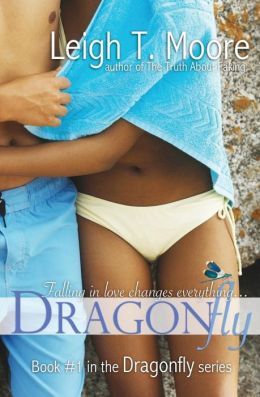 Anna Sanders expected an anonymous (and uneventful) senior year until she crossed paths with rich-and-sexy Jack Kyser and his twin sister Lucy. 

Pulling Anna into their extravagant lifestyle on the Gulf Coast, Lucy pushed her outside her comfort zone and Jack showed her feelings she's never experienced… Until he mysteriously withdrew.

Anna turned to her internship at the city paper and to her old attraction for Julian, a handsome local artist and rising star, for distraction. But both led to her discovery of a decades-old secret closely guarded by the twins' distant, single father.

It's a secret that could cost her the boy she loves and permanently change all their lives.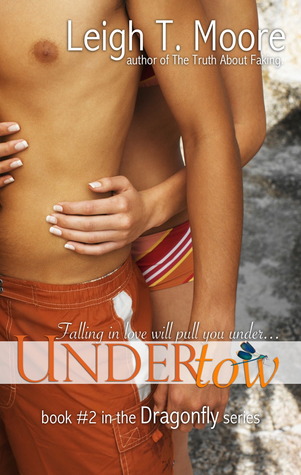 Falling in love will pull you under… 

-Bill Kyser has a plan to take the sandy farms of his hometown and turn them into a world-class tourist destination–and become a billionaire in the process. 
-Alexandra "Lexy" LaSalle has a plan to change her life by becoming a world-famous artist. 
-Meg Weaver has a plan to hold onto Bill no matter what she has to do. 
Three friends, three dreams. One fatal decision will change all their lives forever. 

In Dragonfly, Bill Kyser gave Anna the three journals that held the story behind the powerful developer's seclusion and the damaged lives of his family members. 

Anna hopes to find a way for Julian to know the truth, but as she digs deeper into the tragic events of the past, she realizes silence could be the only option. 

Now she's in an alliance with the man she formerly feared. And if Julian finds out what she knows, she could lose for good the boy she's starting to love.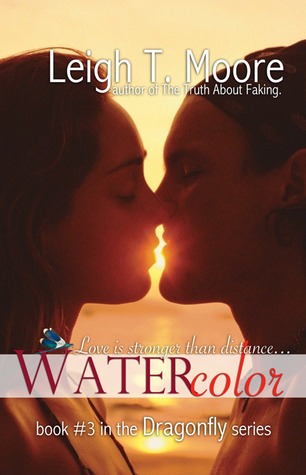 Love is stronger than distance…

Finishing senior year is supposed to be the best time in a person's life.
Finishing senior year as Julian's girlfriend should've been the icing on the cake.
Knowing the secret that could change everything for him is the only thing threatening to spoil it all. 
Until Jack returns.

Anna and Julian are together at last, and it's as hot and happy as they knew it would be. The only problem is The Secret. 

And Jack. 

But while Anna is determined to fight for the guy she loves, she could still lose Julian when he discovers the truth she's been helping to hide.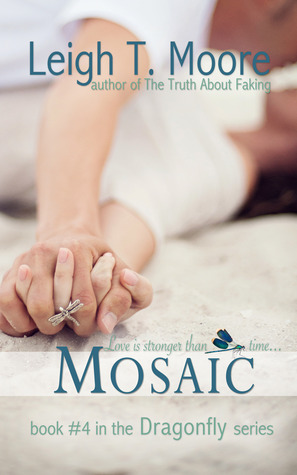 The future never goes as planned.
People are never what they seem.
Time changes everything.

So you want to know what happened to Anna and Julian? Well, listen up, because I've got the whole scoop. I'm Jules, btw, and I am an artist, as you already know if you've read Watercolor. What you might not know is I inherited my mother's cute little newsy nose, thank you very much.

It's high school reunion time, and everyone's coming back to Fairview—everyone who's not already there, mind you. What went wrong, who's fault it was, and why the heck nobody knew about me… it's all coming out.

Long-distance relationships rarely last, and a lot of water has passed under that bridge. Big Secrets will be exposed, and in the end we'll know if that old saying is true: Love is stronger than time.



Check out the review of the entire series in tomorrow's post!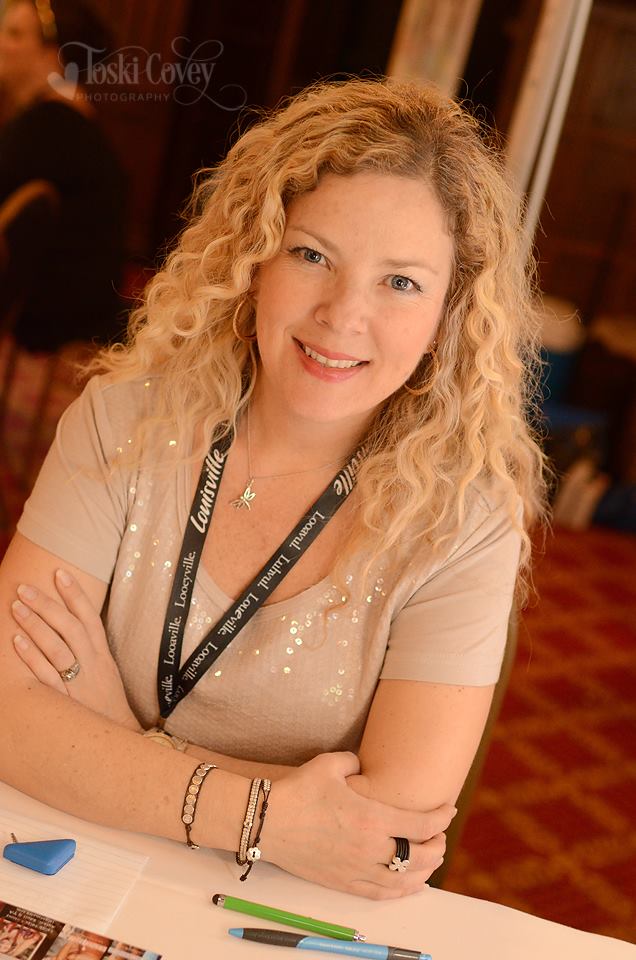 Leigh Talbert Moore is the author of the popular young adult romantic comedy The Truth About Faking, its companion, The Truth About Letting Go, which is a Top 5 Finalist in the 2013 "Best Indie Book Awards," sponsored by The Kindle Book Review; the romantic-suspense novel Rouge, which was a Quarter Finalist in the 2013 Amazon Breakthrough Novel Awards; and the Dragonfly series, a new contemporary YA to new adult romantic saga.
A southern expat and beach bum (and ex-journalist and editor), Leigh lives with her husband and two young children in a landlocked location. To compensate, she conjures new worlds, characters, and situations while playing chauffeur, chaperon, group activity leader, and referee.
Get Exclusive Sale and New Release Alerts straight to your phone or mobile device—Text "LeighTMoore" to 77948 Today!*
*(Max 3-4 messages per month or less; HELP for help; STOP to cancel; Text and Data rates may apply. Privacy policy available, leightmoore@gmail.com)
AND/OR Sign up for Leigh's newsletter, and be the first to know about sales or new releases!
Connect with Leigh online:
Blog | Facebook | Amazon | Goodreads | Twitter | Tumblr | Pinterest
Read chapters from Leigh's books:

Leigh graciously agreed to play "My Life in Song Titles" with me! And she has some excellent answers, as you can see. She gets super extra bonus points from my daughter for mentioning Ariana Grande's "Problem". You're just going to have to read the series to get the joke on this one.
What song describes a typical day in your life (as a writer or "civilian")?
My husband says "The Loneliness of the Middle Distance Runner" by Belle and Sebastian. I'm not sure what that says about me—LOL! I'd say "She Works Hard for the Money," by Donna Summer.
What would be Anna's theme song? What would be yours?
This summer's pick hit "Problem" by Arianna Grande. She would do a long-distance dedication to Jack on that one—Haha! Mine would be… umm… The Loneliness of a Middle Distance runner? BAH!!! Just kidding. It would definitely be "Just Keep Swimming" from Finding Nemo… is that even a real song.
What song describes the best advice you ever received?
This is advice I actually GIVE new and fellow writers all the time: "Just Keep Swimming." I know. I already said that.
If you weren't a writer what would your dream job be (in song, of course)?
Umm… "Wichita Lineman" by Glenn Campbell—omg… just kidding! Sadly I don't have any other dream jobs. That was of my dad's favorite songs, though. Maybe I could be a Rhinestone Cowgirl?
Where is your favorite place in the whole world?
The beach. But unfortunately there's not a "The Beach" song that I can think of other than "Kokomo" by the Beach Boys, and I hate that song… Maybe "Wipeout" would be better?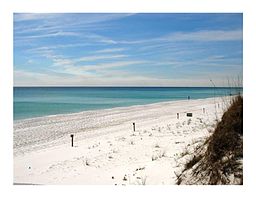 from Dragonfly: 
A half-step, and I was in his arms. A glint of blue and his mouth covered mine. I trembled as his hands traveled up the sides of my dress to my shoulders, then lightly cupped my cheeks.
His lips moved to the corner of my mouth, then my jaw, and a tiny noise slipped from my throat. I was tense and electric, and all I could think of were his soft lips touching me, my fingers exploring his hard stomach through the thin cotton shirt he wore. 
His mouth traveled to my ear, where he kissed me lightly before whispering, "Let's sit." 
Taking my hand, he sat in the sand and pulled me onto his lap, and I watched as he unbuttoned his shirt, revealing his lined chest. Then he took my hands and placed my palms flat on his warm skin. Gorgeous.
"Now you," he said, and his arms circled to my back. I was breathing fast as he slid my zipper down, and my straps fell to the sides. My head was so light, I could barely breathe. This was all new to me, and there was no way I was stopping it. My shoulders shook, and I looked down. 
"Are you afraid?" he whispered. 
I shook my head no, lying. He cupped my chin, tilting my face up, and looked into my eyes. The breeze blew his golden hair around his cheeks, and I was convinced this was what an angel looked like.

Don't forget! Come back tomorrow and check out the review and more on the Dragonfly series!