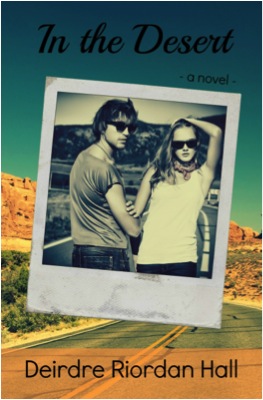 Title: In the Desert
Author: Dierdre Riordan Hall
Series: Follow your Bliss
Published by: Dierdre Riordan Hall
Date published: June 8, 2014
Genres: Contemporary New Adult
Book Length: 307 pages
Main Characters: Brighton & Alex
 Review coming soon!

Twenty-year-old fiery film student, Brighton Holmes, knows exactly what she wants: an epic adventure on the open road in her late father's 1969 Chevelle, alone. Her quest is to visit all fifty states and find a place to call home.
When a family friend asks for a favor, UK rocker in recovery, Alex Stihl, joins her on the road trip, stirring up trouble; the last thing she needs. It doesn't help that he has a mob of fans and a crazy ex-girlfriend tailing his every move.
Brighton and Alex clash as they cruise out of New York, she grows resigned in the rolling hills of Amish country, and he crashes hard in a hotel on the edge of the Smoky Mountains. While Brighton seeks a place to wash her mind of the past, Alex dodges reminders of heartbreak.  
They both try to escape everything they have in common: heartache, loss, and confusion about what's next. But the magic of New Orleans unites Brighton and Alex as they fight desperately for the other until the stars in the desert sky lead them to discover exactly what they're resisting and missing.
When they reach the Oregon coast, Brighton uncovers her musical talent, bringing them closer together and helping her reconcile losing her father. But the trip comes to an end when they arrive in Los Angeles. Real life intervenes, splitting them apart; she moves into her new off-campus apartment and he has to return to his band.
After the semester begins, Brighton tries to shake her mind loose from Alex, but the memory of his sexy voice, rainy day eyes, and the miles they shared lingers like a song stuck in her head. Six months later, when his band returns to Los Angeles for a concert, the compass of her heart finally leads her home.

Alex pulled her into an alcove, protected from the rain. She pressed in against him, their faces inches apart.
"Why would you need a brolly, if you have me?" he said.
The way he said brolly made more laughter tickle her tongue, but the question, the offer, of having him, made it fade on her lips.
"Do I have you?" she asked. Her throat tightened at the possibility that the relief from loneliness she yearned for may or may not be found in him.
"Do you want me?"
His breath smelled like wine and mint and shelter.
Her pulse quickened. She'd never wanted anyone more in her life. She fought her way to his lips. They were out of the rain, but somehow her face was damp as another secret found its way to the surface.
"I have something for you," Alex whispered.
His sexy voice was magnified against the backing track of the rain. He'd already given her so much. She had everything she wanted snugged tight into that hidden little alcove.
He dug his hand into his pocket, his hips pressing up against hers in the small space. He pulled out a guitar pick. "For you," he said placing the vinyl chip in her hand.
On one side, it was printed with a series of numbers: 50.8429˚N, 0.1313.˚ She breathed in his crooked smile.
"Coordinates if you ever get lost again."
She turned the guitar pick over in her hand. On the other side, it had the date in July when they'd met along with the word always.
"In case you ever forget."
They kissed, never wanting to forget that moment before stealing back through the sopping streets, the glare of headlights and streetlamps guiding their steps in the inky night.

Deirdre Riordan Hall is the author of upper young adult and new adult fiction. She spends her days with her family, writing (what else?!) at the custom-made desk her husband crafted, or seaside, pretending to be a mermaid. Click here for the long author biography.
Social Media:
Blog // Twitter // Facebook // Instagram // Pinterest // Etsy // Goodreads
Paperback // Kindle // Nook // Kobo // iBookstore