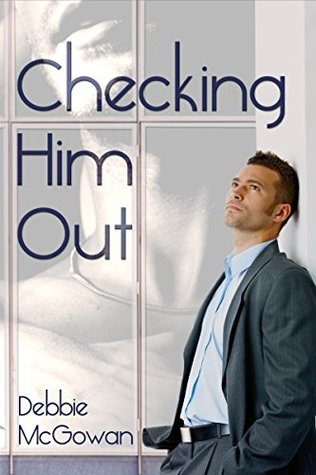 Title: Checking Him Out
Author: Debbie McGowan
Series: Checking Him Out #1
Published by: Beaten Track Pub.
Date published: Nov. 16, 2014
Genres: Contemporary, LGBT
Book Length: 193 pages
Steam Rating: Steamy
Main Characters: Sol & Adam
Buy on Amazon
"Over all, the book was decent. I'm not in love…I'm not disgusted…I'm willing to give the next book in the series a try. I do recommend it, especially as a free read (Price subject to change)! So head over and grab your copy while you can!" ~Becca

In Checking Him Out, Engineer Sol Brooks is a happily married man, so people keep telling him. He and Elise have been in Boston for eight years, he loves her, and she loves him. They've got a great apartment that's kept its value, they're both up for promotion, and he can hook up with any guy he likes – all the sex he wants, so long as it's of the "no strings" variety. And that's all fine and dandy…until a chance meeting at the checkout.
***
First published as part of the Love's Landscapes Anthology
(DRiTC 2014, MMRomanceGroup.com), based on the prompt:
Dear Author,
When I met the love of my new life (his words not mine…ass), I was simply waiting in the checkout line. I might have been caught up in a conversation with my best friend/wife of X amount of years about something, I can't remember at the moment. So anyway, we were distracted and didn't notice that the line had moved. So after maybe 30 seconds, or a minute at the most (I'm pretty sure it wasn't that long), Mr. Impatient, with an accent like that character on The Originals (not that I watch that show at my age), got our attention in the rudest way in my opinion, or in my wife's heart-of-a-ho opinion, the kindest way possible for our insensitive asses. I'm pretty sure his accent, mixed with his damn charm, got him out of more trouble than it should. We had a rough start, but we had quiet moments when we weren't all over each other or fighting, in and out of bed. Anyway, I would love a story about our first year.
P.S. I want a story with interesting secondary characters interacting with the main characters. I want it to be known that the marriage is a *lavender marriage—no one is being fooled here. I want humor mixed in with hot-damn, slightly overwhelming sex. Alpha males with a bad case of the giggles at inappropriate moments. No BDSM please. One other request is that I wish the main characters to be in the age range of late twenties to early thirties.
*A lavender marriage is a "beard" marriage of convenience.
Sincerely,
T

Alright…so I knew what I was getting into when I picked up this free read.
I knew that there was cheating (not my fave thing…even if it is a "lavender" marriage)…I knew that it was M/M (which I am totally okay with)….I understood that the relationship between the "wife" and the hubs wasn't going to be one of happiness…
What I didn't expect was for the relationships to jump around quite so much so quickly.
I get that Elise and Sol got married for convenience…but they also got married because they loved one another as friends. They respected one another…they well damn it in my opinion from the flash backs and the parts we get early on…they were friends! Friends don't treat one another the way that these guys did…I don't care what lead to it…
Elise went from being a good friend in his flash backs to a t-total bitch, a hypocrite and just plain out mean. Every time that she popped up in the story I just got frustrated and wanted to hit something…I mean who treats someone that way???
Then we have Sol…
Can you say avoidance issues?? Come on man! Make up your damn mind and stick with it! I will say that his issues sort of make sense once you make it to the end of the story…I'm not even sure that he realized what those messages had done to him. I honestly feel that he pushed it to the back of his mind and forgot all about it..but it didn't forget about him.
Sol, while sexy as all get out…is really whiny! I mean seriously….anyways!
Okay…so that leaves us with Captain Impatient himself….Adam!
Adam is sexy, sweet, and has anger issues at times….yeah total contradiction huh? Sol likes to say that Adam is very patient…in the bedroom! Umm….doesn't a relationship have to work outside of sex in order to be a good one? Don't get me wrong…good sex is important but you sort of have to at least LIKE the other person outside of the bedroom!
This story line is frustrating and crazy….yet somehow it works. While I did think that the author did a great job sticking with the blurb that was given to her…I sort of wish she had veered off a bit and made the characters a bit more…well…like-able! The book is well written, except for the tendency to over explain mannerisms or sayings instead of just letting them explain themselves. I felt that this slowed it down and took away from the story a bit. If that hadn't been there I probably could have gotten into it a bit more. 
Over all, the book was decent. I'm not in love…I'm not disgusted…I'm willing to give the next book in the series a try. I do recommend it, especially as a free read (Price subject to change)! So head over and grab your copy while you can!

Author, publisher, social scientist. Debbie's academic specialism is gender and sexual politics and identity, so you can expect this to crop up now and then in her writing too! Not in an "in your face" kind of way – subtlety wins hearts and minds.
She lives in Lancashire, UK, with family and rescued dogs. It's green and pleasant, and they get long, long, lovely perfumed days in late spring / early summer. Her favourite place in the world is Watergate Bay, Cornwall, but she hasn't traveled much. The most amazing thing she has ever experienced is the call to prayer at 11 p.m. on a terrace in Istanbul. Goosebumps+ and she's an atheist!
She writes character-based/driven fiction – mostly general/contemporary, some (M/M & F/M) romance and a bit of sci-fi fantasy (light). Basically, she writes about life. She's written a few stand alone novels and short stories, but her main work is the Hiding Behind The Couch series, which these days she referring to as a literary soap opera. Each novel/novella concludes, but there are always a few loose ends to be picked up and threaded on to the next instalment. There are longer threads and shorter threads.
Connect with Debbie McGowan
Website | Twitter | Facebook | Goodreads
Have you ever read a book that you loved and hated all at the same time?