Title: Fiancee For Hire
Author: Tawna Fenske
Series: Front and Center
Published by: Entangled: Lovestruck
Date published: July 21, 2014
Genres: Contemporary
Book Length: 196 pages
Steam Rating: Risque
Main Characters: Mac & Kelli
Buy on Amazon
"She manages to make the story fun, readable, interesting and compelling all at the same time!" ~Becca

A satisfying category romance from Entangled's brand new Lovestruck imprint…

Former Marine MacArthur Patton has made a small fortune on top-secret government contracts and black-ops missions, but his new assignment involves something more dangerous—marriage.

Well, fake marriage anyway.

To keep weapons out of the hands of terrorists, Mac has to secure a fiancée. A sweet, demure, compliant fiancée to serve as his arm candy for a few weeks while he completes the covert arms deal in Mexico. His sister claims to know just the woman, and sends her best friend to play the role.

"Sweet" and "demure" aren't in Kelli Landers's repertoire. A badass veterinarian who neuters big dogs and bigger men on a regular basis, she can't wait to bring Mr. Tall-Dark-and-Detached to his knees. Her longtime crush on the commitment-phobe makes her plan to seduce him even sweeter.

Love wasn't part of the plan, but the deeper Mac and Kelli fall into their ruse, the more danger they attract, until more than just their hearts are on the line…

This is my second Tawna Fenske book and I am loving her writing style! She manages to make the story fun, readable, interesting and compelling all at the same time!

I will admit that in the past week alone I have read FOUR books on hiring a fiance…so clearly this one isn't getting any points for originality when it comes to the plot line. However, after learning about the characters a bit while reading Marine for Hire (book 1 in the series) I found myself compelled to add this book to the list and check it out. I'm glad that I did! The quirkiness that Kelli brings to the table is just priceless and watching serious Mac deal with her not being the demur, sweet girl he was expecting is just awesome!

The details that Tawna manages to fit into the story are impressive to say the least! Kelli is a veterinarian and Tawna does an amazing job of including details about surgeries, reptile issues, and so much more! I was seriously amazed by the descriptions and actions taken within the story and how well they flowed with the romance and Mac's side of things. The characters are well developed (especially for a shorter story) and the plot line flows perfectly. The balance between sexual tension and humor definitely made this an awesome read!

I enjoyed the mystery/drama brought to the story and thought that it was well planned and written. While some moments were a bit over the top, most were simply compelling and had me on the edge of my seat ready to see what would happen next! While it may come across as an opposites attract book at first…once we get to know the characters a little bit better I honestly felt that they weren't as opposite as they thought. (Yes Mac is serious while Kelli is more fun loving…but they have a lot in common as well.)

The sexual tension between these two was explosive! Adding in a fake engagement, drug deals gone wrong and a mother-in-law to be that doesn't get the point and you end up with a romance that keeps you wanting more. The romance was interesting to say the least. It wasn't what you typically see, however, in my opinion it was better! These guys fought it…and fought it hard! They were both dead set on fooling around being as far as things went, there would NEVER be love between them. With both Kelli and Mac having commitment issues for one reason or another, the romance side of things never had a dull moment! I think my two favorite quotes from the book are both from Kelli…that mouth of hers! Just wow!


"Will Mac throw in a ride on a white stallion before we trot into the sunset to make beautiful babies and live happily ever after?"
"You're allergic to horses, afraid of babies, and horrified by commitment."
"Will I at least get to bang your brother?"

and the epic…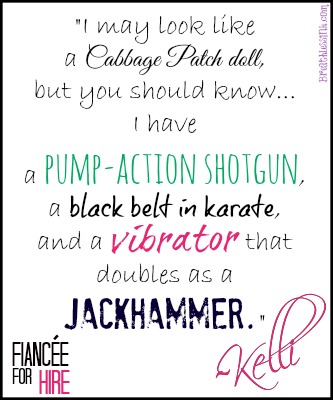 hahaha Gosh, you have to love her!

In the end all I need to say is that this book rocked and you totally need to get it and read it now! But make sure you read Marine for Hire first!
Check out the other books in the series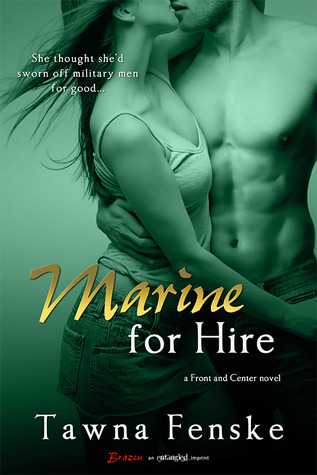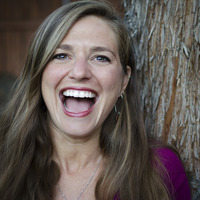 Tawna Fenske traveled a career path that took her from newspaper reporter to English teacher in Venezuela to marketing geek to PR manager for her city's tourism bureau. An avid globetrotter and social media fiend, Tawna is the author of the popular blog, Don't Pet Me, I'm Writing, and a member of Romance Writers of America. She lives with her gentleman friend in Bend, Oregon, where she'll invent any excuse to hike, bike, snowshoe, float the river, or sip wine on her back deck. She's published several romantic comedies with Sourcebooks, including Making Waves and Believe it or Not, as well as the interactive fiction caper, Getting Dumped, with Coliloquy and the novella Eat, Play, Lust, with Entangled Publishing. Her quirky brand of comedy and romance has won praises from RT Book Reviews, which nominated Making Waves for Contemporary Romance of the Year, and from the Chicago Tribune, which noted, "Fenske's wildly inventive plot & wonderfully quirky characters provide the perfect literary antidote to any romance reader's summer reading doldrums."

Describe your book/series in 15 words or less!
Steamy romantic comedies about the uber-military Patton family and the folks who fall for them.
(This is for the Front and Center series as a whole, which has two current releases—Marine for Hire and Fiancée for Hire—and two more on the way. I'd give you a different set of 15 words for the individual books!)
We all need a hero! Tell us about your protagonist(s)? Was there a real-life inspiration behind him or her?
MacArthur is the eldest of the Patton siblings, and the hero of Fiancée for Hire. He's a former Marine turned top-secret government operative, and he's the ultimate alpha male control freak. He needs a calm, sweet, demure woman to pretend to be his fiancée for an undercover operation, so naturally, his sister Sheri (the heroine of Marine for Hire whose life was famously complicated when Mac hired a Marine sniper as her manny) decides to pay Mac back by sending him her best friend. Kelli is a feisty, bad-ass veterinarian with a filthy mouth and filthier mind, and Mac is about to meet his match with her.
According to my agent, I accidentally wrote myself into my own book with Kelli. I deny everything.
Haha, nice to know your personality! I thought Kelli was an awesome character!
Wow…the sex scenes in this book are H.O.T and yet amazingly realistic (the pillow for instance..)! Was it hard for you to write?
You said "hard." The fact that I have the dirty mind of a pre-teen boy and the life experiences of a forty-year-old woman make me well-suited to write risqué romantic comedy. My fiancé is accustomed to being drafted into service for research purposes, though I suppose 5 a.m. is not the ideal time for me to yell, "Hey, honey? I need to know exactly where things would line up if I rubbed my bare boobs on your back in the closet."
LMAO I think I love you! That is totally awesome and I could definitely see Kelli yelling something like that…so yeah you may have possibly written yourself into your book

What's next for you?
There are two more books coming in the Front and Center series. Grant—the cheerful, friendly "Boy Scout" brother with a dark past—will be paired up with Kelli's wedding planner pal, Anna, in Best Man for Hire sometime this winter. After that, folks will meet Schwarzkopf "Schwartz" Patton, the surly, reclusive black sheep of the family. The former is nearly finished and due on my editor's desk five days before my September 6 wedding, and the latter is mapped out in my brain and dying to leap onto the page in the coming months.
EEEKKK!! I can't wait….no seriously…I can't wait! Come on…you know you want another beta reader or something right?!?
Is there anything else you'd like to say?
Can I have another glass of wine?
Umm…definitely! I think I'll have another as well 😀
A few silly questions
You're having a party. What character from your book do you hope attends? Why? What character do you hope doesn't attend? Why?
I'd enjoy cracking jokes with Kelli while we ogle Mac from Fiancée for Hire, so I think they should attend as a couple. I'd kind of like to avoid Lieutenant Limpdick from Marine for Hire, for obvious reasons.
Characters often find themselves in situations they aren't sure they can get themselves out of. When was the last time you found yourself in a situation that was hard to get out of and what did you do?
Well, I'm getting married two weeks from tomorrow, and I imagine it might be tough to get out of that on short notice. Lucky for me, I have no desire to flee. The man is stuck with me. *rubs hands together and cackles with evil glee*
Who is your favorite "Book Boyfriend"? What series is it from and who wrote it?
Jennifer Crusie is my romantic comedy guru, so I love just about any man she creates in any of her books. I'm probably most partial to Phin Tucker from Welcome to Temptation. I'm a sucker for a guy who seems cool and polite on the surface, but is a dirty-talking sex god underneath. Oh, and he can fix a sink. What's not to love?

CLICK HERE for an excerpt from Fiance For Hire!


Tawna Fenske is giving away a eCopy of Marine For Hire, Front and Center book 1.
a Rafflecopter giveaway
Do you love a good military alpha male?