Title: Melt For Him
Author: Lauren Blakely
Series: Fighting Fire
Published by: Entangled: Brazen
Date published: Sept. 8, 2014
Genres: Contemporary
Book Length: 193 pages
Steam Rating: Steamy
Main Characters: Becker & Megan
Buy on Amazon
"A sizzling, hot, steamy firefighter and a strong, independent, sexy artist come together to create one hell of a love story!" ~Becca

He knows exactly how to make her burn…
Fire captain and bar owner Becker Thomas usually spends his nights alone, trying to escape painful memories from his past. When he meets a sexy, free-spirited brunette outside his bar, he knows he's found the perfect way to forget for one night. But when he later discovers the woman he's itching for another night with is his best friend's sister, everything comes to a halt.
Just out of a toxic relationship, Megan Jansen is only in Hidden Oaks to visit her brother, photograph the firemen's calendar, and then slip off to another adventure. The brooding man who gave her the best sex ever is an unexpected surprise. The problem is, he's her brother's friend and a fellow fireman, and Megan's rule is no firemen. She knows she's going to get burned …but keeping their hands off each other is easier said than done.
We are so excited to bring the Release Day Launch for Lauren Blakely's MELT FOR HIM! MELT FOR HIM is the first full length novel Lauren's written in the Fighting Fire Series published by Entangled Brazen.
Snap up this saucy read today!
MELT FOR HIM releases on Sept. 8, and is $2.99 for pre-order and release week, and will then go to $3.99.
Her novella BURN FOR ME is free for a limited time!!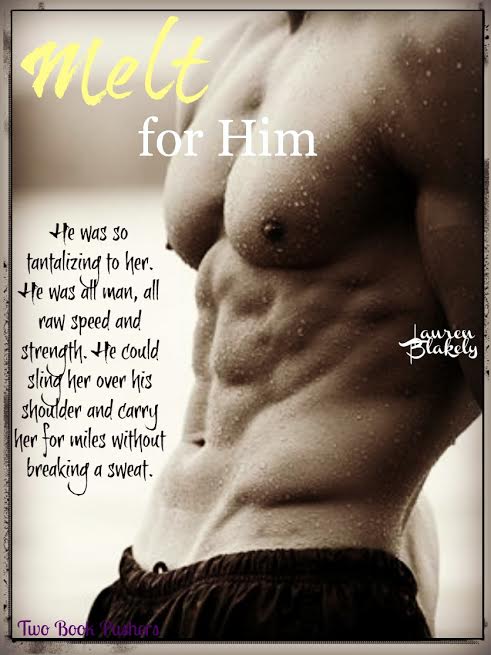 I have been on the edge of my seat and begging for Melt For Him since the moment I finished Burn For Me! I have to admit that before I even knew who Melt For Him would have as it's main characters I was hoping for Becker…that man just oozed sex and I can honestly say that this book did not disappoint!
Alright, let's talk story line for a minute.
In Melt For Him we get to learn more about our sexy bar owner slash Fire Captain, Becker Thomas. He is a man struggling with pains and ghosts from his past. He doesn't think he can ever heal enough to be worthy of a woman's love. Then Megan Jansen comes walking down the back alley behind the Panting Dog (still totally in love with this name!!) and to say that sparks fly would be a massive understatement. Megan and Becker spend the night engaging in playful, witty banter and harmless flirtations that lead to one amazing night in bed. The next day, when they realize that they aren't the "strangers" that they thought they were…things get interesting.
A sizzling, hot, steamy firefighter and a strong, independent, sexy artist come together to create one hell of a love story!
These two try to listen to Travis and stay away from one another…really they do! But the sexual tension and natural chemistry between them is just too strong. It's as if Becker and Megan have created their own gravitational pull and no matter how hard they try or what they do or say…nothing will ever keep them apart.
Unlike Jamie and Smith from Burn For Me, Becker and Megan's relationship manages to flow at a realistic pace. Yeah, so what if they slept together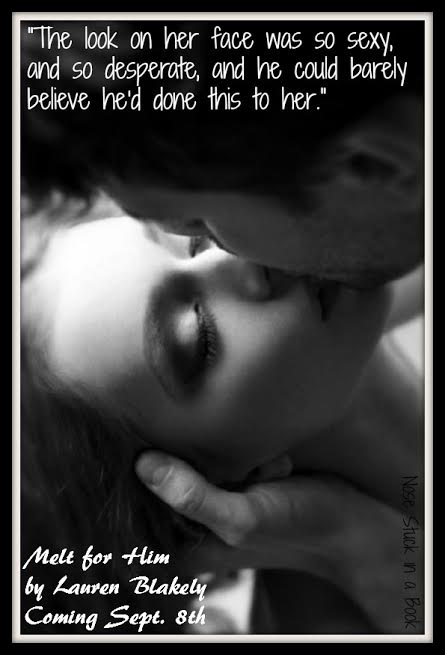 really quickly…that's not my point! My point is that the relationship started as a one night stand and naturally grew into something much more, more than either one of them expected or thought that they wanted. Both Megan and Becker have issues to get past before their relationship can thrive and watching them struggle with their fears and hopes was excruciating. I was so attached to these characters that I felt their pain and definitely teared up once or twice while reading.
What Lauren Blakely has created within Melt For Him is a hot and sexy as sin romance that will have you sweaty and begging for more! I love that Lauren's characters aren't perfect. They are flawed. They are real. Most of all they are deep and addictive! When you read one of the Fighting Fire books, be prepared to give up a good chunk of time because once you start you are not going to want to stop!
Check out our review of the other books in the series: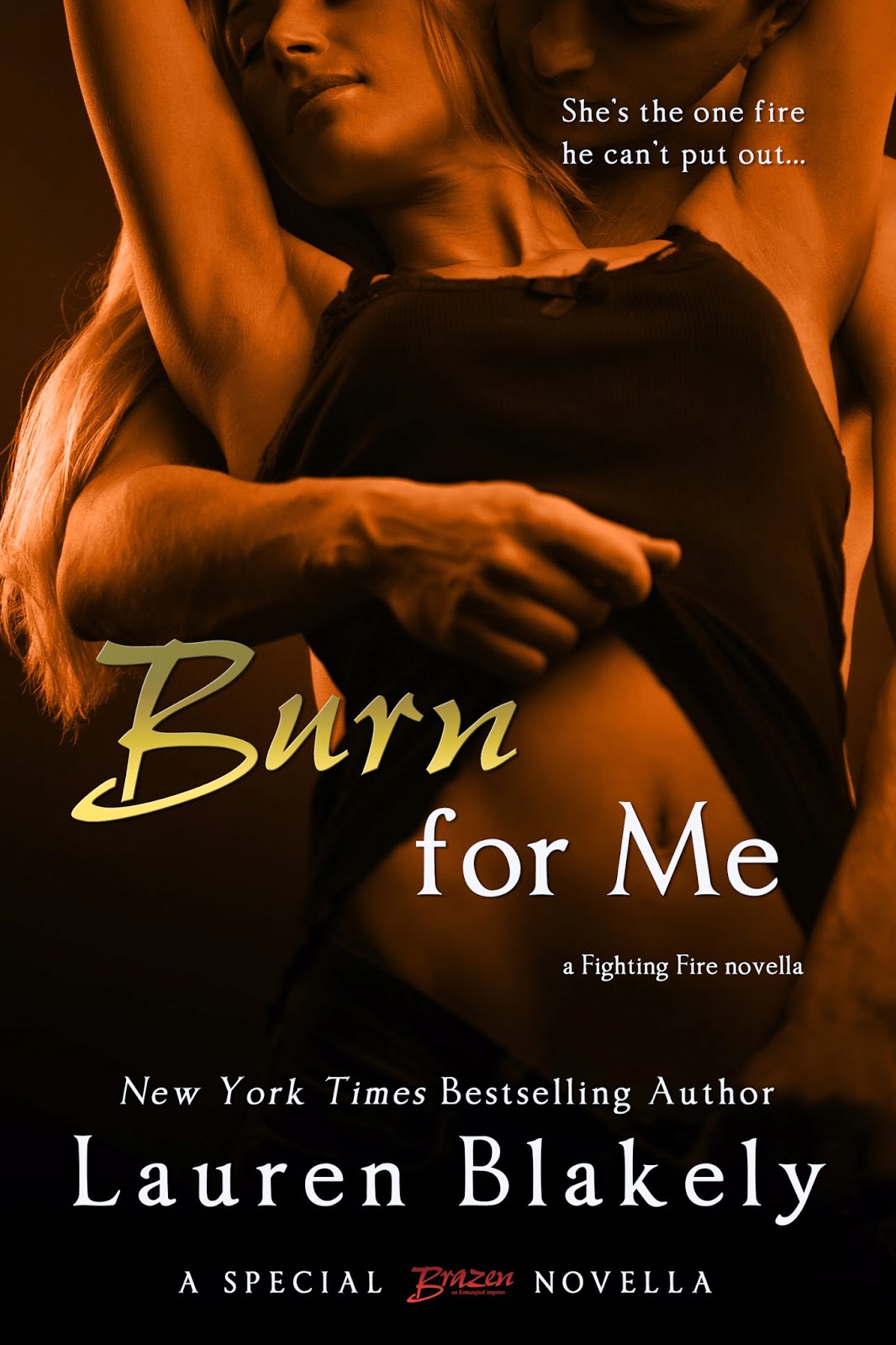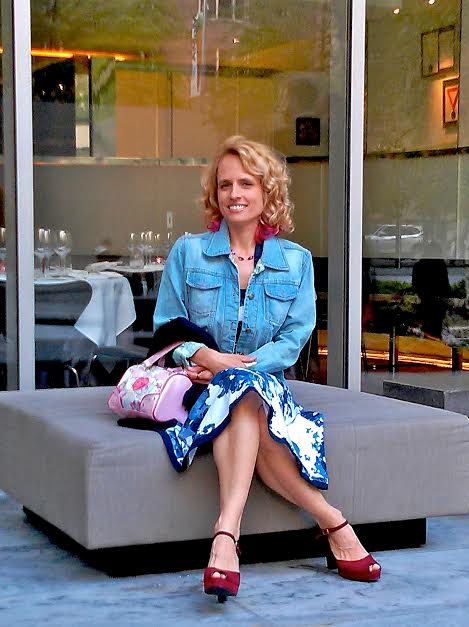 Lauren Blakely writes sexy contemporary romance novels with heat, heart, and humor, and her books have appeared on the New York Times, USA Today, Amazon, Barnes and Noble, and iBooks bestseller lists. Like the heroine in FAR TOO TEMPTING, she thinks life should be filled with family, laughter, and the kind of love that love songs promise. Lauren lives in California with her husband, children, and dogs. Her novels include Caught Up In Us, Pretending He's Mine, Playing With Her Heart, and Trophy Husband. She also writes for young adults under the name Daisy Whitney.
Website   Blog   Facebook   Twitter   BURN FOR ME Goodreads   MELT FOR HIM Goodreads   Lauren Blakely Goodreads
Message from Lauren:
I want to let you all in on a little secret about me. I love hotfiremen. I stare at hot fireman. I slow down when driving past thefire station to try to get a better look at the men inside. Whichmight explain why I wrote a sexy firefighter series! But all oglingand firemen lust aside, not only are firefighters sexy, they are alsobrave, courageous and active in their communities. As I wrote MELT FORHIM, I learned more about the work that volunteer fire departmentsaround the country do — both in responding to emergencies and inhelping their communities. And because firefighters have given me somuch inspiration, I wanted to be able to give back with this book.
That's why I will be donating half of all my proceeds from thepreorders and release week sales for MELT FOR HIM to the NVFCFirefighter Support Fund that supports the nation's volunteer fire andEMS departments. Together, I believe we can all make a difference andhelp support the men and women who serve our local communities andcome through for us when we need them most!
xoxo
Lauren

"Why didn't you tell me you were from here?" he asked, holding his hands out in question.
She furrowed her brow. "What?"
"I had no idea you were Travis's sister," he said, and he sounded pissed.
"And I had no idea you were a fireman," she said, parking her hands on her hips.
He shoved a hand roughly through his hair, shook his head. "And I had no idea you were the photographer. You said you were an artist."
"I am!" she said, her voice rising. What the hell? "I can draw, and I do tattoos. I also happen to be good at shooting pictures. Besides, you said you were a bar owner," she pointed out, as if they could both redo this colossal mistake by rehashing the moments they both could have been more honest. "Why didn't you tell me more about yourself?" she countered.
He didn't answer. He moved closer, maybe a foot away now. The anger felt like a pulsating life force, but there was something else between them, too. Heat. And want. The nearness was intoxicating. She could reach out and touch his chest. That broad, sturdy chest that she'd loved having her hands all over.
She was edgy now, nervous, as they stood like two sparring partners, tucked away in the back hallway of the coffee shop near the restrooms. She wanted him to touch her again, and she hated that she was still thinking of last night, and how they'd connected so deeply in bed. But also in their conversations all through the night and up to a few minutes ago when they were texting. She was torn between needing to leave and wanting him to pin her against the wall and bury her in kisses that made her weak in the knees.
Too bad she could never do any of those things with him again.

a Rafflecopter giveaway
Do you love to read hot fireman novels? How about calendars? What is your favorite?