Title: Bidding On Brooks
Author: Katy Regnery
Series: Winslow Brothers
Published by: Indie
Date published: May 11, 2015
Genres: Contemporary
Book Length: 190 pages
Steam Rating: Steamy
Main Characters: Brooks & Skye
Buy on Amazon
"Bidding on Brooks is a 5 Deep Breath book that you will not want to put down!!"~Becca

Bidding on Brooks is the first of four books about the Philadelphia-based, wildly-handsome Winslow brothers who are all on the look-out for love.
(Except Preston. He's been down that road before and still has the scars to prove it. And maybe Cameron, because he's super hot, but too hot-headedto be decent boyfriend material…)
Railroaded into a bachelor auction by his sister, Jessica, Brooks Winslow asks his friend, Skye Sorenson, to bid on him to avoid the possibility of any romantic entanglements. Fiercely competitive and protective of those he cares for, Brooks was profoundly affected by the loss of his father at an early age. A witness to his mother's terrible loneliness and his siblings' grief, the ex-Olympian has never allowed himself to fall in love.
Skye Sorenson, the plucky mechanic at Sorenson Marina, where Brooks moors his three sailboats, is a credible sailor in her own right…and has quietly lusted after Brooks for years. But her longstanding friendship with Brooks has always made romance seem impossible.
When Skye agrees to bid on Brooks, the two cast off for a weeklong ocean adventure on Brooks' sailboat, The Zephyr, where the last thing Skye expects to lose is her heart.
Return to the world created in the English Brothers books with this fresh foursome of scorching hot Winslow Brothers!
*****
*The Winslow Brothers books are a companion series to the English Brothers books, but all can be read as standalones. All books in The Winslow Brothers series are approximately 200 pages. The RWA classifies this as "Mid-length Contemporary Romance."
THE WINSLOW BROTHERS
Bidding on Brooks, The Winslow Brothers, Book #1
(available 5.11.15)
Proposing to Preston, The Winslow Brothers, Book #2
(available 7.7.15)
Crazy about Cameron, The Winslow Brothers, Book #3
(available 9.3.15)
Campaigning for Christopher, The Winslow Brothers, Book #4
(available 11.13.15)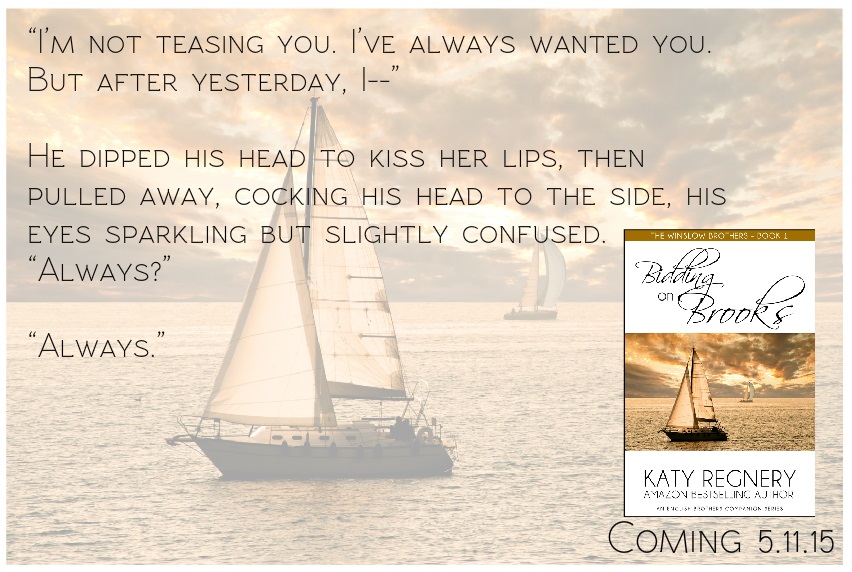 Bidding on Brooks is a 5 star book that you will not want to put down! The Winslow Brothers series is going to be one hell of a companion to the rocking English Brothers that I just couldn't get enough! Check out the video below for a review of Bidding on Brooks!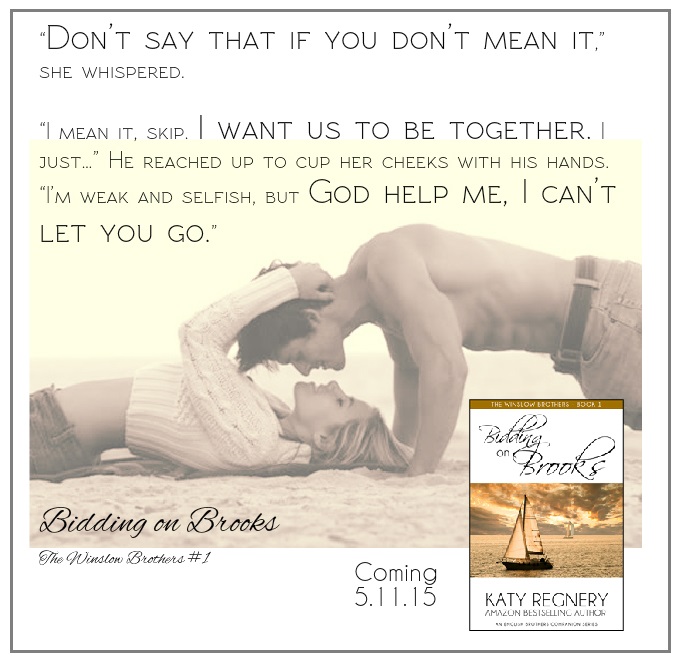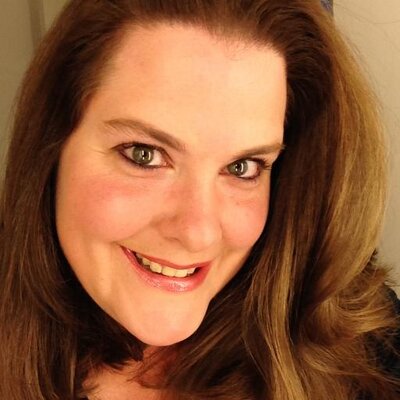 Katy Regnery, award-winning and Amazon bestselling author, started her writing career by enrolling in a short story class in January 2012. One year later, she signed her first contract for a winter romance entitled By Proxy.
Now a hybrid author who publishes both independently and traditionally, Katy claims authorship of the six-book Heart of Montana series, the six-book English Brothers series, and a Kindle Worlds novella entitled "Four Weddings and a Fiasco: The Wedding Date," in addition to the standalone novels, Playing for Love at Deep Haven and Amazon bestseller, The Vixen and the Vet.
The Vixen and the Vet is included in the charity anthology Hometown Heroes: Hotter Ever After, and Katy's novella "Frosted" will appear in the upcoming (Jan '15) anthology, Snowy Days Steamy Nights. Additionally, Katy's short story, "The Long Way Home" will appear in the first RWA anthology (Feb '15), Premiere.
Katy lives in the relative wilds of northern Fairfield County, Connecticut, where her writing room looks out at the woods, and her husband, two young children, and two dogs create just enough cheerful chaos to remind her that the very best love stories begin at home.
Connect with Katy:
Katy LOVES connecting with her readers and answers every e-mail, message, tweet and post personally!
Website | E-mail | Facebook | Pinterest | Twitter
How do you feel about a second chance romance?