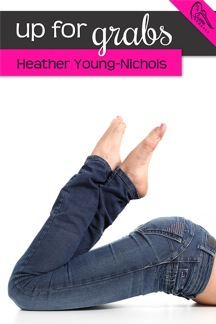 Title: Up for Grabs
Author: Heather Young-Nichols
Published by: Swoon Reads
Date published: May 6, 2014
Genres: Contemporary New Adult
Book Length: 179 pages
Main Characters: Flannery Tate & Cain Dorsey
Buy on Amazon
What's a girl to do when her scholarship well runs dry? Return home? Get a job? 

Flannery gets creative..she decides to sell her virginity to the highest bidder.

What's the best way to pay for college? Think you know? Guess again. 
When Flannery Tate left home for a college halfway across the country in Michigan, she'd only planned on getting an education. But when Cain Dorsey walked into her life, she had no choice but to fall for him. However, what's a girl to do when her scholarship well runs dry? Return home? Get a job? 
Flannery gets creative. She decides to sell the most precious and valuable thing she can – her virginity – to the highest bidder. When Cain discovers her plan, their world crumbles. Will they be able to move past her betrayal and find a way back to each other? Or, is this the beginning of the end?
UP FOR GRABS is a story of love, heartbreak and truth.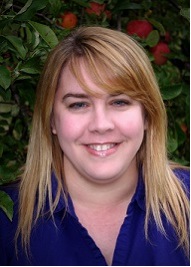 Heather Young-Nichols was born and raised in Saginaw, Michigan and graduated from nearby Saginaw Valley State University with a degree in sociology. The only thing that rivals her love of reading and writing is her love of baseball. When not with her husband and three kids or the cat that likes to bite, she is working to bring the characters in her head to life.

Adam leaned back in his chair with his feet propped up on mine. I kicked his hoofers off so I could sit.
"No coffee?" He doesn't try to whisper or anything.
I thought the class rather enjoyed the twice a week comedy we provided. They watched us close enough but could also have been trying to decide if we were a couple. We tried that once. Just a kiss but I imagined that was what kissing a blood relative would've been like. So, it didn't work out. It wasn't an unrequited love kind of thing either. He'd laughed equally as hard as I did. Then he hooked up with Lara Sanders, the village bicycle in West Hall.
"Overslept."
"That stinks." I knew he was messing with me by the tone of his voice. The next thing I heard was loud slurping as he emptied his very large cup of coffee. He even did a satisfied "ahhh" at the end, the rotten son of a bitch.
Turning just enough for him to see me, I gave my absolute best dusty eyeball. "You suck."
"You can have mine," the warm voice beside me suggested. Cain Dorsey was offering me his coffee?
"I can't take your coffee."
"Why not? I don't have cooties. Plus, I haven't had a drink yet. Take it." He reached the cup out so that I could smell the roasted goodness lurking beneath the plastic lid. The black silk seduced me with one sniff.
Trying to stifle the smile that was breaking out across my face, my natural talent for witty come backs disappeared. I was thinking that maybe his cooties wouldn't be so bad to catch anyway. My stomach tingled slightly under his gaze.
"Take the fucking coffee so we'll be able to stand you," Adam interrupted and I reached back with a playful, yet significant, smack to the top of his head.
In the end, I took the coffee. It felt so good going down and the effects started immediately. I felt more awake and sharp.
"Oh god," my eyes rolled back in my head in a slightly orgasmic way. Yup, I loved coffee that much. "I think I need to marry you." I said to Cain without thinking. So used to sparing with Adam, it didn't occur to me that Cain might not take my comments as intended.
My nerves calmed when he broke into a hearty laugh, filling the entire room and drawing Hendrick's attention.
He didn't seem to notice the added attention. "If I'd known it'd be that easy … "
Find Heather Online
Facebook Fan Page                    Twitter                    Heather's Website

Heather is giving away a copy of her novel, "Up for Grabs"

for Dylan's July New Adult Giveaway!