Shattered World
(#2, Broken World series)
by Kate L. Mary
Post-Apocalyptic/Zombie Series
Kindle │Barnes & Noble │ Kobo│ Google Play
***Warning: Contains Spoilers for Broken World***
Stranded in the middle of the Mojave Desert, surrounded by zombies, Vivian and Axl are sure they're facing the end. The dead are closing in and the shelter they were promised is sealed tight. Just when they think they've run out of time, the doors are thrown open. Five years underground with all the provisions there for the taking. It's almost too good to be true. With the promise of security, Vivian hopes she'll finally able to deal with the loss of Emily, her growing feelings for Axl, and the terrifying new world they're facing.

But their sense of security is soon shattered when they discover the shelter isn't the utopia they thought it would be. It seems the company that built the shelter decided to solve their financial problems by selling off provisions, which means the group has to find a way to get supplies. Or face starvation.
And Vegas is the closest city.
With her feelings for Axl stronger than ever, Vivian volunteers to accompany him and a few others on a trip into one of the biggest tourist cities in the world. Vegas is overrun with the dead, but there are other survivors as well. Only not everyone they meet is a welcome sight. As the emotional baggage piles up, Vivian and Axl's bond grows stronger, but it doesn't take long to realize that zombies aren't the only thing they have to fear.
"Here goes nothin'," Axl says, echoing my thoughts.
He leans down and fools with the wires under the steering wheel. The dead bang against the car, but even more have surrounded the sedan. I dig my nails into my legs while I wait for Axl to do whatever he has planned. He grunts, and a few sparks fly. My entire body jerks when the deafening sound of the alarm rings through the car.
The world around us explodes. The bodies go crazy and converge on the car, banging on it with their hands, their bodies, their faces. They leave thick smears of black on the windows as they desperately try to get in. The door handle rattles, and some even climb on top of the car.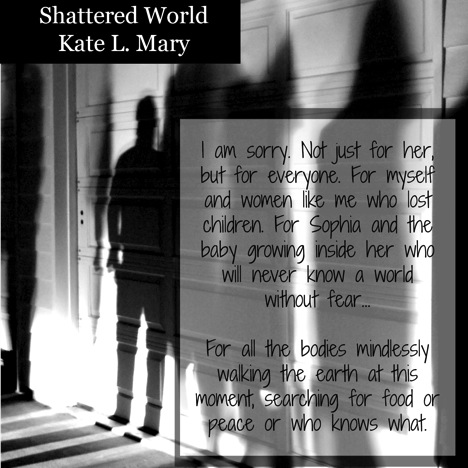 They're wild and frantic. It's so terrifying that for a moment I can't remember exactly why we decided to do this. My heart pounds and I cover my ears, trying to block out the sounds of the hammering and the alarm. Trying to keep the terror at bay. All I want to do is run, but there's nowhere to go. The realization that we're stuck hits me so hard I start to shake.
Then the sedan drives off. It turns the corner with the truck close behind it, and I relax just a little. They're going to make it. Nathan and his wife, their daughter. Two other little boys who have years ahead of them. Trey can get back to Parvarti and Winston to his daughter. They will have food and safety. That's why we chose to commit suicide in this horrifying way.
Axl pries my hands away from my ears and pulls me against his chest. He wraps his arms around me as the pounding continues. He doesn't say anything, and neither do I. All I can do is watch silently as the truck pulls out of sight.
After a few minutes, he turns the alarm off, but the damage is already done. They know we're in here, and they won't give up until they've broken in. A crack starts at the corner of the windshield and travels across. Then another. A dead man hurls himself against the glass and pounds his fists. Hundreds of cracks fan out across the windshield in a frightening web pattern, and I have to stifle the urge to scream. It's safety glass, so it doesn't give. At least not yet.
"I won't let them get us." Axl's lips brush against my head, and strands of hair fall into my face. They tickle my nose, but I can't find the motivation to move them aside.
I nod and swallow against the lump in my throat. He doesn't mean he won't let them get in, because we both know there's nothing we can do about that now. Surprisingly though, I'm okay with it. A bullet to the brain sounds a lot better than being ripped apart by the undead.
Kate L. Mary is a stay-at-home mother of four and an Air Force wife. She spent most of her life in a small town just north of
Dayton, Ohio where she and her husband met at the age of twelve. Since their marriage in 2002, they have lived in Georgia, Mississippi, South Carolina, and California.
Kate enjoys any post-apocalyptic story – especially if zombies are involved – as long as there is a romantic twist to give the story hope. Kate prefers nerdy, non-traditional heroes that can make you laugh to hunky pieces of man-meat, and her love of wine and chocolate is legendary among her friends and family. She currently resides in Oklahoma with her husband and children.
When a deadly virus sweeps the country, Vivian Thomas sets out for California in hopes of seeing the daughter she gave up for adoption. Then her car breaks down and she's faced with a choice. Give up, or accept a ride from redneck brothers, Angus and Axl. Vivian knows the offer has more to do with her double D's
than kindness, but she's prepared to do whatever it takes to reach her daughter.
The virus is spreading, and by the time the group makes it to California, most of the population has been wiped out. When the dead start coming back, Vivian and the others realize that no electricity or running water are the least of their concerns. Now Vivian has to figure out how to be a mother under the most frightening circumstances, cope with Angus's aggressive mood swings, and sort out her growing attraction to his brooding younger brother, Axl.
While searching for a safe place to go, they pick up a pompous billionaire who may be the answer to all their problems. Trusting him means going into the middle of the Mojave Desert and possibly risking their lives, but with the streets overrun and nowhere else to turn, it seems he might be their only chance for survival.
Amazon │Barnes & Noble │ Kobo│ Google Play