Title: Punctured, Bruised and Barely Tattooed
Author: Jade C. Jamison
Published Date: September 30, 2014
Pages: 172
Steam Rating: Risqué
Genre: NA/Adult/Erotica
Main Characters: Kory McCallister & Stone Bowman
Talk about perfect combination —-

Little bit Alpha… Little bit Sweetheart…

Stone Bowman is THE man! -Jen

**COMPANION NOVEL to the TANGLED WEB series**                     
Kory McCallister has had her eyes on tattoo artist Stone Bowman for quite some time—so long, in fact, that no other guy will do. Stone pushes every turn-on button Kory has—he's tattooed from head to toe; he's hot; he's funny and charming; and he's also mysterious. So when Kory's friends dare her to ask Stone out on a date, she can't believe she actually finds the guts to do it.
More surprising? He takes her up on the offer.
She discovers that, while his past might not be quite as dark or mysterious as she'd imagined, it's bigger than she'd expected, and it's something she will need to contend with if she decides she wants to keep him around to color her life for good.

Phew! I really enjoyed this book. The setting and back story behind the characters was intriguing and captivating…. But it's fast pace didn't linger on and on until it became repetitive. Which was a really nice change. Some authors feel the need to explain every single detail… Which is okay… But the expert way that Jade gets to the point without dwelling, made it more real. She had me feeling as though Kory was a real girlfriend of mine. That she just needed an outlet to finally tell her story…  like she just needed to get it out in order to expel the demons from her mind and finally get some peace. I felt her need pour through the pages. She is funny and sarcastic and extremely down to earth. And even though she suffered a terribly traumatic childhood she chooses to push through so that she can finally move forward. Don't get me wrong, she definitely struggles with opening up – but when it finally happens, you can't help but feel the angst leave her heart.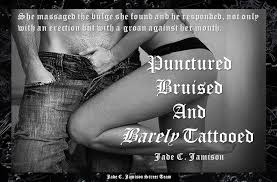 Stone fit perfectly with her. He revelled in the fact that she was different from all the other women in his life. She wasn't there because of Malevolent Disorder or Spawn… She was there because of him. Just Stone. His demons make him more real. His struggles to get where he is now are heartbreaking. While his past is not as soul wrenching as hers, it is still a bone deep story to behold.  Which caused him to be guarded as well. Confiding in each other helps them both put things behind them.
Okay, now on to the good stuff 😉 heeheehee…. Can I just say HELL YES!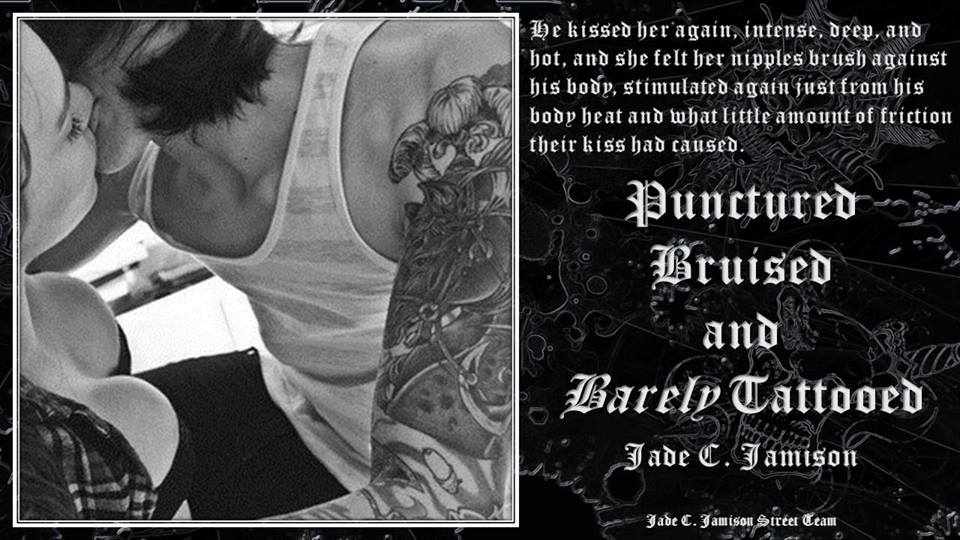 Talk about perfect combination —- Little bit Alpha… Little bit Sweetheart… Stone Bowman is THE man! He can sense what Kory needs before she even realizes it herself. They seriously could start a fire they are so hot together! Shit, these two had me reeling for more! The care he takes with her when she needs him to be gentle – The strength he gives when she doesn't want to think… It's effin panty melting! He is a GOD. Kory is one lucky ass chick.
And thus begins my love affair with Jade's writing. I am a 100%  stalker  ummm….. fan.  I can't wait to embark on my next adventure within her pages. If you haven't discovered the genius that is Jade C. Jamison – what the hell are you waiting for? An invitation? Well, here it is:                                       
GET HER BOOKS NOW. You will not be disappointed. Get ready to fangirl babes… She rocked my literary world!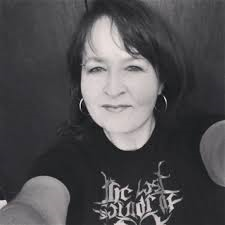 Jade C. Jamison was born and raised in Colorado and has decided she likes it enough to stay forever. Jade's day job is teaching Creative Writing, but teaching doesn't stop her from doing a little writing herself.
Unfortunately, there's no one genre that quite fits her writing. Her work has been labeled romance, erotica, suspense, and women's fiction, and the latter is probably the safest and closest description. But you'll see that her writing doesn't quite fit any of those genres.
You'll have to discover Jade's writing for yourself to decide if you like it.
Show me your tattoos! I wanna see whatchya got!