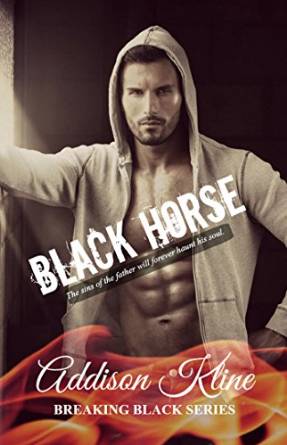 Title: Black Horse
Author: Addison Kline
Series: Breaking Black Series
Published by: Booktrope
Date published: May 21, 2015
Genres: Romantic Suspense
Book Length: 195 pages
Steam Rating:
Main Characters: Colt & Averi
Add to GoodReads
"What would you do if the only man you ever loved was the son of the man that murdered your parents?"


In Addison Kline's fiery romantic suspense novel, Averi Ford's future collides with her past with ferocious intensity. Averi Ford and Colt McClain have loved each other since they were children. They both come from a broken past. Colt's mother died when he was young, and Averi's parents were taken from her at the tender age of five. The same man is responsible for both of their broken childhoods: Tom "Black Horse" McClain. He also happens to be Colt's father. Now twenty years after the crimes that fractured both of their hearts, Black Horse is getting out of jail and he's coming after the girl who testified against him: Averi, herself. Colt wants to hide her, but Averi refuses to run.

Addison Kline is an International Best-Selling Author who resides in Philadelphia with her husband, their children and their two dogs. When she is not writing, she enjoys watching reruns of Downton Abbey, The Walking Dead and Sons on Anarchy, traveling with her family and reading to her heart's content.
Addison is a member of the International Thriller Writers Association and while she loves to write in a variety of genres, Addison always says "mystery is her game." Her favorite genres to write include romantic suspense, psychological thrillers, mystery and thrillers.
Social Media