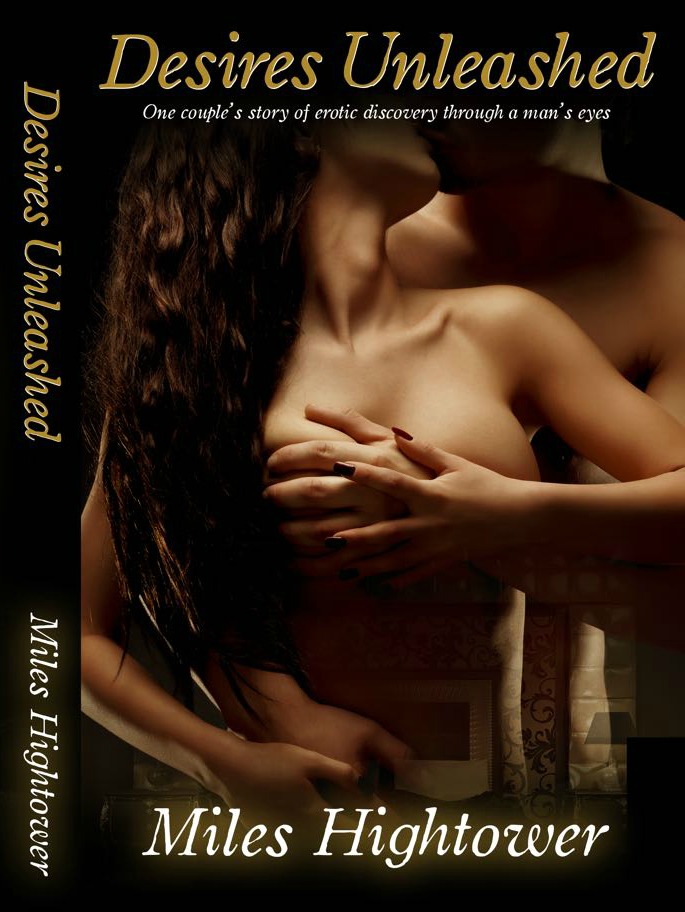 Title: Desires Unleashed
Author: Miles Hightower
Desires Unleashed is a modern day erotic romance about a husband and wife and their passion for one another. Miles Hightower writes the husband's POV and shares the desire of a man for his wife.

Mitch and Molly have a happy marriage, but they are wanting something more. They both admit to having similar fantasies and desires that go beyond their current relationship. See which discoveries they act on and how their marriage handles their erotic adventure as their desires become unleashed.
Miles Hightower is my alter ego and now pen name. He came about as my wife started reading erotic romance and discussing the books in FB chat groups. Wanting to be apart of what interested her, I came up with Miles Hightower as a persona to lurk about in the social media world while keeping my personal life personal.
I am a husband, for 16 years and counting, to my wife Sara. We have two children. When not being husband and dad to them, I also enjoy flying. At one point I wanted to be a career corporate pilot, flying Lear jets all over the country. After I graduated from college I taught people how to fly for three years. Long story short, a flying career didn't work out and I ended up working in manufacturing. But that's where I met Sara. So it did work out after all. I still work in manufacturing, as a Quality Engineer and now just fly for fun when the weather is nice.
Along with flying I also enjoy playing golf, darts, taking my family to water parks, sitting in our hot tub with Sara and a glass of wine and now writing. I tried to learn the guitar a few years ago, but that didn't go so well. Apparently I have no musical talent whatsoever. I am a product of the 80's and still am very into the hair band music from that era. And no, I didn't have big hair back in the day, but I did sport a mullet.
As far as my writing goes, I don't write "Disney Fairytale" style romances (as I like to call them) where a knight in shining armor comes in and saves the damsel in distress. I write about fictional erotic fantasy from a guy's perspective. About how a guy might think, feel or act in a particular situation. My stories are stuff I make up with a little reality of the things that interest me (like flying) and how life is in general tossed in. I do research some things that I don't know anything about, in an effort to make the story seem a little more real than complete fantasy. If it's on the internet it's true, right? I like my book(s) to come of as fantasy, yet slightly plausable.
Social Media

Describe your book/series in 15 words or less!
A happily married couple open up about their fantasies, then act on them.
When did you start writing? How did your first book evolve into what it is now?
Started in May of 2014. Finished in February of 2015. I wrote when I had time or when the mood struck. I wanted to write an erotic novel about a married couple that was fantasy, yet one that seemed possible.
What made you go indie?
I wanted to succeed or fail on my own terms.
What issues popped up for you through the indie channel? Formatting, covers, platforms, etc.
Well my cover ended up being too sexy for Amazon, so they flagged it as adult content. Now my book is difficult to search for and find. I don;t think my cover is inappropriate, and it is very fitting to the content of the book.
Writing style…what is your writing process like? 
I am a husband and father first. When I didn't need to be either one of those, I wrote when the mood or the words struck me. I was in no hurry and didn't have a time line to finish. The words seemed very easy and organic.
How do you develop your characters?
Most of the characters were somewhat based on people I knew at one point or another. Names and physical characteristics were changed and they may have never crossed paths like they did in the book, but the general memory of the person was the foundation.
Tell us a little bit about your cover art. Who designed it? Why did you go with that particular image/artwork?
The cover was done by Book Cover by Design. Kellie was referred to me by a fellow author, I wanted to show a couple that appeared in love and sexy(to reflect the content of the book). I selected the main image and gave her a rough idea of what I wanted to see and she nailed it on her first shot. Would definitely use her again.
How do you spend your time when you aren't writing?
Like I mentioned before, I am a husband and father first. So when not writing I was doing that.
Are you the driver or a passenger in your book? (Are you in control of where the story goes or does it sort of just happen?)
The driver.
What's next for you?
I do have another book in the works. It is a continuation of Desires Unleashed. I am trying to make it a stand alone book rather than a series. I hope to have it out in the Fall of 2015. Just in time for my first author signing event at the Rebels and Readers Author Event in Huntington, WV this November.
Now for the SILLIES 
If your book/series was a dessert, what would it be and why?
Red Velvet Cake. Everyone likes that, right?
 If you were a toy, what would you be and how would people play with you?
A ball. There are so many fun things to do and ways to play with a simple ball. People could play how every they wanted and still have fun.
What is something about yourself that most of your readers don't know?
Even though I can fly an airplane I am afraid of heights.
We all need a hero! Tell us about your protagonist(s)? Was there a real-life inspiration behind him or her?
Not sure my book has a "hero". It's not a book filled with drama where someone comes in and ultimately saves the day. But to answer the question I would say the "hero" in my book is the institution of Marriage. The book is about an couple secure and open enough in their marriage to discuss and live out their erotic fantasies and yet find themselves closer and more deeply committed to each other in the end because of it,
You're having a party. What character from your book do you hope attends? Why? What character do you hope doesn't attend? Why?
I hope every one attends. I like all my characters for different reasons. Some may not be as comfortable as others at the party progresses, but I still enjoy them nonetheless.
Characters often find themselves in situations they aren't sure they can get themselves out of. When was the last time you found yourself in a situation that was hard to get out of and what did you do?
Not sure I can answer this. My book is pretty drama free, and that's how I like to live my own life. I try not to put myself in situations where I can't get myself out of.
Who is your favorite "Book Boyfriend"? What series is it from and who wrote it?
Can't say that I have a "Book Boyfriend".
If you could have one super power what would it be? Why?
To fly. I love flying airplanes and wish I could fly like birds.
What do you think about when you are alone in your car?
Don't crash.
.
What song best describes you? Why?
"Don't Worry.Be Happy" by Bobby McFerrin

ENTER TO WIN 1 OF 5 GIVEAWAYS HERE!