Title: Stud Unleashed: Barry
Author: Kylie Gilmore
Series: Clover Park
Published by: Extra Fancy Books
Date published: Feb. 24, 2015
Genres: Contemporary
Book Length: 320 pages
Steam Rating: Steamy
Main Characters: Barry & Amber
Buy on Amazon
"As usual, Kylie's writing is way, way, way above par! Her writing style is amazing! It grabs the reader and drags them in…even if you weren't ready for it!"~Becca

Each book in the Clover Park STUDS Series can be read as a stand-alone novel, or for more fun read them in order. Characters you've loved from past books frequently pop up in other books.
Successful, not-so-great-with-the-ladies, and all around nice guy Barry Furnukle can't believe his luck when Amber Lewis agrees to date him. But when his attempt to woo her with the world's most "awesome" date (birding and fro-yo) lands him in the friend zone, he wonders if a guy like him ever had a chance.
On advice from his ladies' man brother, Barry returns to his acting roots for a little confidence rehab. Suddenly he's got more female attention than he knows what to do with. But will his new found popularity make him happy? Or will he finally release his inner stud to win the woman he can't forget?
The Clover Park STUDS Series
Book 1: Stud Unleashed: The Prequel* (Barry & Amber meet)
Book 2: Stud Unleashed: Barry (Barry & Amber in love)
Book 3: Stud Unleashed: Dave
Book 4: Stud Unleashed: Will 
*Sign up for my newsletter at kyliegilmore.com to read Stud Unleashed: The Prequel for FREE.

Stud Unleashed: Barry was ALMOST a 5 for me….soooo very close that I almost said screw it and gave it the 5…but then the things that I didn't like kept poking at me saying "nuhuhuh…you always say you'll give an honest accurate review of your thoughts…." so it gets a 4…sorry!
I know that Barry has gotten some pretty amazing reviews on Goodreads already and I can't blame them! Barry the dancing cow that can't say probiotics properly is one sexy man!
Let's start off with what I LOVED about this book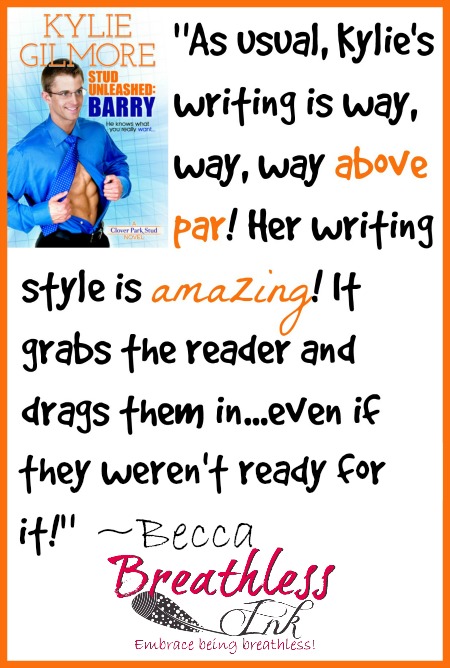 As usual, Kylie's writing is way, way, way above par! Her writing style is amazing! It grabs the reader and drags them in…even if you weren't ready for it! Amber and Barry's relationship is amazing. It's fun, witty, and so real that I couldn't help but keep reading…and reading…and reading until my husband looked at me and asked "Are you ever going to put that book down and sleep??"
Umm…clearly I wasn't! I sat up and read this book in one sitting! It totally rocked!!
The story line is just awesome, the characters are beautifully developed, and don't even get me started on how perfect the romance is written! Everything flows so wonderfully and I just cannot get over how amazing Barry is! Barry is sweet, goofy, sexy and best of all (in my opinion…but I did marry an IT nerd lol) a bit nerdy! I'm not sure how anyone could NOT fall in love with him! Even though he does talk about his 6 pack abs and 2 pack butt A LOT! (Okay so this drove me absolutely nutty…I know he didn't say it out loud all that much…but the man thought the exact same words over and over and over until I was about ready to break his DVD…which I probably should get a copy of lol)
Amber is one adorable, sexy bad ass artist with a sweet side. When her new next door neighbor develops into a friendship that she didn't realize she needed until now, she gets scared when she has thoughts about him that aren't quite friendly. Things are definitely escalated when Barry kisses her and it rocks her world! (Though the washing machine could have something to do with that right?)
After not one, but two dates that end in disaster Amber decides that enough is enough and they totally should stick to just being friends…if only Barry would give up as well!
When Barry lands a role in a local play that Amber is working on the set…lets just say that things get interesting!
So what didn't I like about the book?
I've already mentioned the fact that Barry loves to think about his abs and butt…and it annoyed me greatly!
But there is a bit more that kept Stud Unleashed from being a 5 for me.
Let's talk about how he likes to 'hold her' when they are together. Not just when they have sex…nope he likes to reach down, insert his fingers and 'hold her' whenever he gets the chance….
Umm..sorry but nope…not sexy to me…just sort of weird!
I even read a few instances of this happening to my hubs to see if it was just me…and nope…he thought it was creepy too!
Soo….Mr. Sexy Geek Dancing Cow Man…stop sitting around randomly with your fingers in your girl!!
Also…I was really upset with the way that Amber treated Barry…even when they were just friends! If she can't accept all of him then she doesn't deserve him! I mean really, making him take off the magnets from his car and telling him he can't ever use the Moo button when she is in it. That's just silly! She knew who she was getting with to begin with! Don't try to change him!
As you can see…my reasons for Stud Unleashed: Barry not being a 5 have nothing to do with the writing…because come on…we all know that Kylie is one damn fine author! The story just had some quirks that 'weren't for me' I guess you could say. 
If you are looking for a great read with a geeky romance then this is definitely the book for you! I know that I will most certainly be getting the rest of the books in the series!!
So head on over to Amazon and pick up your copy now!!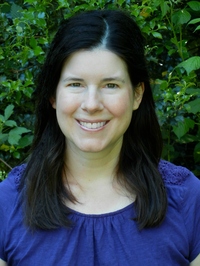 Kylie Gilmore was lucky enough to discover romance novels at a young age as they were strewn all over the house (thanks, Mom!). She writes quirky, tender romance with a solid dose of humor. Her Clover Park series features the O'Hare brothers, three guys you'd definitely have a drink with and maybe a little more. The Clover Park STUDS series unleashes three adorable studs into the world—Barry, Dave, and Will. Look out, ladies!
Kylie lives in New York with her family, two cats, and a nutso dog. When she's not writing, wrangling kids, or dutifully taking notes at writing conferences, you can find her flexing her muscles all the way to the high cabinet for her secret chocolate stash.
Find out more about Kylie and upcoming books at www.kyliegilmore.com. Sign up for my newsletter to hear about new releases, exclusive excerpts, and subscriber-only giveaways.
What would you do if everything you did seemed to come off wrong? What if you were considered the town "goof"?