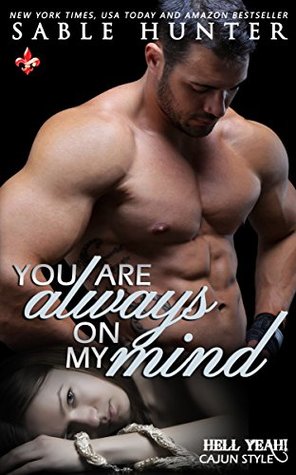 Title: You Are Always on My Mind
Author: Sable Hunter
Series: Hell Yeah / Cajun Style
Published by: Indie
Date published: June 15, 2015
Genres: Contemporary & paranormal
Book Length: 303 pages
Steam Rating: Steamy/Risque
Main Characters: Revel & Harper
Buy on Amazon
"You Are Always on My Mind was a heart clenching book that had me gasping and reaching for tissue as I ugly cried so hard I could barely see the words on my kindle."~Becca

We all like to think we have a soulmate. Unfortunately for some of us, we miss them, passing unseen like two ships in the night. Revel and Harper were among the lucky ones, they knew without a shadow of a doubt that they were meant for one another. In a perfect world, they would've enjoyed a 'happily ever after'. But this isn't a perfect world.
Harper is haunted by her past, a past so tragic and so unthinkable that she can't even imagine confessing it to Revel. And she knows from past experience, that when he learns the shameful truth about her – nothing will be the same. So to protect him, she walks away.
Harper underestimated Revel's love for her. From the moment she disappeared, he set out to bring her home. Their journey to love is one fraught with ghosts from the past, both real and imagined, and a demon from their present who is intent on making sure she has no future. But those ghosts and demons have never met a hero like Revel Lee. He is determined to give Harper exactly what she needs…until Harper realizes that all she needs is him. 
***CONTENT WARNING: This book contains adult language and sexual situations. It is intended for audiences 18+ ONLY***

Like all of the Hell Yeah books by Sable Hunter, You Are Always on My Mind was a heart clenching book that had me gasping and reaching for tissue as I ugly cried so hard I could barely see the words on my kindle.
Sable Hunter has such a unique way of creating a story that gives us multiple perspectives from extremely well developed realistic and lovable characters. Needless to say it's addicting and once I start reading I can never seem to put the books down.
This story was rough. I will warn that if you have triggers from abuse it may be a bit difficult to read. There aren't a lot of in depth scenes of abuse but it's talked about enough to matter.
Overall, this book was amazing! Everything flowed beautifully and the romance was one that I had been dying for since first meeting these characters earlier in this series. I am definitely ready to find out which love story we get next!
Want to hear my thoughts on the other books in this series? Check out the video below!
Sorry…I was so excited about finally talking about this series that I couldn't sit still!

Sable's hometown will always be New Orleans. She loves the culture of Louisiana and it permeates everything she does. Now, she lives in the big state of Texas and like most southern women, she loves to cook southern food – especially Cajun and Tex-Mex. She also loves to research the supernatural, but shhhh don't tell anyone.
Sable writes Saucy Romance novels. She believes that her goal as a writer is to make her readers laugh with joy, cry in sympathy and fan themselves when they read the hot parts – ha!
The worlds she creates in her books are ones where right prevails, love conquers all and holding out for a hero is not an impossible dream.
Website | Facebook | GoodReads | Twitter
Do you like a little paranormal with your sexy love scenes? I sure do!