Title: Fashionably Dead
Author: Robyn Peterman
Series: (if it's not a series delete this, if it is link to the series page)
Date published: September 2, 2013
Genres: Humor and Paranormal
Book Length: 322 pages
Steam Rating: Steamy
Main Characters: Astrid & Ethan
Buy on Amazon
 **FREE**
 "This author is a genius! The way the book is written is witty, fun to read, and captivating! There are so many twists and turns that the reader honestly has no clue what is coming next, at least I know I didn't!" ~Becca

Vampyres don't exist. They absolutely do not exist.

At least I didn't think they did 'til I tried to quit smoking and ended up Undead. Who in the hell did I screw over in a former life that my getting healthy equates with dead?

Now I'm a Vampyre. Yes, we exist whether we want to or not. However, I have to admit, the perks aren't bad. My girls no longer jiggle, my ass is higher than a kite and the latest Prada keeps finding its way to my wardrobe. On the downside, I'm stuck with an obscenely profane Guardian Angel who looks like Oprah and a Fairy Fighting Coach who's teaching me to annihilate like the Terminator.

To complicate matters, my libido has increased to Vampyric proportions and my attraction to a hotter than Satan's underpants killer rogue Vampyre is not only dangerous . . . it's possibly deadly. For real dead. Permanent death isn't on my agenda. Avoiding him is my only option. Of course, since he thinks I'm his, it's easier said than done. Like THAT'S not enough to deal with, all the other Vampyres think I'm some sort of Chosen One.

Holy Hell, if I'm in charge of saving an entire race of blood suckers, the Undead are in for one hell of a ride

If I'm being perfectly honest, this book started out as a 1 or 2 star book for me. I just couldn't get over how similar a lot of things were to other popular books and tv series. When I first saw the book I was really excited by it, it just seemed so hilarious and awesome. I'm glad that I kept reading because after the first few chapters the book truly took off on a plot line I never saw coming and made all of the wish-wash in the beginning totally worth it!

Fashionably Dead is absolutely hilarious, romantic, erotic and over all awesome to read. By the end I was begging for book two and dying to know what happens!

Basically, the book is focused on Astrid, a 29 year old woman just trying to live her life as she see's fit and not let her mother get her down. I have to say as a main character she just didn't hook me to start off with. Heck if it hadn't told me how old she was…I totally would have assumed she was some snarky, foul mouthed Prada loving teenager! She just didn't come across as a woman my age! Over time things improved a bit and I did find myself quite attached to Astrid and actually caring what happened to her…hey, she even started to sound a little bit more like an adult!

When Astrid goes to a hypnotist to stop smoking all hell breaks loose and her life will never be the same!

Not too long after we have Pam, the Oprah doppelganger angel that curses worse than most sailors, The Kev, the horribly dressed (sometimes naked) Arnold doppelganger fairy and Gemma, Astrid's long time best friend that apparently isn't human either! Did I mention things are a bit complicated and just plain out WEIRD in a huge chunk of this book? Once Astrid has had a few days to adjust to being a Vampyre (yep spelled with a y…I've never fully understood the difference there…but whatever lol) all these random vampyres start showing up with gift baskets asking her to join their house…like it's some sorority thing! SERIOUSLY?!? So far this book is just so strange and out there that I have to keep reading, if for no other reason than to see where in the hell it's going!

In comes Ethan…I will admit that I had a feeling of his true identity before it was revealed, but it didn't ruin anything for me. Ethan is a sexy as sin vampyre with a massive asshole complex (well sometimes…other times he is just super sweet). Ethan has his secrets in the beginning and in order for me not to do spoilers I kind of can't say much more about what happens in the book!

At this point the book has become a 3 star book for me…still about half of the book to go though…so let's see what happens!

So anyways…this book is a major roller coaster of emotions and revelations! By the end of the book I was laughing, crying and begging for more! Seriously…I didn't see this one coming! I picked up the book because the cover made me giggle and some how a book that I started out not caring for all that much has me wanting to go buy book two right away?!? How awesome!

The story line is definitely unique, trust me on this one…I know the beginning is a bit similar to others but just give it time! This author is a genius! The way the book is written is witty, fun to read, and captivating! There are so many twists and turns that the reader honestly has no clue what is coming next, at least I know I didn't!

The book ends with one massive cliff-hanger that has me jumping to Amazon as quick as I can…I have to know dang it! So, even though it's only rated a 3 star (which still totally means it's WORTH READING) the story is great and makes me want the next one!

Now…if I can just get my hands on book two!! 
Check out the other books in the series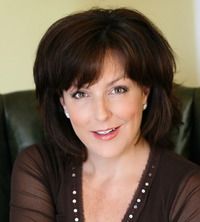 Robyn writes because the people inside her head won't leave her alone until she gives them life on paper. Her addictions include shoes (the expensive kind), Coke with extra ice in a styrofoam cup, and bejeweled reading glasses. 

A former professional actress, she now lives in the south with her family and too many animals to count. Writing gives her a chance to have a job where working in her P.J.'s is acceptable. You can follow Robyn on her website and Facebook.

Describe your book/series in 15 words or less! 
I will let my dear friend and amaze balls author, Darynda Jones do this for me….Uproariously witty, deliciously provocative, and just plain fun! No one delivers side-splitting humor and mouth-watering sensuality like Robyn Peterman. This is entertainment at its absolute finest!" 
~ DARYNDA JONES, NY Times Bestselling Author of the Charley Davidson Series
We all need a hero! Tell us about your protagonist(s)? Was there a real-life inspiration behind him or her?
Fashionably Dead's hero and heroine and Ethan and Astrid. Ethan is hotter than Satan's underpants and Astrid is as snarky, sexy and fun as they come. I don't really base my characters on real people, but I do take great pleasure using my friends names…much to their horror and delight.
Tell us a little bit about your cover art. Who designed it? Why did you go with that particular image/artwork?
Rebecca Poole from Dreams2media. She is brilliant. It's like she crawled inside my warped mind and pulled images! We work closely together. She is creative and open. The cartoony images are perfect for the stories I tell.
Who is your favorite character in the book? Why?
I love all of them. However, I am partial to the baby Demons.
Who is your favorite "Book Boyfriend"? What series is it from and who wrote it? (Not from your books)
I love Bones from Jeaniene Frost's Night Huntress series!!
What books are on your nightstand or by your chair?
I have Thea Harrison, Darynda Jones and Donna McDonald by my bed at the moment.
Is there anything else you'd like to say?
Rice Crispy treats should be a food group.

Robyn Peterman is giving away an e-copy of Fashionably Dead Down Under, book 2 in the Hot Damned series!
a Rafflecopter giveaway
What is your favorite thing about a paranormal romance?