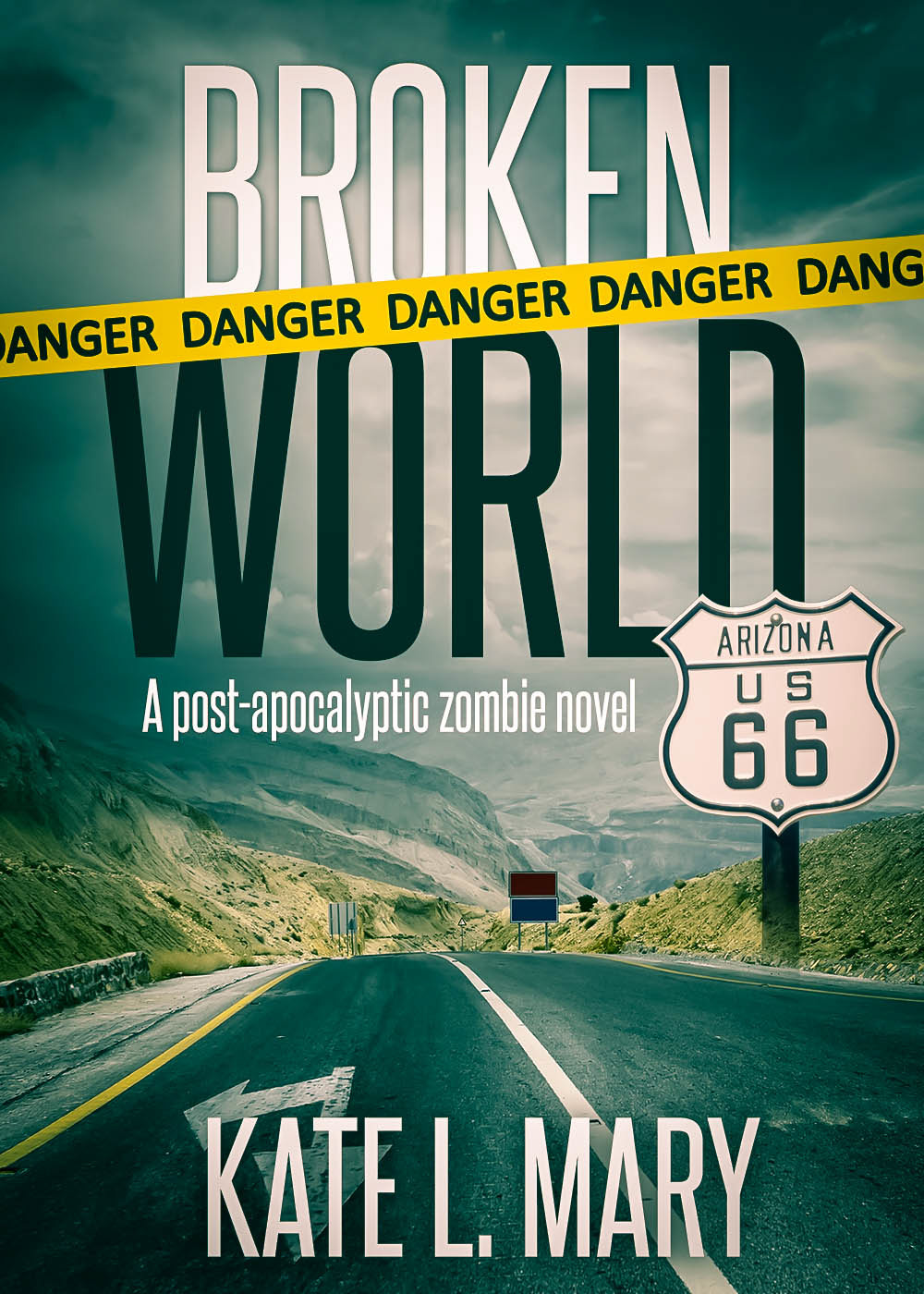 Title: Broken World
Author: Kate L. Mary
Published by: Kate L. Mary, Indie
Date published: 7/4/2014
Genres: NA Fantasy
Book Length: 301 pages
Main Characters: Vivian and Axl
Buy on Amazon
A Post-Apocalyptic Zombie Novel

When a deadly virus sweeps the country, Vivian Thomas sets out for California in hopes of seeing the daughter she gave up for adoption. Then her car breaks down and she's faced with a choice. Give up, or accept a ride from redneck brothers, Angus and Axl. Vivian knows the offer has more to do with her double D's than kindness, but she's prepared to do whatever it takes to reach her daughter.
The virus is spreading, and by the time the group makes it to California, most of the population has been wiped out. When the dead start coming back, Vivian and the others realize that no electricity or running water are the least of their concerns. Now Vivian has to figure out how to be a mother under the most frightening circumstances, cope with Angus's aggressive mood swings, and sort out her growing attraction to his brooding younger brother, Axl.
While searching for a safe place to go, they pick up a pompous billionaire who may be the answer to all their problems. Trusting him means going into the middle of the Mojave Desert and possibly risking their lives, but with the streets overrun and nowhere else to turn, it seems he might be their only chance for survival.

Kate L. Mary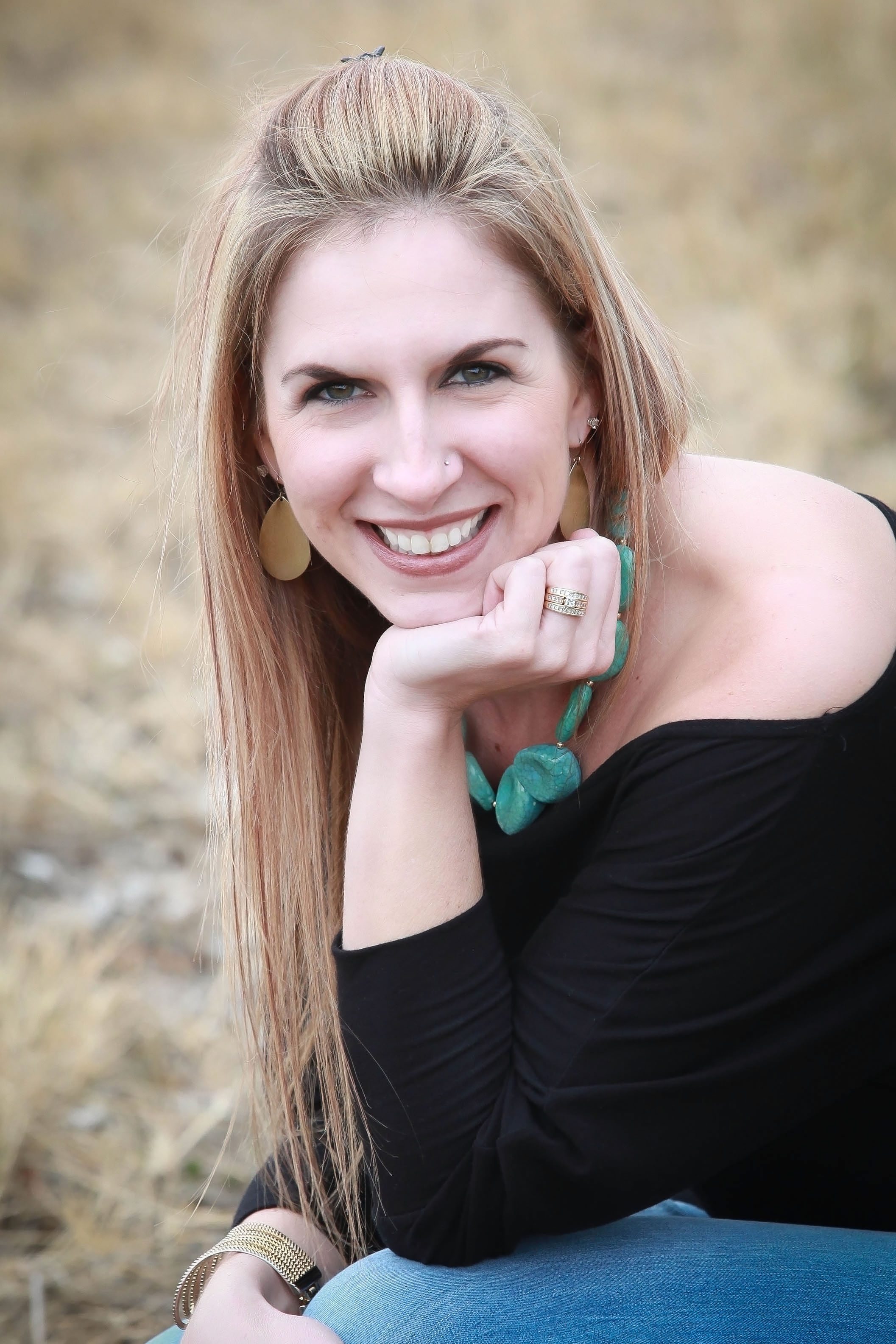 Kate L. Mary is a stay-at-home mother of four and an Air Force wife. She spent most of her life in a small town just north of Dayton, Ohio where she and her husband met at the age of twelve. Since their marriage in 2002, they have lived in Georgia, Mississippi, South Carolina, and California.
Kate enjoys any post-apocalyptic story – especially if zombies are involved – as long as there is a romantic twist to give the story hope. Kate prefers nerdy, non-traditional heroes that can make you laugh to hunky pieces of man-meat, and her love of wine and chocolate is legendary among her friends and family. She currently resides in Oklahoma with her husband and children.
Follow Kate Online:

The diner is crowded. I have to squeeze my way between waitresses and patrons, dodging trays and elbows. I bet they haven't had a crowd like this in here since the 1950s.
There's a line for the restroom. I stand at the back and dig through my purse until I find Emily's picture. She smiles at me, and my heart aches.
I didn't want to give her up, but I was sixteen. It wasn't safe in my home—if you could even call it that—and there was no way I could bring a baby there. It was just me and my dad. Mom had run off with a neighbor when I was ten. Not that I can blame her for leaving, but I do blame her for leaving me. She must have known dad would need a new punching bag if she left. She obviously didn't care. That hurts even more than the beatings did. That she didn't care about me.
I loved Emily the moment I saw her. She was so tiny and pink, and her face was all smashed in from birth, so ugly-cute like all newborns. I loved her enough to give her to the Johnson's. They sent me updates for a while. Nine months, to be exact. Then they stopped. I can't blame them. It wasn't an open adoption, and they never got a single response from me. Maybe they thought I didn't care. Truth was, it just hurt too much.
The woman behind me coughs on the back of my head. Hot, moist air hits my hair and brushes it forward. I start to turn around so I can yell at her, but I freeze. She's not the only one. Half the people in this diner are hacking their heads off. People slump over in booths, their breathing raspy and their faces bright red. A woman moans and shivers. She has on two jackets, but she still shakes so hard her teeth clang together. Her face is covered in sweat. The man next to her urges her to eat something. But he coughs too.
My stomach aches. I'm going to be sick. It's here.
I forget the bathroom and head back to the table. I have to pee, but I can do it on the side of the road. We need to get out of here. Joshua is back. The three men are tense. They look up when I walk over.
"It's here," I say, but they already know.
"We're gettin' our shit to go," Axl says.
He's pale. So is Angus. His face isn't as hard as it was before. Death tends to do that to a person. Turn them into spaghetti.
Even Joshua shakes, and he knows he's immune.
I sit down and wait, wringing my hands on top of the table. My hands tremble so hard that when I pick up my glass to take a drink, it spills everywhere. I set it back down.
"We still need supplies." Angus's voice is hollow.
"Why don't you and the Doc head to the convenience store and grab us some stuff? Vivian and me'll wait for the food," Axl says.
Angus gets to his feet, and I stand to let Joshua out. People cough on them when they go by. Angus clenches his fist when a man sneezes on him. But the anger melts away and all the color drains from his face. He walks faster.
"Guess we'll know soon," Axl says.
I nod, but I can't make my mouth work to say anything. My insides curl into a ball. They grow tighter each time I think about it. I should be relieved. Soon the suspense will be over, and I'll know whether or not I'm going to die. But I'm not. I don't want to die, and the thought of it happening makes me want to hurl.
Axl and I don't speak. We just stare at each other. The diner is amazingly quiet, considering how full it is. People cough. There are a few quiet conversations. Otherwise, it's silent. Deathly silent.
"Thought the end of the world would be more dramatic than this," he finally says. It makes me jump.
I look around. It is the end. It's written on the face of every person in the diner. I'm sure it's on mine. "There should be chaos or panic. Something."
"Probably is. In the cities."
He's right. Here the people are too disappointed. They were so close. They passed their physicals and thought they were in the clear. That they were going to make it. Is that what's going to happen to me? The thought sends a shiver down my spine.
A Breathless Tease…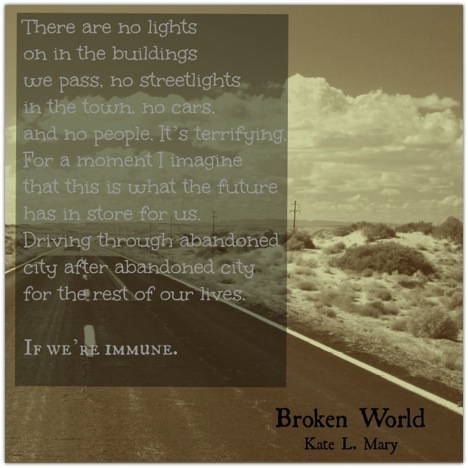 For Dylan's July NA Giveaway,
Kate is offering a Kindle eBook OR signed paperback
copy of Broken World!