Title: Finding Haven
Author: T.A. Foster
Series: Finding Haven
Published by: Indie
Date published: May 10, 2014
Genres: Contemporary
Book Length: 261 pages
Steam Rating: Steamy
Main Characters: Evan & Haven
Buy on Amazon
"Overall, this was a wonderful read that I would happily recommend to anyone! Just beware, it will leave you with a taste for salty air and sand between your toes!" ~Becca

Power. Money. Control. Love.
He has all but one.
When movie star, Evan Carlson, discovers his girlfriend's picture with another man splashed on the cover of gossip magazines, he decides he's had enough of his fishbowl life and attempts to outrun the media frenzy his relationships have become. Driving until the road stops, he ends up on the remote and quaint Perry Island, where a heartthrob can blend in like the locals and be a beach bum as long as he wants. All that changes when Evan meets Haven Owen, aspiring songwriter and the girl he just can't get enough of. A summer romance turns into something much deeper and Evan gets tangled in his own web of lies to keep Haven in his life. But when his ex tracks him down, Evan learns there are some things you just can't outrun.
Is the cost of love, losing all control?

I was very excited to get my hands on Finding Haven and even though the rating is 5 stars (BTW if we did half stars this one would totally be a 3.5!)…I wasn't disappointed. This was a very sweet love story that kept me wanting more. I am already dying to get my hands on the next book in the series! (Oh yeah…and read the book before this one about Evan lol you guys know I read books all out of order :D)
So the basic story line here is that pretty boy awesome big time actor runs away from Hollywood to this awesome little island (which just so happens to be relatively close to where I live hehe) to get a break from the media and all that jazz. Lucky him, he ends up in the one place that people don't seem to recognize him or bother him with their cameras! It's definitely his version of heaven

Haven has lived on the island most of her life, she left for college and came back to her expected roll of helping run her families store. Needless to say, running the story is so not her dream job. But what can ya do?
When these two bump into one another it is pretty priceless! He expects her to notice him and she expects him to leave her the hell alone so she can work on the song lyrics stuck in her head. I think one of the reasons this book got a lower rating for me was the fact that Haven apparently NEVER watches television. Even at college? I just don't see that happening…but who knows. So some how she goes the entire book without realizing who he is…and he continues to lie to her…which is where the problem with their relationship pops up. Eventually Evan is going to be caught by someone that knows his true identity and the shit is going to hit the fan!
The romance was sweet and flowed really well. Things didn't feel rushed or sluggish…they felt real. The characters are well developed and the writing is just fun to read! Honestly, it was a little strange to read a book where the characters didn't even really interact with each other until around 20%…I'm so used to books where things just happen or we come in when they are about to…but somehow this totally worked. We got to know the characters as individuals really well before we had to view them as a couple.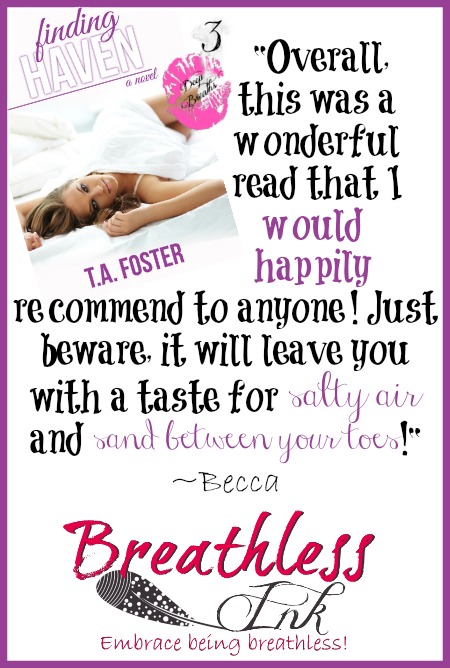 Overall, this was a wonderful read that I would happily recommend to anyone! Just beware, it will leave you with a taste for salty air and sand between your toes!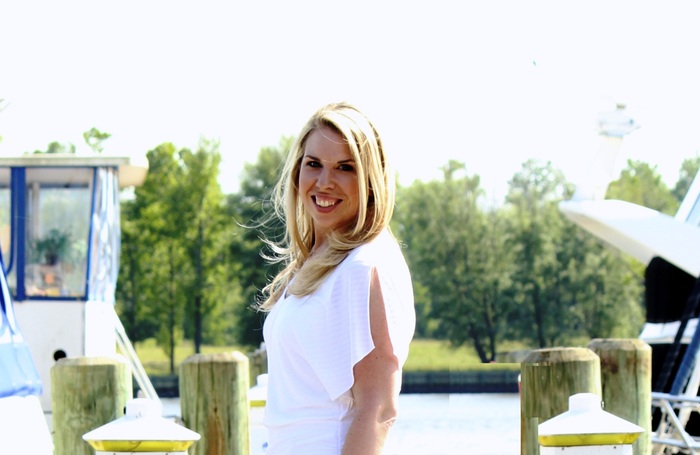 T.A. Foster is a Southern girl whose heart and spirit are connected to the beach. She grew up catching rays and chasing waves along the North Carolina Outer Banks and now resides in the state with her adventurous pilot husband, two children and two canine kiddos.
Her long love affair with books started at an early age, and as soon as she was able, she transformed imaginative stories into words on paper.
T.A. has an undergraduate degree in Journalism and Mass Communication from the University of North Carolina at Chapel Hill and a graduate degree in Educational Psychology from Texas A&M University. When she's not chasing her two-legged and four-legged children or trying to escape for date night, you can find her reading, writing or planning her next beach trip.
Could you deal with the "fish bowl" effect of being famous?