Title: Eight Inches to Make Johnny Smile
Author: Claire Davis & Al Stewart
Published by: Beaten Track Publishing
Date published: Feb. 1, 2015
Genres: Contemporary, LGBT
Book Length: 40 pages
Steam Rating: Steamy
Main Characters: Mat & Johnny
Buy on Amazon
"Claire and Al's writing style definitely leaves a deep impact on the reader. Their words drag the reader into a world that is so real that it's difficult to remember that you are reading about a make-believe world." ~Becca

New job, new flat, new man?
Shy Mat finally gets a chance to break free from his parents and strike out on his own. But joining the local diet club, Weight Fighters, and hopping on the scales takes everything he has; does he have enough left in him to stick to his diet and act on his feelings for gorgeous Johnny who runs the group?
Flirty Johnny has staying power as far as diets are concerned, and all he wants is to win the Valentine's Challenge. But meeting Mat changes everything. Can Johnny find the staying power to battle his own demons and get what he realises he really wants – to win Mat's heart?

Eight Inches to Make Johnny Smile was quite a wake up call for me. I realized how tired I am of reading those 'perfect' characters that just don't represent the reality of who or what people are. Books often show these women that think they are fat…but are a damn size 6…sorry honey that's not fat! That's normal! Since when does a woman have to be a size 2 to be pretty?
Ugh! Okay sorry so I'm rambling!
This book quickly sent me back to my childhood issues that effect me to this day. I grew up with a small built mom and a sister that never weighed more than 100lbs. I wasn't big…I was normal. But a few people that were important to my emotional growth (Not going to name them sorry.) screwed me up something awful. They would force me to eat until my plate was clean (always more food than I needed) and then shove diet pills down my throat and tell me how I should work out more..or watch what I ate. To make things fun…I was only about 12 when this crap started…and I wonder why I still can't look in a mirror and see myself as beautiful. To this day I see only my imperfections…I see someone that is majorly over weight…when I'm not!
I have never wanted to GUT PUNCH a character as badly as I did Mat's parents! Oh my gosh…can you say jerks! I mean really…who in the hell treats their kid that way! I don't care how old they are…it will never be okay!
Okay…so lets see if I can get off of my crap and back onto the review huh?
Moving past the impact the book had on me, which was a good thing in case you were curious, I want to touch on the characters themselves.
Mat is a really sweet computer geek with weight issues that no one lets him live down. When he gets his own flat and a new job (where his coworkers are jerks) he decides to try something new to lose the weight. Joining a group was the last thing he expected to work…but he's willing to give it a try.
Johnny is the groups leader and motivator. He has lost a ton of weight and is looking awesome…even if he does still wear the baggy clothes from his past. (I could say more but don't want to spoil it.)
When Mat and Johnny meet lets just say that things get seriously interesting! I adore these two and their romance panned out beautifully. Everything was well planned, well worded and expertly developed.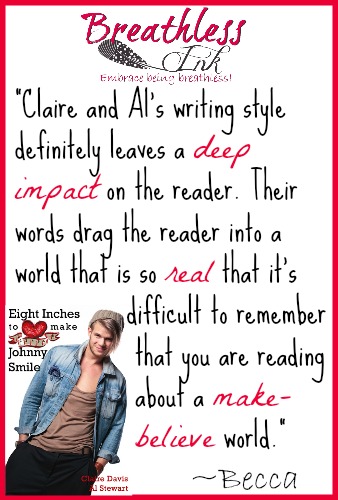 Claire and Al's writing style definitely leaves a deep impact on the reader. Their words drag the reader into a world that is so real that it's difficult to remember that you are reading about a make-believe world. The message within this story is an important one for everyone in my opinion. To get an insight into the life of someone that is doing everything that they can to lose weight….and the people around him just laughing and throwing around painful words and actions…if you can read this and not be moved in some way…well I'd be surprised!
Want to know the only negative thing that I can say about this book? 
It ended too soon!! I wanted to know so much more about the characters…
Not just Mat and Johnny…but there is a lot I want to know about them and their relationship as well. For instance I want to know if they reach their goals, where does their relationship go…oh so many things! I also want to know about Mary and Shelley and that jerk Simon!
Each and every character is so well developed that I quickly became attached and wanted to know what made them tick. Yep…for a 40 page book…this one packs a punch that leaves the reader wanting more!
So, if you haven't already figured it out…I highly recommend this book and think you should head on over and one-click that bad boy!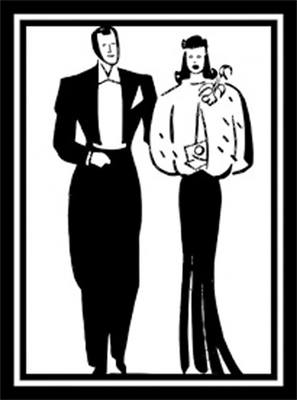 Claire Davis and Al Stewart are best friends and writing partners. They like to challenge themselves by exploring the darker side of humans, and by finding compassion and beauty even in the most desolate of places. 
Al sometimes describes himself as a mixture of Darth Vadar and the tooth fairy, while Claire is less grounded. Al has led an unconventional life, and experienced all of the events he writes about.  Above all, they believe in the power of magic and good manners.
Do you prefer the 'perfect' characters or the ones that represent real life?