Title: Daisy Does it All
Author: Kylie Gilmore
Series: Clover Park
Published by: Extra Fancy Books
Date published: April 27, 2014
Genres: Contemporary
Book Length: 255 pages
Steam Rating: Steamy
Main Characters: Travis & Daisy
Buy on Amazon
"There are soooo many scenes that pop out at me when I try to think of what exactly made this book so wonderful. One of my faves includes a naked Travis outside in the snow!"~Becca

This is book 2 in the Clover Park contemporary romance series. They don't have to be read in order, but it's more fun if you do!
Reality is overrated…
Exhausted single mom Daisy Garner is shocked when her blog about life with Darling Husband and Baby Delight in their charming Victorian home brings a national talk show to her door.
Amazing! Except she made the whole thing up.
Panic! Now she needs to borrow a Victorian house and find a man to play her fake husband on TV.
Travis O'Hare steps up for the role, as long as she'll marry him for real. He wants their son to have the stable home life Travis never had.
But before the wedding can happen, Travis and Daisy have to get through the interview with a ratings hungry host and a slick producer with ties to Daisy's troubled past. When a winter storm traps them all, it begs the question: can two people pretending at love finally discover the real thing?

Being a single mom didn't turn out how Daisy had hoped. In order to cope with her colicky baby and working for her parents she creates her fantasy world…which just happens to include her fantasy hubby and puts it all into a blog she aptly named Daisy Does It All.
Now, after reading book 1 in this series it's quite easy to get an opinion on Daisy. She is a care-free wild child that only looks out for herself. But, in this book, we get to see a side of her that we didn't know existed. Yep, she screwed up when she faked the blog…and agreeing to be on TV was an even bigger stupid mistake. But none of that makes her a bad person.
Sweet and sexy Travis has been trying to be a part of Daisy's life ever since they had their one night stand that lead to their adorable baby boy, but Daisy won't have it. She is determined to be with someone because they want her…not because they feel obligated to take care of her.
When the two are forced together during a snow storm and have to play the happy couple for the TV crew that is trapped with them…well things heat up and get interesting quick.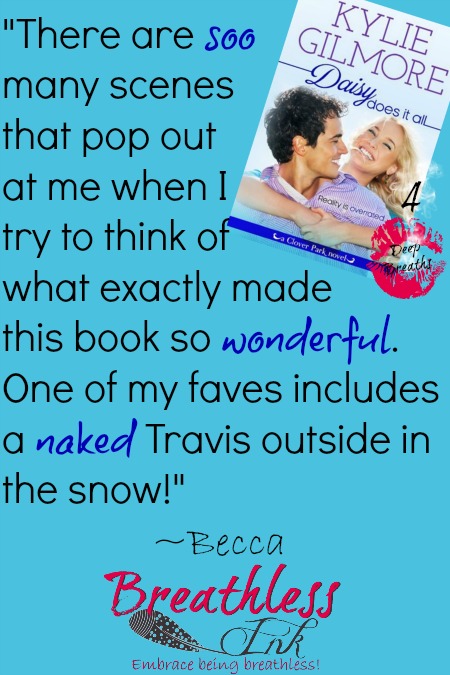 While Daisy still isn't one of my favorite characters, I absolutely adored this book. There are soooo many scenes that pop out at me when I try to think of what exactly made this book so wonderful. One of my faves includes a naked Travis outside in the snow! I won't give away a spoiler of what happens out there…but just know…it's an epic scene for sure!
The story line flows wonderfully, the characters are well developed and realistic (and a whole lot less whiny! Even Liz comes across a bit better in this book.), and the romance is sweet and swoon worthy! That's not even mentioning how hilarious the book is! We get even more Maggie and her crazy antics, this time with the added pleasure of her having sex on a regular basis hehe

While Daisy drove me crazy with her inner monologue and self deprecating thoughts, it didn't mess the story line up for me. I felt like this was an awesome story and while Daisy may have been a bit annoying, she is pretty dang realistic. We may not like to admit to having thoughts like Daisy does…but if we are honest with ourselves and others…it happens!
Overall, Daisy Does It All was a great read and has me on my toes for the next book! Be on the look out for the review!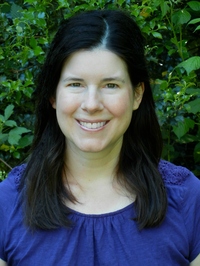 Kylie Gilmore was lucky enough to discover romance novels at a young age as they were strewn all over the house (thanks, Mom!). She writes quirky, tender romance with a solid dose of humor. Her Clover Park series features the O'Hare brothers, three guys you'd definitely have a drink with and maybe a little more. The Clover Park STUDS series unleashes three adorable studs into the world—Barry, Dave, and Will. Look out, ladies!
Kylie lives in New York with her family, two cats, and a nutso dog. When she's not writing, wrangling kids, or dutifully taking notes at writing conferences, you can find her flexing her muscles all the way to the high cabinet for her secret chocolate stash.
Find out more about Kylie and upcoming books at www.kyliegilmore.com. Sign up for my newsletter to hear about new releases, exclusive excerpts, and subscriber-only giveaways.
Would you make up a life for a blog? Or do you think reality is so much more interesting?