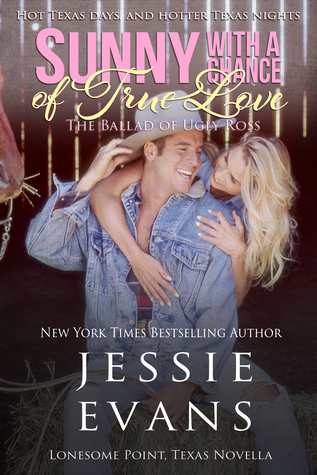 Title: Sunny with a Chance of True Love: The Ballad of Ugly Ross
Author: Jessie Evans
Series: Lonesome Point Texas
Published by: Self Taught Ninja
Date published: Jan. 23, 2015
Genres: Contemporary
Book Length: 135 pages
Steam Rating: Steamy
Main Characters: Ross & Elodie
Buy on Amazon
"This is one of those books that is so hard to review…not because there is anything wrong with it…but because it is sooooo perfect and I'm worried that I will accidentally ruin it for you! There are just so many wonderful little surprises throughout that will make you giggle, cringe and all out ugly cry!" ~Becca

A Lonesome Point Novella
One voice can save a life; one heart can bring you home…
Ross Dyer is ready to give up on love. The sweet, sleepy-eyed cowboy has always danced to the tune of a different drummer, but after being dumped by his latest girlfriend, he's beginning to think he'll spend his life dancing—and sleeping—alone. Add in the impending failure of his newly opened restaurant, due to a smear campaign being waged by his childhood nemesis, and Ross doesn't have much reason to care if the armadillo sees his shadow on Armadillo Day. Whether Lonesome Point has six more weeks of winter or not, his life forecast is looking more foul than fair.
And then she comes home and nothing is the same again.
Fourteen years ago, Elodie Prince was a scared little girl who was neglected at home and bullied at school. In her dark world, the only light was a sweet boy everyone called Ugly Ross, who, to her, was always beautiful. When she returns to Lonesome Point to find her childhood friend has grown into a man as handsome as he is kind, she can't help falling in love.
Elodie and Ross dive head first into Happily Ever After, but find their future threatened by a vicious blast from the past. Because some bullies never grow up, they only grow meaner, and more determined to snuff out the lights of the things that shine.

EEEK!!!
It's time for NOT SO Ugly Ross's story!
I have been hoping and begging for this story since I first met the horribly nicknamed Ugly Ross and of course Jessie did not disappoint in Sunny with a Chance of True Love!
I still cannot get over the fact that I read this book in one sitting…in just a few short hours! I was literally HOOKED from page one and just couldn't put it down! I didn't even stop to potty or eat…my youngest was napping and my oldest was at school…so I just knew that I was going to get this book read!
From page one, Ross's story is packed full of love, sweetness and the most epic relationship I have ever read about! This may be a novella…but boy does it pack a punch!
Ross is not just your typical southern gentleman…he is also a soft hearted man that is scared to let that side of himself show. I have always cringed at his nickname…I mean whose friends actually call them Ugly Ross?? I have always hoped that someday he would stand up for himself and put an end to that horrid name…and well he definitely did!
Hearing about sweet Elodie's childhood and how horribly her classmates treated her was tough for sure! I can't get over how much she had to overcome! I couldn't help but giggle at her chosen profession…hehe it's just so gross and awesomely perfect all at the same time!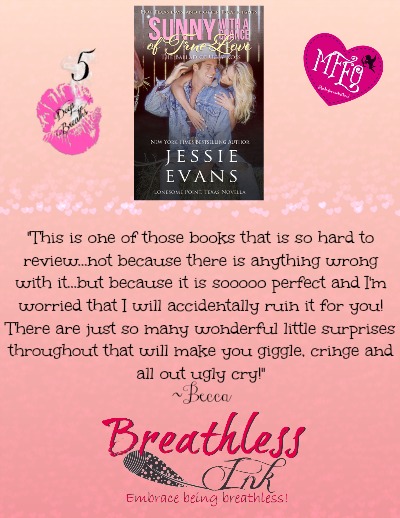 This is one of those books that is so hard to review…not because there is anything wrong with it…but because it is sooooo perfect and I'm worried that I will accidentally ruin it for you! There are just so many wonderful little surprises throughout that will make you giggle, cringe and all out ugly cry!
So let me try and sum this up quickly…
Sunny with a Chance of True Love is an epic love story that you will not want to miss! Ross and Elodie are MFEO if I've ever seen it!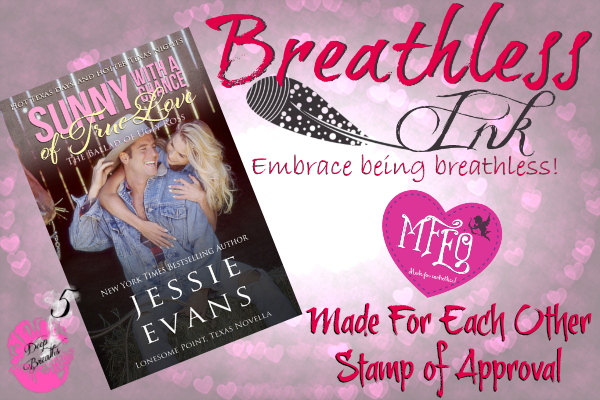 The romance flows perfectly and the relationship, while may seem rushed on some fronts, is absolutely realistic. I HIGHLY recommend that you head on over to Amazon and get your hands on this book!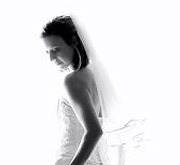 New York Times and USA Today bestselling author, Jessie Evans, gave up a career as an international woman of mystery to write the sexy, contemporary romances she loves to read.
She's married to the man of her dreams, and together they're raising a few adorable, mischievous children in a cottage in the jungle. She grew up in rural Arkansas, spending summers running wild, being chewed by chiggers, and now appreciates her home in a chigger-free part of the world even more.
When she's not writing, Jessie enjoys playing her dulcimer (badly), sewing the worlds ugliest quilts to give to her friends, going for bike rides with her house full of boys, and drifting in and out on the waves, feeling thankful for sun, surf, and lovely people to share them with.
Connect with Jessie Evans
Website | Twitter | Facebook | Goodreads | Newsletter
How can one author manage to write so many addictively amazing books?!?!