Title: Surviving Goodbye
Author: Morgan Parker
Date published: August 21, 2014
Genres: Contemporary, Mystery
Book Length: 304 pages
Steam Rating: Sweet
Main Characters: Elliot & Veronica
Buy on Amazon
"I loved this book. It's not steamy, super sexy, or sweat inducing. It's sweet, sad, thoughtful, embarrassing, hilarious, lusty, anger inducing, and desire filled. I laughed and cried, and cussed all the characters out." ~Jen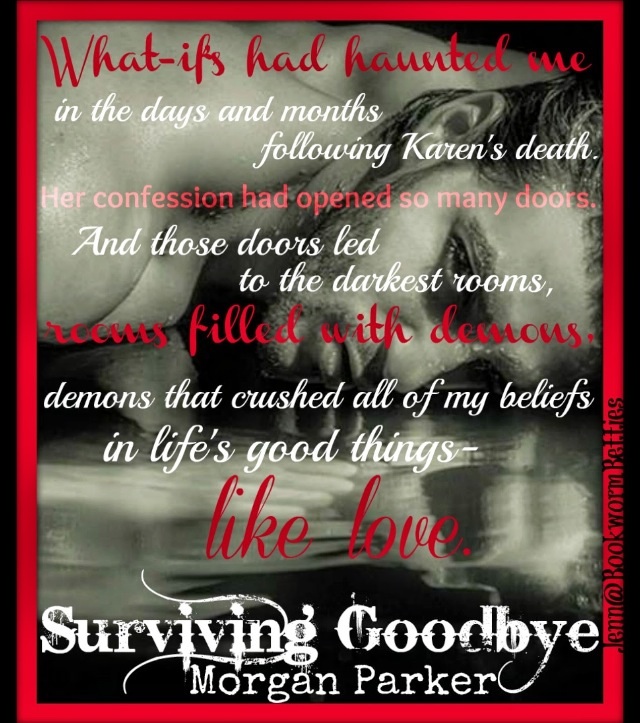 In the final hours of her life, Elliot Fitch's wife confesses that he is not the biological father to their 16-year old daughter.
Surviving Goodbye follows Elliot's collision course with Fate as he embarks on a journey to locate his daughter's real father. When Elena, now seventeen years old, announces her unplanned pregnancy and the father's unwillingness to play a role in their child's upbringing, Elliot faces an ironic dilemma about the true meaning of parenthood and the roles we play in the lives of others, particularly those we love and who love us in return.

What can I say about Surviving Goodbye without spoiling it? Hmmm… Okay here goes nothin!
Elliot Fitch loves his wife more than his next breath. Karen has been his entire world since the day they met and he was hers. Or was he? Did they really have the fairy tale marriage he always thought they had? Or has this all been a ruse? Revealing a secret on her deathbed, she crushes the man who adores her every breath with a few simple words. The day Karen dies is the day Elliot's soul ceases to thrive. And not only because the love of his life is no longer alive…
Suffering through blinding anger for the better part of a year, Elliot decides to try and piece together this unspeakable travesty that Karen left for him. But it may be too little too late. He loses his job and has a teenager with a serious attitude problem. Life continues to get even more difficult when his 16 year old daughter Elena reveals a secret of her own. Had he really been so out of it this past year he neglected to help his baby girl grieve the right way? Leaving her to seek solace in the arms of some degenerate asshole that's only going to take off? Of course he was – Anger and betrayal had taken over his life – leaving Lena to fight for herself. But no more. He will find out the truth even if it kills him. 
A chance meeting by way of his "adventurous" daughter, brings a new spark of life into Elliot's world.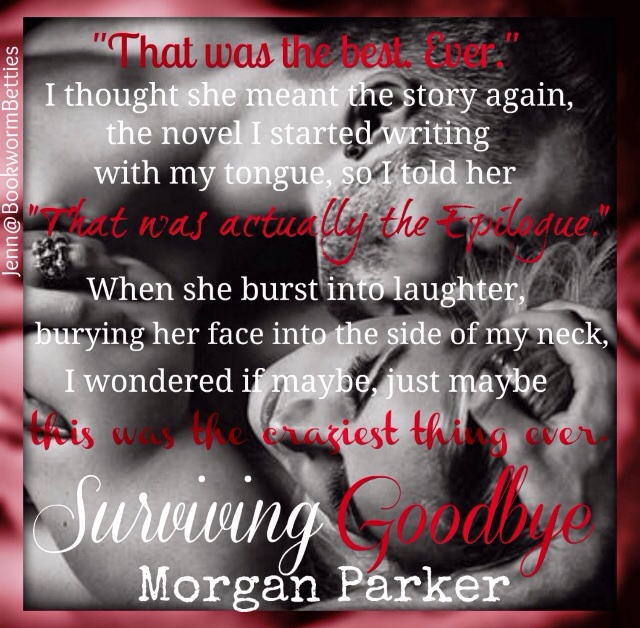 Veronica is young – (too young for his 42 he thinks) – she is spunky and determined… And a survivor. Doing her best to care for her 5yr. old daughter alone – she stumbles upon Elliot's door while delivering a "package". He tries to convince her the "package" was ordered by his daughter… Leaving this beautiful delivery truck driver extremely skeptical. Chemistry flows freely between the two even with their awkward introduction. Even with everything going on in his life he can't stop thinking about Veronica. But Elena needs her father right now. More so now than ever before. He is determined to support her through what is sure to be the most difficultly beautiful experience of her life.
Finding comfort in Veronica's presence, Elliot shares his plans for his wife's revelation with her. She decides to help him embark on his heartbreaking journey to find the truth left behind by his dead wife. Throughout their "investigation" things heat up between the two and their sexual desire for each other burns hotter than the sun. He remains leery in trusting her completely though. Something just doesn't feel right. Maybe it's nothing… But maybe it isn't.
For each breakthrough they have there is a roadblock waiting. Can these two powerfully broken souls come together and be what the other needs? Will the secrets of the past and present tear this new beginning apart before it even has a chance?
Elliot will redeem his behavior – for his daughter – for Veronica – and for himself damnit. He has been defeated before, and that is not an option anymore. Does his redemption happen in time to change the course of his ending? Can love really conquer all? Or does his journey to find the truth lead him in circles for too long? With one final confession from Karen revealed by someone from her past… Elliot finally breaks. Will he understand her reasoning before he loses everything again? Can he build a future around the magnetic pull that is Veronica? Or will she be the biggest "what if" of his life?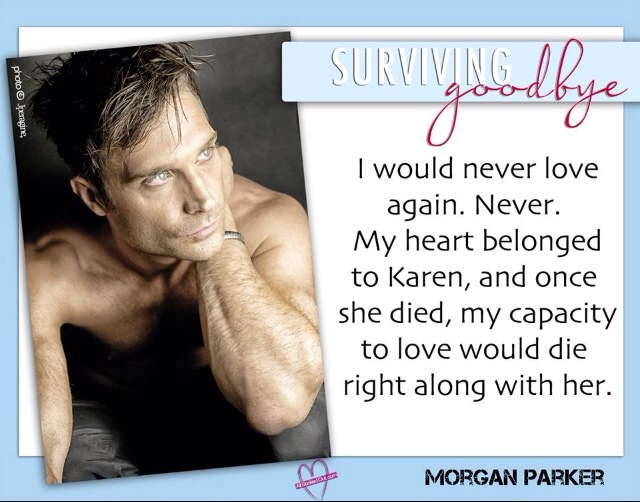 I loved this book. It's not steamy, super sexy, or sweat inducing. It's sweet, sad, thoughtful, embarrassing, hilarious, lusty, anger inducing, and desire filled. I laughed and cried, and cussed all the characters out. The blanket of emotions this book just blessed me with, is definitely going to leave me with a serious book hangover. The barrage of all that is Elliot and Veronica has left me smitten that's for sure! 
Give this book a shot ladies – sometimes the unexpected leads to what you didn't know you were missing. Morgan will have you yearning for another book – you're going to want more – so be warned now… Sometimes HEA's don't happen the way we want them too… Or maybe they do – and we don't know it until it happens!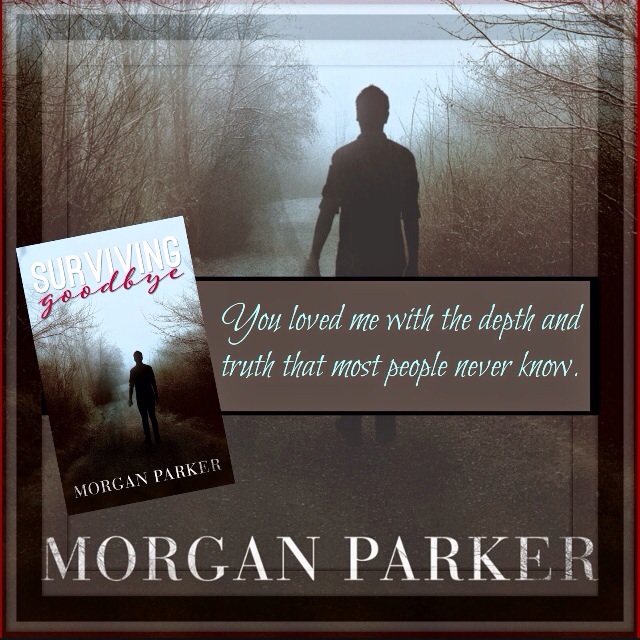 Morgan Parker is the pen name for a shy and introverted banker. He currently divides his time between Toronto, Canada and his imagination. When he isn't writing or working with clients or relaxing at Balzac's with a medium non-fat cappuccino, Morgan Parker enjoys spending time with his family. And sleeping, preferably on a bed (the left side) but depending on the day, he can pretty much curl up anywhere. No, he is not currently accepting applications for cuddling partners.
Stalk Morgan Parker
Newsletter / Goodreads / Facebook / Twitter

Books by Morgan
Surviving Goodbye / Sick Day / Non Friction / Textual Encounters / Textual Encounters 2 
His current work in progress – Violets & Violence is due to be released in December 2014
What would you do if everything you had ever known for the entirety of your love life turned out to be a lie?