Title: Revenge Bound
Author: Heidi Joy Tretheway
Series: Tattoo Thief
Published by: INDIE
Date published: July 30, 2014
Genres: Contemporary, Mystery
Book Length: 320 pages
Steam Rating: Steamy
Main Characters: Violet & Jayce
Buy on Amazon
"This book took the Tattoo Thief series to a who new level! It filled in all of the gaps that I felt were in the first two and then added in a touch of mystery and thrill for added benefit!" ~Becca

Companion to the first two the books in the Tattoo Thief series (Tattoo Thief and Tyler & Stella) which can be read as a standalone.

On the Internet, secrets never die…

Violet can't imagine anything worse than having her very private, very naked photos strewn across the Internet. 

Until they multiply like a virus. 

With her name, address, and phone number attached. 

And her boss finds out. And a stalker finds her.

Violet's refuge is a rock star known for going through groupies faster than guitar picks. Letting Jayce get close enough to protect her exposes her secrets—and her heart—to a man whose celebrity could ruin her.

That's because being a nobody is the one thing that keeps Violet's photos from making headlines. And it's the reason she can never fall for a rock star. 

Secrets spread like wildfire when a celebrity fans the flames.

REVENGE BOUND is a full-length, standalone novel, and a companion to the Tattoo Thief books. It contains steamy scenes and strong language intended for mature readers.

JUST DAMN! This book took the Tattoo Thief series to a who new level! It filled in all of the gaps that I felt were in the first two and then added in a touch of mystery and thrill for added benefit! Not only that, but Revenge Bound is a dual POV book, unlike the first two in the series. I felt that this added a new depth to the characters and story and pulled me in even deeper!

I love that each book overlaps a bit so we see a few important scenes from different perspectives. it really adds a whole new understanding to the story



We met Violet in the last book and I had a feeling that she may be a bigger part in the future. She was such a shy character and I really enjoyed getting to see what was eating at her. Having the books overlap a bit truly was a genius idea on Heidi Joy Tretheway's part. Doing this added a new depth to the characters and the plot line and made sure that as a reader I understood where each character was coming from and why they behaved certain ways. I'm not sure that this book would have rocked quite as much if it weren't done this way.

Jayce is the biggest player I have ever read about…I mean seriously! He takes the idea of being a rock-star and having groupies to a whole new level of low! I just knew I was going to hate him…I mean what redeeming qualities could he possibly have?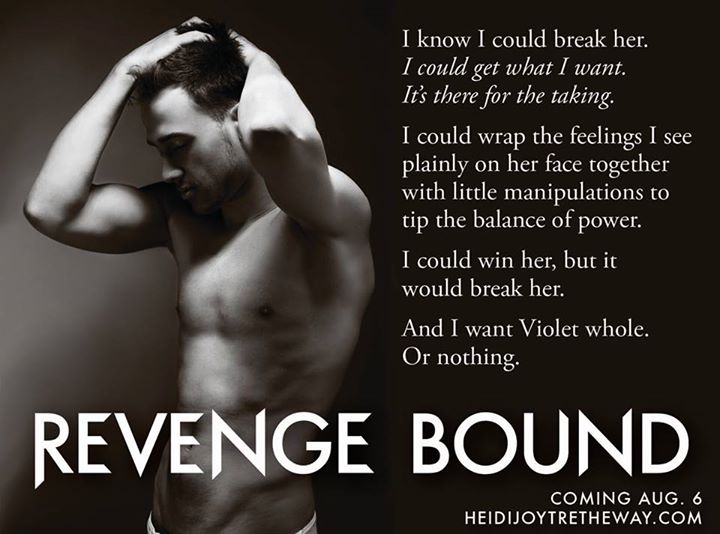 Well damn if I wasn't wrong! Jayce is one heck of a man. He is sexy, strong, protective and sexy…did I mention sexy? 

When Violet's ex puts some not so flattering pictures of her up on the internet and adds in her name, address and phone number it leads to one hell of a story! Jayce is determined to protect Violet at all costs and breaks all of his rules in the process. 

The chemistry and sexual tension between these two is EXPLOSIVE! I'm not sure how they managed to wait as long as they did! Seriously, every time they are in a scene together I was sweating and panting and hoping that this would be the one! These guys were just made for each other. Trust me when I say that when they finally let loose…it is more than worth the wait!

Revenge Bound is overflowing with love, lust, tension, fear, suspense, mystery, humor, and just plain romance! The way the story ends is perfect and gives just enough of a cliff hanger that I am dying for the next book…I so want Dave's story! I NEED to know what happens!

The story line in this book is amazing! I love that Heidi Joy Tretheway works in a real life issue with this book. Revenge Porn is huge and it's disappointing that the laws aren't stronger on this type of thing. It is always nice when an author pulls of an epic love story and works in a real life issue to help people learn more about it and the consequences and damages it causes. With the world today revolving around technology it is even more important that we share the ease with which personal photos can and are shared with the world. The side effects can be disastrous! Women share photos of themselves freely with their boyfriends/husbands and never think about what would happen if they ended up on the internet. God forbid someone go so far as to include the personal contact information as well…just wow…that would be super scary! I feel that this book is a very important book to read and share. The message within the romance is intense and invaluable. I want to say a HUGE thank you to Heidi Joy Tretheway for taking the time to write such an important and yet still entertaining and heartwarming story. I know that I will be sharing it with friends and family!
Check out the other books in the series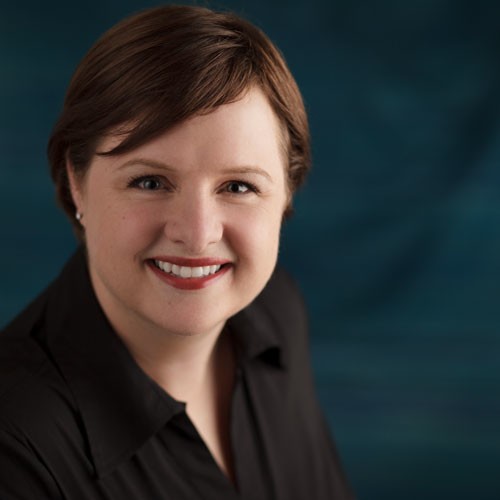 Heidi Joy lives in Happy Valley off Sunnyside Road. She swears she did not make that up.

Heidi's obsessed with storytelling. Her career includes marketing, journalism, and a delicious few years as a food columnist. Media passes took her backstage with several rock bands, where she learned that sometimes a wardrobe malfunction is exactly what the rock star intends.

You'll most often find Heidi Joy with her husband and two small kids cooking, fishing, exploring the Northwest, and building epic forts in their living room.

She loves to hear from readers via messages at:
Blog | Twitter | Facebook | Author Goodreads

Don't forget to check out our Monthly Giveaway page to see what else is included in this awesome giveaway!
Heidi Joy Tretheway is giving away an e-book of Tattoo Thief (Tattoo Thief #1)!
Have you heard of Revenge Porn? Do you feel that the laws should be stronger on this issue?!?