Title: Enemies on Tap
Author: Avery Flynn
Series: Sweet Salvation Brewery
Published by: Entangled: Indulgence
Date published: July 14, 2014
Genres: Contemporary & Romantic Comedy
Book Length: 237 pages
Steam Rating: Steamy
Main Characters: Miranda & Logan
Buy on Amazon
"What kept this book from getting boring for me was the witty banter between Miranda and Logan. It kept the flow of things from bogging down and kept the romance interesting." ~Becca

Brewing up trouble one pint at a time.
Enemies …After years away, Miranda Sweet returns to Salvation, Virginia to save her family's brewery, but her fate is in the hands of her lover-turned-enemy, Logan. What's a girl to do when the only person who can help her is the man who betrayed her?
Lovers …Logan Martin can't believe his luck when the woman who smashed his heart to smithereens walks into his bank asking for his help. What she doesn't know is that he needs the land her brewery is on–and he'll do whatever it takes to get it.
An Irresistible Combination …Their wager becomes a battle between their attraction and their determination to win. But it's in each other's arms that they realize there might be more at stake now than their bet. With the town against the Sweet Salvation Brewery's success, Logan has to choose between what's expected of him and what he really wants…


Here we have your basic Romeo & Juliet type plot line…with quite a few fun twists along the way!

He's a Martin, she's a Sweet….


"…two families on opposite sides of the track who grew up hearing tales of the other's treachery and general worthlessness."

Miranda Sweet grew up to be everything the town of Salvation said she never could be: smart, successful, and well not a felon!

Logan Martin grew up to be exactly what his dad wanted him to be: a shrewd, while sexy as sin, business man with his head in the right place.

Or did they? Logan is very well liked by everyone, well everyone except Miranda…and even then, the hatred she wants to have for him isn't always there. After Logan and Miranda lost their virginity to one another years ago all hell broke loose in the gossip circles and Miranda ran. Now Logan holds the key to her success and she is willing to do just about anything to win.

This is your typical enemies to lovers novel…not to say that it isn't good, just that the plot line is a tad bit predictable. The characters are well developed and likable, they are deep and real. What kept this book from getting boring for me was the witty banter between Miranda and Logan. It kept the flow of things from bogging down and kept the romance interesting.

Speaking of romance…

This one was pretty good. While there were some moments I kept thinking…"umm, yeah don't do that!" (Like the bank vault..come on people!) most of the book was spent with me quietly whispering to egg them on and get them kissing! There was more of a build up of sexual tension than I expected, which was also a plus

When things finally do come to a breaking point it is a sex scene worth reading! I'm not sure which I enjoyed more the boat or the table!

Another thing that kept this book a teensy bit more interesting than your average enemies to lovers book was the danger and mystery. (While I figured it out rather quickly…heck the book gives it away pretty quickly, I enjoyed the little bit of mystery and wish that it would have been drug out a bit more.) I sincerely felt for Miranda and Logan as they fought to get free from the hold of small town expectations. I teared up just a bit when Logan stood up for Miranda, it was a really great moment.

Overall, the book was a tad predictable but the depth of the characters and the extras in the plot line definitely pulled it up to a 3 star book for me. I honestly enjoyed reading it and recommend it to others that enjoy a good enemies to lovers book.

I haven't looked into what book is next…or when it comes out…however, I feel like it will end up being about the quiet yet studly Sean and Miranda's sister Natalie. But I suppose we shall have to wait and see

I will definitely be on the look out and read it when it comes out!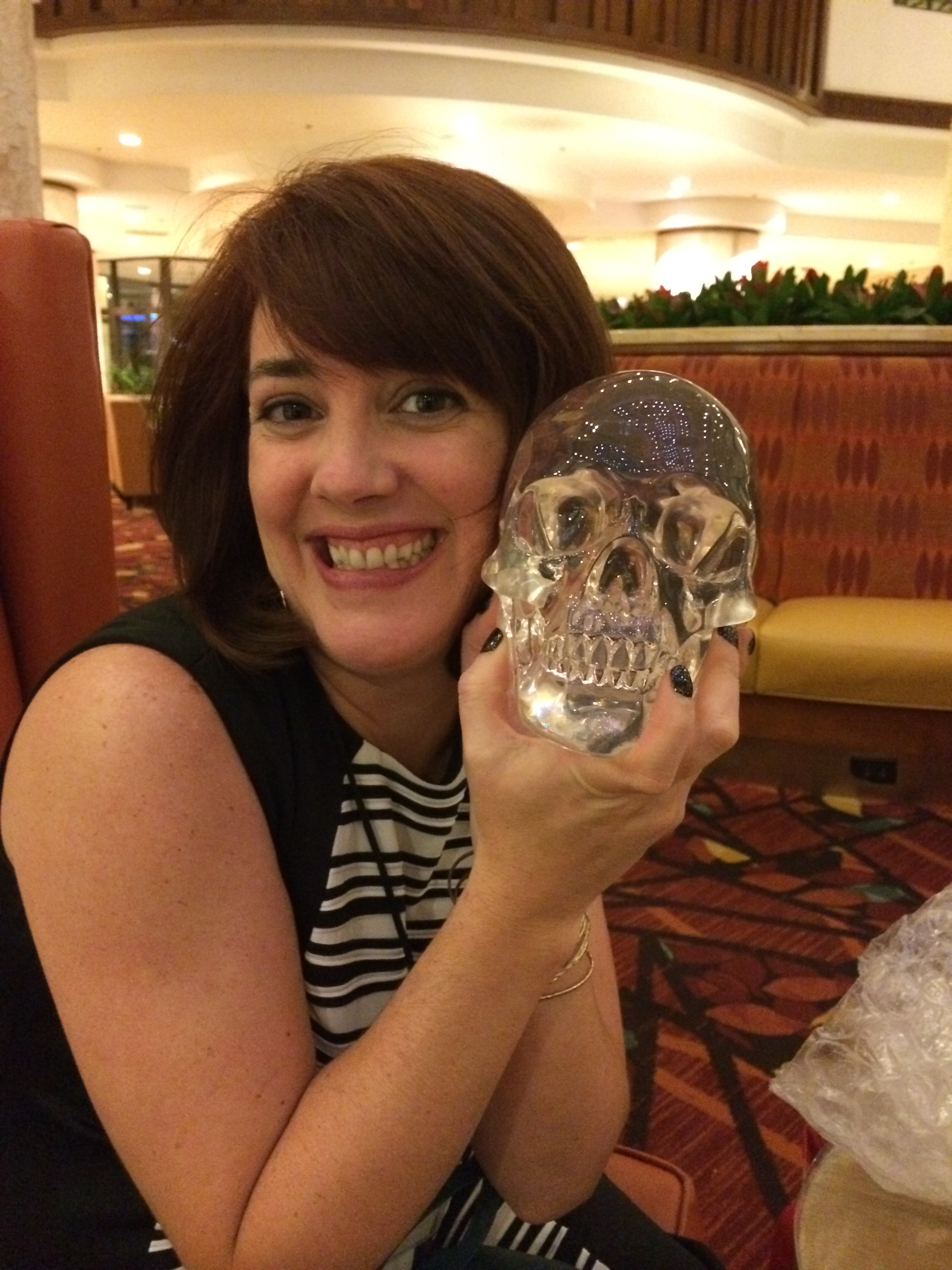 Avery Flynn has three slightly-wild children, loves a hockey-addicted husband and is desperately hoping someone invents the coffee IV drip.
She fell in love with romance while reading Johanna Lindsey's Mallory books. It wasn't long before Avery had read through all the romance offerings at her local library. Needing a romance fix, she turned to Harlequin's four books a month home delivery service to ease the withdrawal symptoms. That worked for a short time, but it wasn't long before the local book stores' staffs knew her by name.
Avery was a reader before she was a writer and hopes to always be both. She loves to write about smartass alpha heroes who are as good with a quip as they are with their *ahem* other God-given talents. Her heroines are feisty, fierce and fantastic. Brainy and brave, these ladies know how to stand on their own two feet and knock the bad guys off theirs.
Website     Twitter     Pinterest     Facebook page     Facebook profile     Goodreads     BookLikes

Describe your book/series in 15 words or less!
Sexy, funny shenanigans between two enemies who totally hot for each other.
When did you start writing? How did you come up with your books name?
I've been writing for about as long as I can remember. Book titles are always hard to come up with, but I love it when we get them just right!
What are two of your favorite characters in this book?
I'm going to have to go with Miranda and Logan. Not a big shocker there.

They're both so sure they're right all the time, that it was really fun to write them as they figured out they just might be wrong ocassionally. Maybe.
I tend to agree with you…however Sean sort of got to me a bit…I really do hope my predictions about the next book are right!
What was your favorite chapter (or part) to write and why?
I love it all, but the scene where Logan buys the raffle tickets for the pecan pie made me laugh pretty damn hard as I was typing.
Oh gosh that scene had me dying! I loved it!
We all need a hero! Tell us about your protagonist(s)? Was there a real-life inspiration behind him or her?
Logan is a sexy bit of awesome. OK, he's an ass – but only in the beginning. He's a guy who grew up knowing he was supposed to act a certain way, be a certain kind of person and only hang out with certain kind of people. Who said being a prince was easy, right? But he grows and makes that turn from guy to man and I loved that.
Tell us a little bit about your cover art. Who designed it? Why did you go with that particular image/artwork?
The folks at Entangled did the cover and they did a fabulous job. It is lick-o-licious!
Definitely lickable! 😛 Not to mention drool worthy!
I'm working on book two and three in the Sweet Salvation Brewery series and the third book in my Killer Style romantic suspense series. Loving it!
Now for a few silly questions

Who is your favorite "Book Boyfriend"?
This changes on a daily basis. My favorite all time book boyfriend is Rhett Butler. Oh. Yes. Give me the smarmy bad boy who knows how to kiss a girl any day of the week and twice
on Saturday
.
What books are on your nightstand or by your chair?
I'm reading
The Professional
by Kresley Cole right now. Hello Russian bad boy!
Are you the driver or a passenger in your book? (Are you in control of where the story goes or does it sort of just happen?)
I'm a total control freak so of course, I'm the driver.

If you could have one super power what would it be? Why?
I'd love to be able to clone myself. Imagine all I could get done in a day!
Is there anything else you'd like to say?
Thank you so much for having me over! It was so much fun!
You are so welcome! I greatly appreciate you taking the time to talk with us!

Avery Flynn is giving away an e-copy of her book Enemies on Tap!
Be sure to check out our Monthly Giveaway page to see what other authors are putting in!
Who do you think should be the main characters in the next Sweet Salvation Brewery novel?