Title: Falling for the Groomsman
Author: Jen McLaughlin
Series: The Wedding Dare
Published by: Entangled Brazen
Date published: June 9, 2014
Genres: Contemporary Romance & Humor
Book Length: 225 pages
Steam Rating: Risque
Main Characters: Christine Forsythe & Tyler Dresco
Buy on Amazon
"I couldn't get enough of these two! Their chemistry is palpable and addicting!" ~Becca

She's the one that got away. He's the one she can't forget.

Photojournalist Christine Forsythe is ready to tackle her naughty little to-do list, and who better to tap for the job than a hot groomsman? But when she crashes into her best friend's older brother, Christine realizes her list needs updating. And fast. Tyler Dresco took her virginity during the best night of her life, then bolted. Now that they're trapped together at a destination wedding, she's going to get her revenge.

Tyler has never forgiven himself for how completely he lost control all those years ago. Being in Christine's arms had felt right…until he realized what he'd taken from her in the hallway of a cheap motel. And oh, how she's making him pay for it now. The insatiable heat between them has only grown stronger, but every time things heat up, Christine walks away.

With every encounter, things go a little bit further until Christine's caught in her own trap of seduction. And before their time's up, Tyler's not the only one wanting more…


Well, this was my first Diane Alberts/Jen McLaughlin book and was a bit nervous about whether it would stand up to my expectations after reading the amazing Dare to Resist.

The idea behind this series is just so spectacular and unique that it pulled me in from the moment I heard about it! This many different authors working together to create one series that ALL takes place at the same place and time! The amount of collaboration and work that it would take to make this good is incredible!

So, needless to say I was up in the air as I started reading this book! I just didn't know what to think…

Let's just say I sat down with this book this morning…and didn't put it down until I was done! The story was so compelling and real that I was crying and screaming and wanting to hit things right along with Tyler and Christine the entire story! 

Their past experience was a toughie…I could tell right away that Tyler wasn't a douche or an asshole, even if he did make a massive ass of himself that one day so long ago. I can totally understand why Christine is so upset and wants pay back…I also had a feeling that she didn't seem the vindictive type and probably wouldn't be able to follow through with it.

Needless to say, I couldn't get enough of these two! Their chemistry is palpable and addicting! When you add in to the story all of the fighting and constant head butting…the clinging to one another just to back away…the fear and the excitement…the misunderstandings…the well…the just plain sexiness of their time together…you end up with a book that you can't put down, but don't want to end. It's so hard when you have a book like this…where you are totally in love with the characters and the story and want to know what happens, all while never wanting it to end!

There were so many times during this book that my hubby walked into the room and just looked at me and my huge goofy grin…or god forbid he came in when we were all pissed of (yes…I'm weird…I said we…as in Tyler, Christine and I….don't judge me!) and I was literally scowling at my Kindle!

Anyways…what you all want to know without me letting loose a ton of spoilers…do I recommend the book? Oh that is one BIG OL' HELL YEAH!

No seriously…why are you still reading my reviews?? Get to it! Click the link and buy the dang book already!! 

I know I am about to go find a quiet corner and start reading the next one! Here's to hoping this series keeps up the awesomeness that has begun!
Check out the other books in the series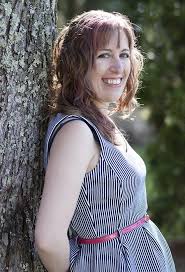 Jen McLaughlin is the New York Times and USA Today bestselling author of sexy New Adult books. Under her pen name Diane Alberts, she is a multi-published, bestselling author of Contemporary Romance with Entangled Publishing. Her first release as Jen McLaughlin, Out of Line, released September 6 2013, and hit the New York Times, USA Today and Wall Street Journal lists. She was mentioned in Forbes alongside E. L. James as one of the breakout independent authors to dominate the bestselling lists. She is represented by Louise Fury at The Bent Agency. 
Though she lives in the mountains, she really wishes she was surrounded by a hot, sunny beach with crystal-clear water. Though she lives in the mountains, she really wishes she was surrounded by a hot, sunny beach with crystal-clear water. She lives in Northeast Pennsylvania with her four kids, a husband, a schnauzer mutt, and a cat. Her goal is to write so many well-crafted romance books that even a non-romance reader will know her name.
Website     Facebook     Twitter     GoodReads

Describe your book/series in 15 words or less!
–Falling for the Groomsman is a sexy, quirky second chance love story with two very stubborn individuals.
When did you start writing?
–Well, I wrote a book when I was a kid and it got put in my school library! That was my first taste of being an author, and I knew that's what I wanted to do with my life. Then, later on in life, I finally wrote a whole book and started querying. After a long, lengthy, brutal journey…I got my first "yes" in 2011.
What is something about yourself that most of your readers don't know?
–I'm very short. Everyone is always surprised by how little I am when they meet me. LOL
I'm only 5 feet tall…so I know what you mean!

How do you spend your time when you aren't writing?
–I spend my free time hanging with my kids and my hubby. 
What do you find most rewarding about being an author?
–The readers. I love having people who love my books, and when they write me to tell me they love them…it's the best feeling EVER.
Now for a silly one

If you could have one super power what would it be? Why?
–Reading minds—because I'm nosey and want to know what people REALLY think!

Enter the giveaway and be sure to check out the rest of the books in this series!