Title: The Understatement of the Year
Author: Sarina Bowen
Series: Ivy Years
Published by: Rennie Road Books
Date published: Sept. 29, 2014
Genres: LGBT, Contemporary, Sports
Book Length: 281 pages
Steam Rating: Steamy
Main Characters: Graham & Rikker
Buy on Amazon
"I cannot get over how well written this story was. It was so realistic, so raw and so emotional that once I got started reading it I just couldn't stop." ~Becca

What happened in high school stayed in high school. Until now.
Five years ago, Michael Graham betrayed the only person who ever really knew him. Since then, he's made an art of hiding his sexuality from everyone. Including himself.
So it's a shock when his past strolls right into the Harkness College locker room, sporting a bag of hockey gear and the same slow smile that had always rendered Graham defenseless. For Graham, there is only one possible reaction: total, debilitating panic. With one loose word, the team's new left wing could destroy Graham's life as he knows it.
John Rikker is stuck being the new guy. Again. And it's worse than usual, because the media has latched onto the story of the only "out" player in Division One hockey. As the satellite trucks line the sidewalk outside the rink, his new teammates are not amused.
And one player in particular looks sick every time he enters the room.
Rikker didn't exactly expect a warm welcome from Graham. But the guy won't even meet his eyes. From the looks of it, his former… best friend / boyfriend / whatever isn't doing so well. He drinks too much and can't focus during practice.
Either the two loneliest guys on the team will self destruct from all the new pressures in their lives, or they can navigate the pain to find a way back to one another. To say that it won't be easy is the Understatement of the Year.
THIS BOOK IS A STANDALONE. NO CLIFFHANGERS. NO PRIOR EXPERIENCE NECESSARY.
Warning: unlike the other books in this series, this heartbreaking love story is about two guys. Contains sexual situations, dance music, snarky t-shirts and a poker-playing grandmother.

This was only my second gay romance novel and I have to say that I adored it! I totally read this series all wrong and absolutely out of order…however, it really didn't matter

In the Understatement of the Year we meet Graham and Rikker who were best friends during their childhood and adolescent years. They fell in love as teenagers. Unfortunately, something horrible and sadly realistic happens that causes Rikker to be sent away and Graham to second guess everything about himself. Because of this, Graham hides who he is. He forces himself to date girls and lives a very exhausting and carefully planned life. He honestly thinks that he has everything under control. When Rikker, his first, and if he's honest only, love joins his hockey team he fears that his carefully laid plans and perfectly choreographed lies are about to be thrown out of the window.
I LOVE that this story is told in a dual POV. Getting to see things from both Graham and Rikker's perspective really adds a whole new level to the story that other wise would have been lacking. Getting to see the team and college life through Graham, who is terrified of even saying the word gay, and Rikker, who was unwillingly outed at his last college, is absolutely epic.
I cannot get over how well written this story was. It was so realistic, so raw and so emotional that once I got started reading it I just couldn't stop.
The sex….just damn!
These sex scenes are HOT, HOT, HOT with a side of steamy!
The flow of the romance is realistic and believable. It isn't easy for them and there are some pretty big hurdles that they have to jump over. I have to say that I wanted to beat the shit out of Graham on several occasions! I mean seriously…poor Rikker just kept putting himself out there and Graham just…well yeah I'm not saying more than that because well…spoilers!
Anyways…where was I? Oh yeah…
These two guys are far from perfect and their relationship has it's flaws and hiccups. However, when they finally do get over their obstacles and give in to the sexual tension that is so strong you can taste it…trust me…it's something you won't want to miss out on!
The love that Graham and Rikker have for one another is so amazingly sweet. For two big bad hockey players they definitely have a sweet side that keeps you begging for more.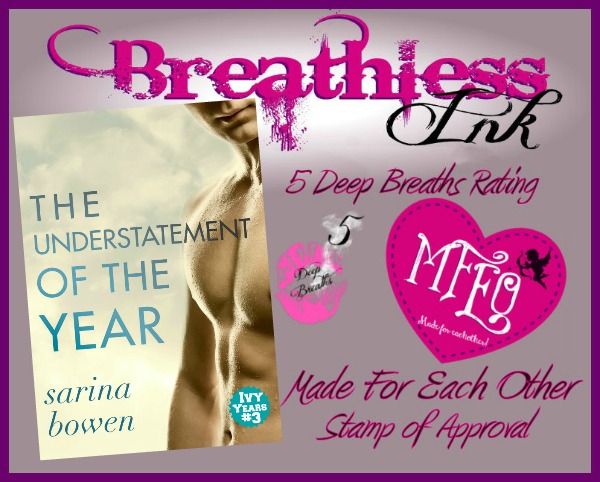 The way this book ends is just OOOO EEMMM GGGEEE sweet! You will seriously need a box of tissues to stop the tears and snot from taking over your face…yep…gross I know! But trust me, this book is just that damn good! It absolutely rocked my world and made me want more! I was super sad to know that I was done with their story and would like to say that I am totally up for a follow up story for these two!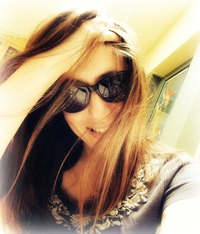 Sarina Bowen makes her home in the Green Mountains of Vermont, where she lives with her family, eight chickens and a large pile of skis and hockey equipment. She is a graduate of Yale University.  
Email | Website | Twitter | Facebook
What would you do if an old flame, that could ruin the world you created for yourself, waltzed back into your life?
 D