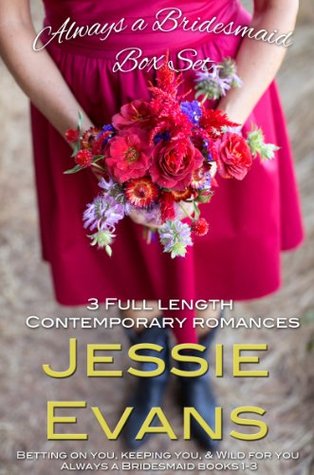 Title: Always a Bridesmaid Boxed Set
Author: Jessie Evans
Series: Always A Bridesmaid
Published by: Self Taught Ninja
Date published: Dec. 17, 2013
Genres: Contemporary
Book Length: 464 pages
Steam Rating: Steamy
Main Characters: Lark, Mason, Aria, Nash, Melody & Nick
Buy on Amazon
"I am in love! I cannot wait to read more of this series! The only bad part about it is that there are only two more books!" ~Becca

This ebook contains three full-length novels:
*Betting on You (Always a Bridesmaid 1)
*Keeping You (Always a Bridesmaid 2)
*Wild for You (Always a Bridesmaid 3)
-BETTING ON YOU:
He'd always bet on her, always…
Lark March is over Mason Stewart, so over him she's practically forgotten the cruel way he ended things four years ago. At least that's what she's told her sisters… But when Mason shows up at her best friend's wedding, talking sweet and looking even sweeter, Lark can't deny the man still gets to her in a major way.
-KEEPING YOU:
A marriage of insanity…
Aria March and Nash Geary's first summer fling ended badly, very badly, and they haven't spoken a civil word to each other since they were teens.
Twelve years later, Aria is back in Summerville, fighting for custody of her little girl, and it sure wouldn't hurt her case to be in a committed relationship. Fresh from a nasty breakup, Nash will do anything to one-up Rachael, the woman who broke his heart a few months ago, even agree to a marriage of inconvenience to Aria March.
-WILD FOR YOU:
This good girl's about to go wild…
Melody March has always been the sweet little sister everyone could count on, but lately she's longed to let her hair down and try something new. She tells herself it has nothing to do with bad boy, Nick Geary, or the steamy kiss they shared a month ago, but she can't deny the sexy, tattoo artist has gotten under her skin. She's determined to show him she's got what it takes to enjoy a walk on the wild side.
Fans of Bella Andre, Kristan Higgins, and Susan Mallery will love the Summerville romance series, stories featuring sassy Southern women and the alpha males who love them.

It's official…I am a Jessie Evans addict with a serious one-click problem!!
No, really…someone needs to save my bank account from her books!! I was lucky enough to get a few in exchange for a honest review and I swear it just made my addiction worse!! I have been stuck in bed sick for two days..and in that time I have read 10 books by Jessie!
This boxed set contains books 1-3 of the Always a Bridesmaid series and I can say that without a doubt I am hooked on the people of Summerville and am absolutely thrilled that the Fire and Icing series takes place in the same town!
So let's talk books a bit…
Betting on You (Always a Bridesmaid 1)
Lark and Mason's story is sweet and deliciously detailed. This is an amazing second chance romance that had me hooked from page one. The characters are well developed, including the 'background' characters. As readers, we learn so much so fast it could easily be overwhelming. However, somehow Jessie manages to make it easy to take in. The romance flows realistically and keeps you on your toes. I am in awe of Jessie's writing style and thoroughly enjoying this series.
Keeping You (Always a Bridesmaid 2)
I think that Aria and Nash's romance is by far my favorite in the series. I adore the angst and enemies turned lovers story. Again, the characters are extremely well developed and so real that I swear I could roll into Summerville and meet them if I tried! The romance is fast, fun and intense and yet flows beautifully. The deeper into the lives of the people of Summerville I get the more I want!
Wild for You (Always a Bridesmaid 3)
Oh gosh…Nick and Melody's story was just awesome! I still think Aria and Nash are my fave, but these two aren't far behind! I mean come on, who doesn't enjoy a little girl next door with a bad boy? While those two descriptions seem accurate at first, as we get further into their story it is easy to see that both Nick and Melody are both so much more than what they seem. Watching as their relationship grows and they figure out who they truly are while bringing out the best in one another is just priceless. Such a sweet story!
Overall thoughts…
Oh my gosh! I am in love! I cannot wait to read more of the Always a Bridesmaid series! The only bad part about it is that there are only two more books! I'm going to be soooo sad when I'm done

But hey…at least I get to read the Fire and Icing books next!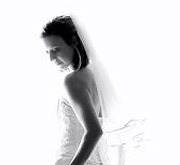 New York Times and USA Today bestselling author, Jessie Evans, gave up a career as an international woman of mystery to write the sexy, contemporary romances she loves to read.
She's married to the man of her dreams, and together they're raising a few adorable, mischievous children in a cottage in the jungle. She grew up in rural Arkansas, spending summers running wild, being chewed by chiggers, and now appreciates her home in a chigger-free part of the world even more.
When she's not writing, Jessie enjoys playing her dulcimer (badly), sewing the worlds ugliest quilts to give to her friends, going for bike rides with her house full of boys, and drifting in and out on the waves, feeling thankful for sun, surf, and lovely people to share them with.
Connect with Jessie Evans
Website | Twitter | Facebook | Goodreads | Newsletter
Which do you like best: Second Chance Romance, Enemies Turned Lovers or Girl Next Door & Bad Boy?