Title: The Year We Fell Down
Author: Sarina Bowen
Series: Ivy Years
Published by: Rennie Road Books
Date published: March 20, 2014
Genres: Contemporary, Sports
Book Length: 268 pages
Steam Rating: Steamy
Main Characters: Corey & Hartley
Buy on Amazon
 "These two have a relationship that goes far beyond the physical. Far beyond sex. Corey and Hartley are the definition of soul mates at it's very core and I happily award them the MFEO stamp of approval!" ~Becca

The sport she loves is out of reach. The boy she loves has someone else.
What now?
She expected to start Harkness College as a varsity ice hockey player. But a serious accident means that Corey Callahan will start school in a wheelchair instead.
Across the hall, in the other handicapped-accessible dorm room, lives the too-delicious-to-be real Adam Hartley, another would-be hockey star with his leg broken in two places. He's way out of Corey's league.
Also, he's taken.
Nevertheless, an unlikely alliance blooms between Corey and Hartley in the "gimp ghetto" of McHerrin Hall. Over tequila, perilously balanced dining hall trays, and video games, the two cope with disappointments that nobody else understands.
They're just friends, of course, until one night when things fall apart. Or fall together. All Corey knows is that she's falling. Hard.
But will Hartley set aside his trophy girl to love someone as broken as Corey? If he won't, she will need to find the courage to make a life for herself at Harkness — one which does not revolve around the sport she can no longer play, or the brown-eyed boy who's afraid to love her back.

After reading The Understatement of the Year, I couldn't wait to get my hands on the rest of the books in this series! I just totally fell in love with Sarina Bowen's writing style and these characters.
The Year We Fell Down is an emotional roller coaster of a story. While the plot line has been done, friends to lovers, this one was definitely unique and fun! This is one of those books that is sort of hard to review without spoilers…but I'm going to give it my best shot!
From the blurb you know that Corey is in a wheelchair and can't follow her dream of playing hockey. You also know that her next door neighbor in the "gimp" rooms is the super hot Hartley…who just happens to have a girlfriend.
These two bond and the friendship that blooms between them is inseparable. It's uplifting. It's strong. It's absolutely 100% perfect…except for the longing. The want. Hartley's trophy girl girlfriend is a total bitch…and the way their relationship is set up with her in Paris is absolutely mind boggling! I can't believe that he lets himself be in a relationship like this…but I digress…
spoilers…all that jazz! Not going there!
So anyways, where was I? Oh yeah! Their friendship! Seeing these two grow and bond over their "gimpness" is sweet and emotional. I love that Hartley is so damn thoughtful…even though he does have his dumb jock moments that make me want to smack him upside the head! I mean come on man…you had to have known she would…
Crap! There I go again! Sorry rambling into ALMOST spoilers…
Okay back on track Becs!
Lets move on from their relationship a little so that I don't spoil stuff for ya!
This book has one damn amazing story of not giving up. Of not letting go of your dreams and of reaching for what you want…even if it does seem impossible.
Corey is one of the strongest, most well developed female characters I have read in a long damn time. Just reading this book and seeing the story through her eyes made me realize how lucky I am…how many things I take for granted and how thankful I should be

For that I want to say a HUGE thank you to Sarina Bowen! 
Be prepared for a lot of tears. A lot of angst and struggles. Oh and I can't forget to mention that you will need to be prepared for a shit ton of sexual tension! I mean…just damn! There aren't a lot of 'steamy' sex scenes in this book…but honestly there didn't need to be!
The scenes that are there are written beautifully and don't feel forced. The characters are so real and so raw that any more would have ruined things. These two have a relationship that goes far beyond the physical. Far beyond sex. Corey and Hartley are the definition of soul mates at it's very core and I happily award them the MFEO stamp of approval!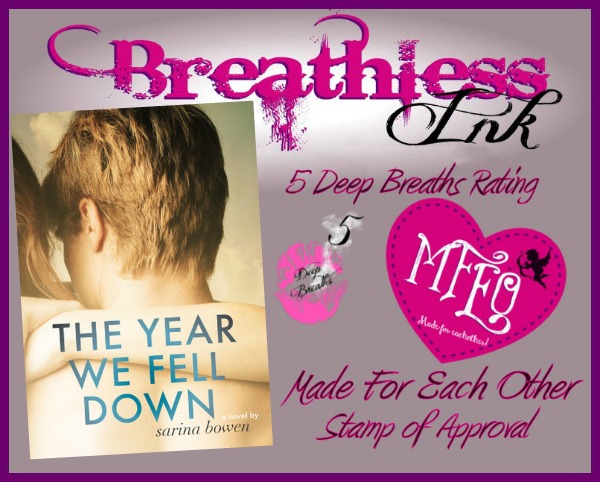 If you haven't given this book…this series a chance yet, trust me, head on over to Amazon and pick it up like right now! No seriously…why are you still here?? Go NOW!
Check out the other books in the series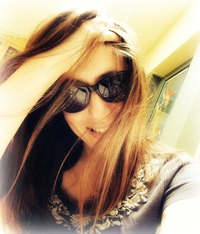 Sarina Bowen makes her home in the Green Mountains of Vermont, where she lives with her family, eight chickens and a large pile of skis and hockey equipment. She is a graduate of Yale University.  
Email | Website | Twitter | Facebook
What would you do if everything you wanted was taken from you? How would you handle loving someone that is with someone else?