Title: Exsanguinate
Author: Killion Slade
Series: World of Blood (#1)
Published by: Draconian Publishing – Spirit
Date published: December 9, 2013
Genres: Paranormal, Horror/Thriller
Book Length: 302 pages
Steam Rating: Sweet-Steamy
Main Characters: Cheyenne & Khaldon
Buy on Amazon
"The romance mixed in with the drama and mystery was not too much and not too little. I didn't feel overwhelmed by explicit sex scenes or feel like I missed out on the romance. The story line is seriously deep and pulls you in to make you fall in love with the characters and the world in an amazingly short amount of time!" ~Becca

"They can't touch you. What could possibly go wrong at Orlando's beloved Global Studios Halloween Scream Nights theme park? Cheyenne O'Cuinn's task is to study fear even though she is the biggest chicken on the planet. In order to carve out a slice of the billion dollar scare industry for her online role-play company, she researches what causes people to run screaming out of haunted attractions.
Determined to face her own fear of Oldhouseophobia, Cheyenne confronts her bloodcurdling obsession – the dreaded haunted house. Her worst nightmare manifested, Cheyenne is brutally attacked and left for dead by a rogue vampire. Splattered across the front page of the Orlando Sentinel, Cheyenne discovers her sisters are missing while she recovers in the hospital.
The ransom call from the kidnapper sets into motion the rabbit hole of a parallel supernatural reality she invades to rescue her family. In a race against the hourglass, Cheyenne confronts a double-agent vampire, a cyberchondriac werewolf, and a mafioso dragon. Can they be trusted to help her, or are they a part of the twisted scheme?
With her sister's lives on the line, Cheyenne has no choice but to beat the kidnappers at their own game and ensnare them with her own brand of deception. "


I want to be sure that I say this upfront and get it out there….I downloaded the sample of this book and was hooked from page one! I have never read a book that was a gamer style genre…never really read a lot of horror novels if I'm being honest. However, that will certainly change when it comes to this series!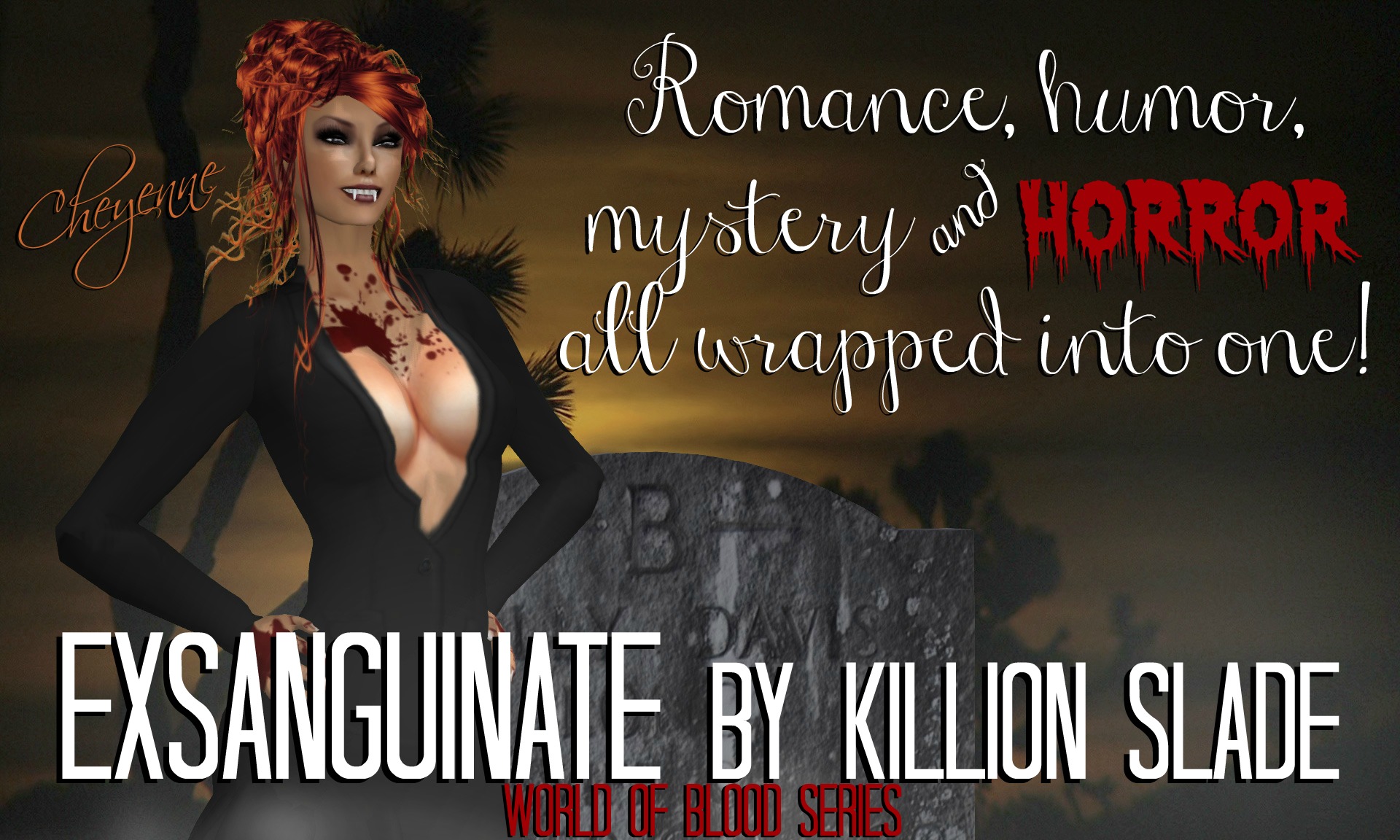 I heard from some people and reviews that the book was "too scary" or "I just couldn't read it" but guess what?!? Those people are crazy!
While, this book was scary it was also an amazing story! I was addicted and begging for more before I knew what happened! I am going to do my best to do a quick review without any spoilers! Not always an easy task!
I can say that I have never been reading a book and never wanted it to end…but couldn't stop reading all at the same time! It was so frustrating! I still can't figure out how I read this book soo quickly…well actually I can…it involved one entire night of NOT SLEEPING!
My hubby and I are HUGE gamers so the fact that the main characters (which just happen to be awesome women) are programmers and game lovers just appealed to me even more. I loved that this book managed to mix what we know of as reality with things that most people believe don't exist. This lead to an interesting level of acceptance for the story line. I honestly felt like these things could be taking place somewhere in the world and people have no clue! Let's just say that I laughed my tail off at all of the hints at cyber sex and online romance! I mean seriously…the iVibrate? hahahaha Love it!!
I can honestly say that I read a TON of paranormal romance/urban fantasy style books….some are good and some are not so good. I mean seriously..I may have a problem lol but hey if you are into paranormal romances and read like I do be sure to check out I Love Vampire Novels for a ton of FREE ebooks each week! This one is definitely up among my favorites!
The romance mixed in with the drama and mystery was not too much and not too little. I didn't feel overwhelmed by explicit sex scenes or feel like I missed out on the romance. The story line is seriously deep and pulls you in to make you fall in love with the characters and the world in an amazingly short amount of time!
The story line is epic and unique. There are twists and turns and some unexpected out comes (to say the least)! I adore how Exsanguinate manages to blend humor and horror along with a touch of romance so smoothly! I think one of my favorite aspects of this book is the strong female characters. These women are not wimps in any shape or form!
Another cool aspect of the book is The Super Market. This is just the coolest place ever! Trust me when I say you do not want to miss reading about all of the craziness that takes place within these walls!
I still can't get over how amazing this book is and my only problem with it is that I am already begging for book 2!!

Have you ever watched a movie and wondered how on earth a certain actor or actress was cast AND then how could you ever see someone else playing that role?  As writers, we often times have a certain person we can identify with as we envision our characters.  For me, having a visual makes all the difference!  For others, they never give it a second thought.  I thought it would be fun to share with you our dream cast for Exsanguinate – A Vampire Urban Fantasy Series (World of Blood Book 1)
.
Tell us who you think would be awesome at any character role for Exsanguinate. We'd love to hear your thoughts

Killion Slade's Exsanguinate Dreamcast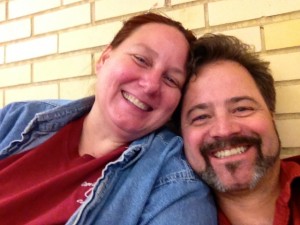 Killion Slade is a married writing team who met in the virtual realms of Second Life and virtually enjoy everything. Mrs. Slade writes and crafts the stories, while Mr. Slade formats and publishes. Members of the Horror Writers Association and the Paranormal Romance Guild, they storyboard their characters inside Second Life as their avatars reveal their stories. Tucked away in the foothills of the Rocky Mountains in Northern Montana, they stay busy chasing kids, corralling horses and cats, and enjoying the harvest from their garden. Married on Halloween – they love to live life to the fullest and embrace one another each and every day.
Killion Slade can be reached at the following:
Email:  Killion@killionslade.com   Facebook   Website   Amazon Author Page   Google+   Twitter

We all need a hero! Tell us about your protagonist(s)? Was there a real-life inspiration behind him or her?
I love it when equally there is a hero and heroine in a story.  Jewel of the Nile or Mr. & Mrs. Smith come to mind.  That is what I wanted for the World of Blood series.  Since I knew this wasn't going to be a stand-alone one book, it gave us the opportunity to delve deeper into the two heros.  I can't say that they are built on any one person other than our own avatar imaginations inside of Second Life.
Tell us a little bit about your cover art. Who designed it? Why did you go with that particular image/artwork?
We fell in love with Ravven when I came across her artwork on Facebook.  She is an expat who lives in the UK and she's a gamer to boot.  Her artwork is clean, sexy, and inventive. http://www.ravven.com/  We love her mostly because she is truly genuine person and such an amazing artist.  She has a way of embedding such detail when you look at the cover up close, but ti doesn't look too garbled.  Her lighting and textures are simply magnificent.  We can't say enough good things about her.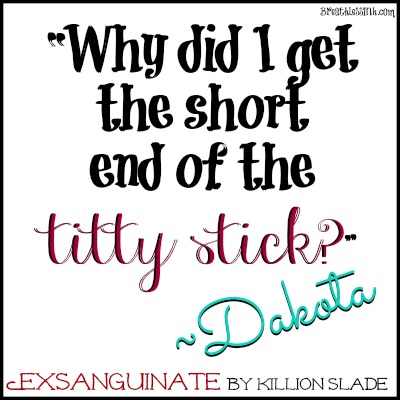 What are two of your favorite characters in your books/series?
That is a tough question!  It's like asking which child is your favorite.  On certain days you can answer that question, but usually you love them all for their weird quirks and snark.  I would have to say I truly enjoy Dakota's character because she can truly say what is on her mind and get away with it.  Whereas, Cheyenne and Sheridan have to be provoked a bit more before they lose their grasp of hold the tongue before thou speaketh.
What was your favorite chapter (or part) to write and why?
In Exsanguinate I enjoyed writing the scene ambiance as Cheyenne walked into the Halloween Horror Park.  So much of writing these days is show, not tell  – but be sure and don't stop your action or the reader will get bored.  I had so much visual imagery to work from with Universal's Halloween Horror Nights and Busch Gardens HalloScream that there wasn't enough room in the book to write down everything I wanted to include. This is why we decided on having the interactive features in the book so readers could enjoy extended scenes if they wanted.
It's kinda funny – there have been a couple people who didn't understand the QR codes or the ebooks links into the website.  They thought the code links were ads or dvds to a game.  But then there are others who totally grooved on finding the hidden easter egg gems we have stashed away for fun on the website.
Silly stuff
Are you the driver or a passenger in your book? (Are you in control of where the story goes or does it sort of just happen?)
This is a fantastic question, Becca!  I would have to say both.  Often times I have paved the road they are walking down, given them props and people to play with and then often times, they'll surprise me with the words that come out of their mouths.  Sometimes it's shocking what they do! 
You're having a party. What character from your book do you hope attends? Why?
Oh, I totally want Dakota, Harris and Beano to show up! Those two are forever getting their snark on and who can resist a loveable Beano puppy?
What character do you hope doesn't attend? Why?
I don't think I would want Edric.  He is truly a bad dude and just the thought of him totally creeps me out!
Characters often find themselves in situations they aren't sure they can get themselves out of. When was the last time you found yourself in a situation that was hard to get out of and what did you do?
That is a truly relevant question and quite timely.  My editor, Mary Ann Peden-Coviello, tore me a new one recently.  It would seem as if my personal life was taken out on a few characters and I did some irreparable damage to the cast.  If I had published the story with some of the unkindness which spewed from Cheyenne, she would have lost respect from the readers and you can't do that with your protagonists.  I'm thinking we will publish the "off the wtf were you thinking" scene onto the website.  That way readers can see how I almost destroyed the entire cast!
My editor knows my characters so well that she called me out on it immediately and said, "WTF were you thinking?"  LOL – Literally!  SO after we discussed what I was trying to accomplish [can't tell cause it's a spoiler for 2nd book], who was in the scene, and they needed to react realistically – I rewrote the scene in two parts.  One portion from Cheyenne's point of view [POV], and the other from Khaldon's POV.  So the scene carries out two simultaneous conversations from each here'd point of view.  It was an extremely difficult chapter, but one that is critical to the growth of both my protags.
Who is your favorite "Book Boyfriend"? What series is it from and who wrote it?
Awww, man!  I think you've got me there.  I think it would have to Bones from the Jeaniene Frost's Night Huntress Series
.  I fell in love with his voice narration on the audiobooks and it made me love the written character even more.  He is a tender- hearted bad ass and he makes my toes curl up!
What books are on your nightstand or by your chair?
I'm not so sure what this says about me, but do grammar and self-editing books count?  The emotion thesaurus is an absolute must as well.  I have a kindle fire on my nightstand, so I literally have hundreds available to me at any given moment.  My TBR list is longer than my to edit list…
What's next for you?
We are deep into Book 2 for the World of Blood series – not sure yet of the launch date, but we are striving for a winter 2014 release.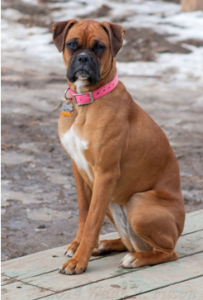 Don't have time to read a paperback or don't have a kindle?  Never fret!  We are deep into production for Exsanguinate the audiobook version which is due to release in November 2014!  We are very excited about this project because it truly brings the characters ALIVE when you can experience them in the venue. CLICK HERE for a FREE sample containing the prologue and chapter one of Exsanguinate.
Is there anything else you would like to say?
We get asked this question quite a bit.  Is there a real Beano? And the answer is Yes!!!  In the book however, Beano is portrayed as a male puppy dog, but our beloved Beano is female.

"If you want to find your precious Sheridan and Dakota, you need to login to ExsanguiNation. Go find the haunted barn by the cornfield. Do you understand, my pet?"
"What does the game have to do with this?" I ran my hand through my hair frantically pulling it out of my face.
"Everything! You have one hour to find it and follow the instructions. If you don't find it, then you'll receive body parts from Fed Ex to your condo."
Afraid of what he might say next, I gulped. He knew where I lived. Vampire or not, I wasn't safe anymore. Maybe I never had been.
"Okay, okay I'll be there. Where is the haunted barn? I've never programmed a barn in the game."
"Of course you haven't, idiot, I did."
"What the hell are you talking about?"
"Tut tut tut, that's no way to talk to a fellow vampire now is it?"
My eyes grew wide in horrific understanding.
"Cheyenne, GC 89 – we're alive!" Dakota screamed into the phone.
Bile crawled up out of my stomach and creeped into my throat as my hands covered my face.
"Please, hold." The phone filled with oldies Muzak.
As fast as Dakota's voice emerged, it was gone again.
Oh My God – they're alive! Did I hear her right? GC 89? What does that mean?
I jumped out of bed and paced back and forth in the room. The hold music turned off, and Ludovic came back to the line.
"Please let me talk to her. Please don't hurt them." I cried into the phone, "I'll do whatever you want. What do you want, money? Just give me till tomorrow afternoon and I'll get it."
"Thank you for holding, Miss O'Cuinn. I don't need your money. I want you in exchange for your sisters. Be at the red, haunted barn in one hour or you'll live with their deaths on your bloody hands the rest of your pathetic existence."
My mind raced for comprehension. It had been a little over a week since the attack and Ludovic was just now contacting me. How does he know I'm home? Are there any cameras in my house?
I'm bugged!
"Padme, awake!" My computers instantly came online. Logged in into the portal, I typed 'red haunted barn' into the search field of the game. No results returned. Shit. Shit. Shit.
"Padme, mute!" I thought for a moment. "Padme, are there any external cameras added to the system? Any hidden communication or transmission devices?"
"Scanning. Negative. I detect zero unauthorized sensors."
"Padme, unmute."
"Ludovic, how did you know I was home?"
"Wouldn't you love to find out, my pet?" His voice slimed over me.
"There aren't any haunted barns coming up in the search engine parameters."
"Have you checked for any external worlds that aren't on your simulators?"
"You hacked into my game? You fecking … hacker … you."
"Tsk tsk tsk. Such foul language from a lady. Keep it up and you'll lose another ten minutes."
"What do you mean lose another ten minutes? You said I had an hour."
"You've taken enough of my time today. To answer your question however, good news travels fast through the grapevine. Oh, and one more thing. Don't bother calling your dear father or the cops. If you're not careful, even more loved ones will be joining your sisters. Goodbye, Cheyenne."
The phone went dead.
"Wait! What? Hello, hello? Ludovic!"
Dammit!
"Padme, run a reverse lookup on that number and dial it back."
"Locating."
Lightning crashed again as sheets of rain pummeled the windows. The palm fronds on the trees outside looked as if the wind were at least a hurricane Cat 3. The power inside the house flickered on and off.
"Unverifiable."
Dammit to hell!
I grabbed my cell phone off the charger and called Harris. He was the only person I could trust.
Damn voicemail!
"Harris, call me back as soon as you can. I've been contacted about Kota and Sher. Please call me as soon as you get this!"
I paced back and forth a few moments.
Breathe. Use logic to figure this out. You can do this.
Okay, so what did I know?
Ludovic knew I was home.
I'm not bugged.
He knew my house line.
Dakota and Sheridan are alive.
Dakota yelled out GC 89.
Ludovic hacked into my game.
I grabbed a picture frame of my mother and hugged it to my chest.
THINK!
Who can help me track this guy? I need another hacker.
I swallowed hard and pulled Khaldon's card out of my pocket.
I sure hope he plays video games.
Khaldon answered on the third ring. "Cheyenne, is everything okay?"
"How did you know it was me?"
"I don't give out this number to just anyone."
"No, everything is not okay. I just got a call from Dakota's boyfriend." Khaldon's calm voice pushed me over the edge. "He's the one who kidnapped them. He's holding them hostage."
"Okay. Hold tight. What can I do to help?" His voice was smooth and collected.
"He wants me to play, inside my game, to find a haunted barn where I will find further instructions. I was hoping you could track server side to determine his location. I have less than an hour to find it, or he said he would start sending body parts in the mail."

Don't forget to check out our Monthly Giveaway page to see what else is included in this awesome giveaway!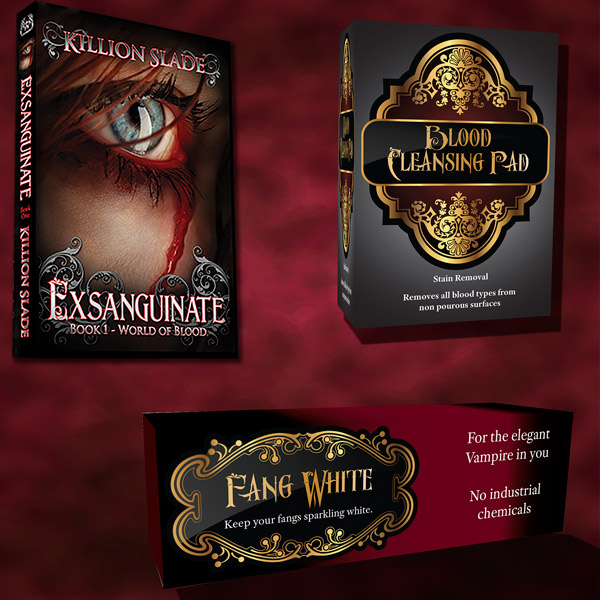 Killion Slade is giving away a signed copy of Exsanguinate as well as a surprise swag pack from the Super Market!
How do you feel about mixing a little horror with your romance?