Title: Rev
Author: JC Emery
Series: Bayonet Scars
Published by: Left Break Press
Date published: May 18, 2014
Genres: Contemporary, Mystery
Book Length: 360 pages
Steam Rating: Risque
Main Characters: Grady & Holly
Buy on Amazon
"Grady and Holly's story is an emotional roller coaster that part of me wanted to get off of half way through. Don't get me wrong, the book is AMAZING…but every time it seems like things are finally going their way another rock is thrown onto the tracks and that nice, safe, comfy cart you are in gets thrown off track into something dangerous, crazy and plain out terrifying!" ~Becca 

Mature Content Warning: The Bayonet Scars novels are a dark romance series which features graphic sexual content, violence, and foul language that is intended for a mature audience. Each novel features a different couple, though it's not recommended that they be read out of order due to the series story arc.  

Everyone belongs somewhere. Even the misfits. 

With the looming threat from the Mancuso Crime Family, the Forsaken Motorcycle Club is preparing for a war that could destroy them. Grady, the club's Sergeant-at-Arms, knows that love makes you weak, and he has zero interest in adding to his liabilities– especially now. He's already got his teenage daughter who keeps him on his toes and a beef within the club that could fracture his relationship with a fellow brother for good. 

For Holly Mercer, her life is finally getting on track and the last thing she wants is trouble from her hometown's resident outlaws. Keeping her nose clean is easier said than done, when suddenly she finds herself embroiled in club business. Holly might like the idea of being with a real-life bad boy, but even being in the same room with tough-as-nails Grady flusters her. 

When Holly inadvertently finds herself on Mancuso's radar, she has two choices: trust that Grady will protect her, or continue to refuse the club's help. Both roads are dangerous, but only one has the chance to damage her beyond repair. 

Love is never more dangerous than when it can destroy you. 

COMING SOON by BreathlessInk!

OMG they just keep getting better! No seriously…Rev is INSANE! It's hard to decide for sure…but I think this may be my favorite so far!
Rev follows Grady, the Sargent at Arms, basically the guy everyone is terrified of who keeps everyone else in line, who has always come across as the biggest and baddest of them all when it comes to these Forsaken men. As far as anyone was concerned Grady didn't have a soft side and never will…
When Holly Mercer, niece of the town sheriff, moves home and gets a job at Cheyenne's, Grady's daughter, school all hell breaks loose. Holly is sassy, mouthy, and strong…yet she still has her weaknesses and is smart enough to know that.
So…let's talk story line a bit.
On her first day at her new job at the high school, Holly is handed Cheyenne's folder and told that if she can't get the dad to sign a paper she will be expelled. Cheyenne is a handful, but Holly knows that she is not a bad kid. Holly is smart enough to see that something is going on. When she struggles for months on end to get Mr. Grady to talk to her and sign the form with no luck, she finally gives in and goes by the house. She never expected to find a biker and yet she still manages to stand up to him and fight for what she feels is right for Cheyenne.
Grady never expected the annoying woman that kept bugging him on the phone to show up at his house. I mean seriously, who would be stupid enough to confront HIM of all people? This lady has another thing coming if she thinks she can bully Cheyenne.
Needless to say, their encounter wasn't pleasant and both pretty much never want to set eyes on the other again…well other than the fact that they find one another irresistible looks wise. Wouldn't life be so much easier if the assholes weren't so hot?? lol
Again, Rev goes back over a few things that we have already seen happen in the previous books, giving us yet another perspective to see it from. I really enjoy the fact that the books overlap a bit and we get background information on people from a different POV. While all of the main men, I so can't call them heros…sorry, are total asshats…they are strong, strict, and caring in their own weird way. Getting a better look into Grady was amazing. Unlike most of the guys, he is actually sort of sweet…in a rough and tumble biker kind of way.
The story line is intriguing, captivating and realistic. JC writes in such a way that you can't help but feel like you are a part of the story…you are experiencing what they are experiencing…which isn't always a good thing! The situations that Holly and Mindy are forced to deal with him Rev…just DAMN!
So much happens in this book that I just can't mention without spoiling it all. Trust me when I say that this is a raw and emotional book. If you thought some parts in the past two books were difficult to read…just wow. I'm not sure how JC managed to write one scene towards the end of Rev. It was horrible to read, but necessary for the story. I will say this much as a warning: If you have a trigger about major violence or rape…there is an extremely brutal and graphic rape scene near the end of the book. Having had the not so pleasure of dealing with rape and abuse in my life, I can say that this scene was a toughie. I read it…I cried…by the end I was trembling so hard I could barely hold my Kindle….I had trouble sleeping afterwards…I had flashbacks…PLEASE if you have a history of rape and aren't sure if you can handle this part of the book…you will know when it's coming…just skip over it! Part of me wishes I had. Even though my experiences weren't anywhere near this…it was enough to bring things to the surface.
Relationships?
Rev is pretty much all about relationships! For once we have a book that even has a bit of romance! 
Seeing Grady and Cheyenne together brings about a totally different side to a Forsaken. So far, we have only seen the single guys and their interactions with the Lost Girls. Grady is not a young man…he is a grown father…he has responsibilities outside of the club. The relationship that Grady and Cheyenne share is so real and emotional that I couldn't help but fall for him! Any man that treats his daughter with the level of love and respect that Grady shows Cheyenne can't be all bad. I thought it was sort of cute when Cheyenne tries to help Holly and Grady "bump" into one another

Grady and Holly's relationship is totally different than Ryan and Alex or Duke and Nic. Why? Well it's simple, Holly isn't from their world. She has no idea what to expect from being with a Forsaken…and the little she does know she isn't sure she likes. Unfortunately, she doesn't have much of a choice about being around Grady…and if she is around him she is definitely going to want him. The sexual tension between these two is electric! Unlike the last two books, we don't get sex early on in the book…heck we don't even get a kiss between these two until a little after half-way through! Grady and Holly's story is an emotional roller coaster that part of me wanted to get off of half way through. Don't get me wrong, the book is AMAZING…but every time it seems like things are finally going their way another rock is thrown onto the tracks and that nice, safe, comfy cart you are in gets thrown off track into something dangerous, crazy and plain out terrifying!
In the end, this book is epic. It is beautifully written and brings the reader into the story flawlessly. The romance/chemistry flowed well and was never dull to read. The action was insane to the point of being difficult to read at times. For the first time in a Bayonet Scars book I feel like Grady and Ian truly were heros. They stepped up and stopped being so crass in order to support Holly and Mindy. I can honestly say that I am foaming at the mouth to get my hands on Ian's story as well as Cheyenne's!
I'm still struggling to accept all of the Epilogues in the books. It bothers me for some reason that they jump so far ahead and yet some things that I feel should have been solved by then aren't and things that I want to be brought up aren't. But hey…that's just me. The Epilogues definitely add another level to the depth these stories reach and I love that they are there…I guess I just wish there wasn't such a huge jump between…I feel like we are missing so much!
Check out the other books in the series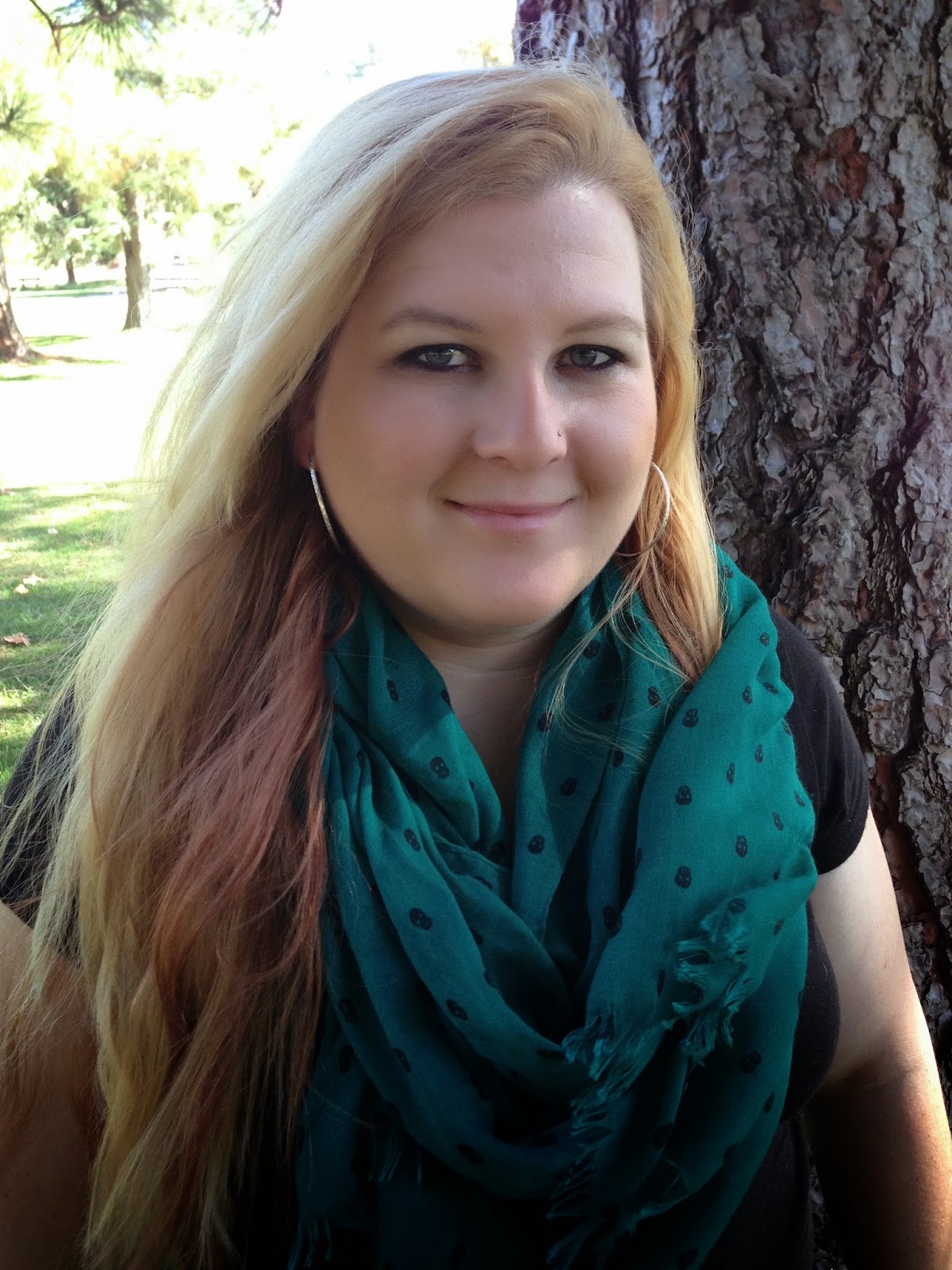 As a child, JC was fascinated by things that went bump in the night. As they say, some things never change. Now, as an adult, she divides her time between the sexy law men, mythical creatures, and kick-ass heroines that live inside her head and pursuing her bachelor's degree in English. JC is a San Francisco Bay Area native, but has also called both Texas and Louisiana home. These days she rocks her flip flops year round in Northern California and can't imagine a climate more beautiful.
JC writes adult, new adult, and young adult fiction. She dabbles in many different genres including science fiction, horror, chick lit, and murder mysteries, yet she is most enthralled by supernatural stories– and everything has at least a splash of romance.
Find JC Emery on the web…
Website     Twitter     Facebook     GoodReads
Could you step into the world of a biker gang after living a 100% normal life?