Title: Country Heaven
Author: Vicki Green
Series: Country Love
Published by: Indie
Date published: Dec. 9, 2014
Genres: Contemporary
Book Length: 269 pages
Steam Rating: Steamy
Main Characters: Mephis & Sadie
Buy on Amazon
"The romance flows beautifully, there is a touch of angst and mystery…and even a bit of danger! Trust me when I say that between the masterful romance and the epic story…there isn't a dull moment to be found!" ~Becca

Heaven is in the eyes of the beholder,
To help others see that beauty,
Makes the heavens open its loving arms
Memphis Johnson loves his Montana ranch. It is something he has worked hard for all his life. When his Pa died, he swore he would give back by helping others see the beauty in the land, as Pa did for him. But with that can come trouble and even heartache. One misfortunate girl begins a different kind of hard work for Memphis. He tries to help her learn the ropes and tame her wild ways. His heart opens too wide for her, and he finds he has to change tactics fast or lose her.
Sadie Tisdale is your typical 'city girl', with the latest fashions and a wealthy father who gives her anything she asks for. She loves to party, hang out with the wrong people and doesn't have a care in the world until one night… After being arrested, again, her father has had enough of her wild ways and decides to teach her a lesson. A lesson which could cost her the love of her father and the money she is supposed to receive on her twenty first birthday if she doesn't comply.
Spoiled city girls don't mix with country. Will Sadie learn there is more to life than staying out all night and having sex with a different guy each time? Can she calm her wild ways or will she run?
*This is intended for 18+ readers

This was my first Vicki Green book…and I honestly didn't know what to expect! When I ran across Country Heaven I was instantly hooked by not only the amazing cover but the blurb!
The blurb built up this amazing story line filled with super addictive characters…needless to say with this being a new to me author…I was nervous!
Guess what…
There was DEFINITELY no need for me to be nervous!
This book ROCKED MY SOCKS OFF!
I absolutely adore Vicki's writing style. The way that she spins a world and the characters within it is just so real and raw that I felt it…I mean REALLY felt it! I was crying, begging, laughing, panting, crying again (happy and sad of course), screaming and ready to hit something! This book had me on edge and ready for more! Country Heaven was everything that I could have ever asked for and more!

The way that Vicki developed her characters left me with such a deep understanding and connection to them that I honestly felt like I was there!
Memphis…just damn! This man is one sexy country boy (and Justin Keeton definitely fits the part for the cover! If you aren't already following his page head on over and do so now…trust me! You will be drooling quickly!!) with his head on straight. He is a hard working, caring man that knows what he wants and yet can't figure out what is missing in his life. 
Sadie is the epitome of 'city girl' in the beginning of this book. She is a smart ass with a mouth that never stops. Honestly…I didn't think I was going to care for her much at all…but I quickly found that beneath that tough girl appearance was a woman that was scared and lonely. I adored watching her character grow and change throughout the book…well done Vicki!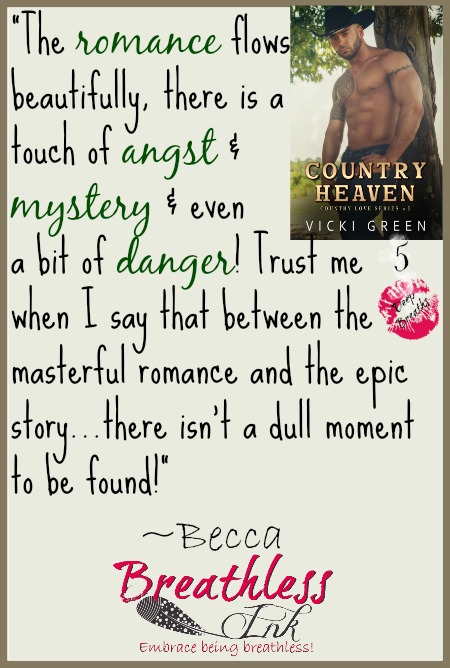 The romance flows beautifully, there is a touch of angst and mystery…and even a bit of danger! Trust me when I say that between the masterful romance and the epic story…there isn't a dull moment to be found!
This is definitely one that you will want to head on over to Amazon and one-click NOW!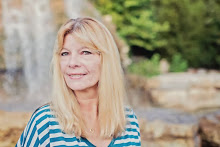 Vicki Green grew up in Overland Park, Kansas and currently resides in Olathe, Kansas. Along with her husband and two teenage boys, she shares her home with her cocker spaniel's Shadow and Mocha. She has been working full time at the same Company for 35 years. Her life has been filled with the most loving and caring parents, who are both gone now but are still in her heart and mind daily. Vicki enjoys reading Romance books which is what inspired her to begin writing this book. She has always admired Author's dedication and hard work. She had a dream that played out for over a year, came home one day after work and decided to put it on a word document to see how it read and that became 'My Savior Forever', the beginning of her Forever Series.
Do you love a good country boy? Or are you more of a city person?