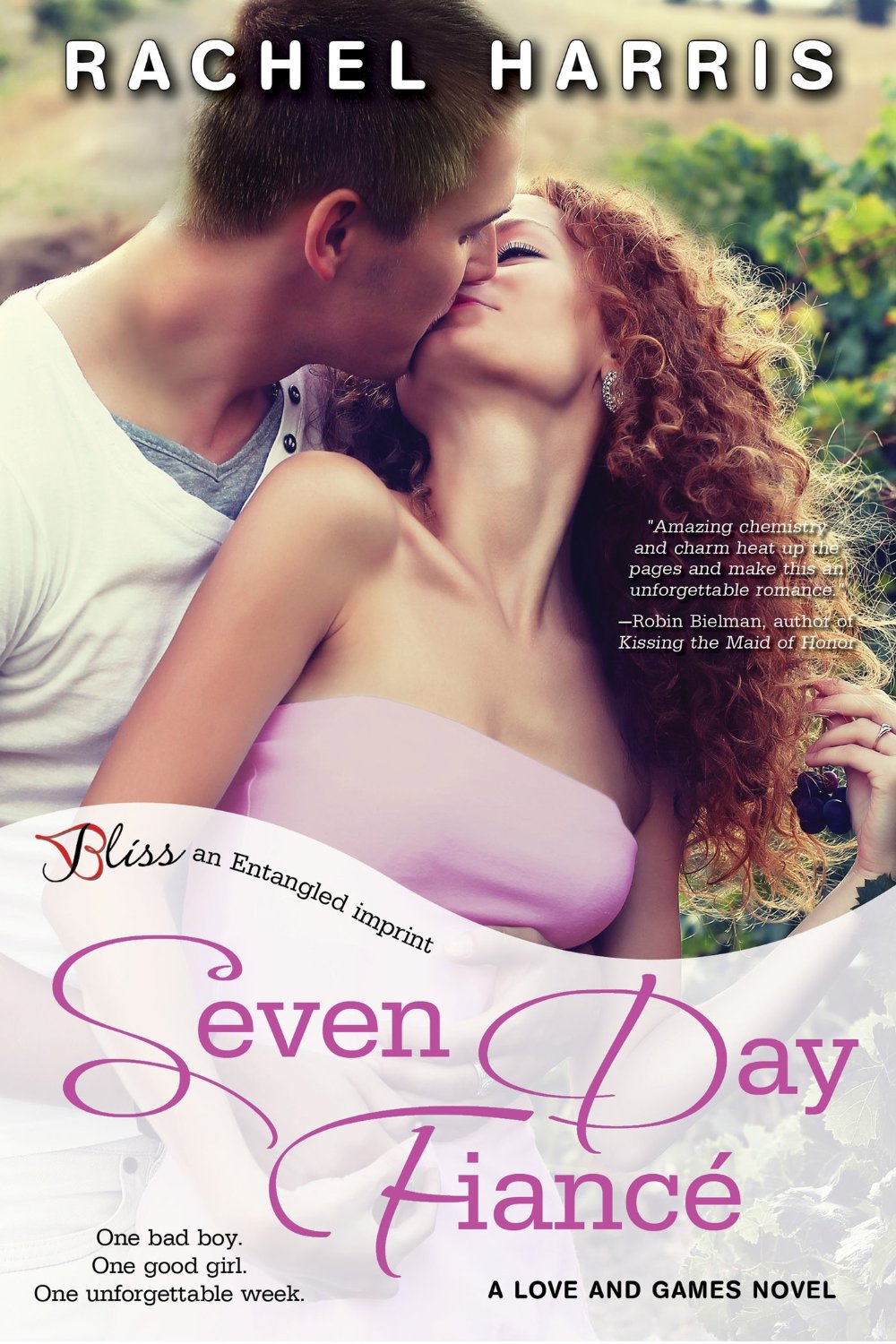 Title: Seven Day Fiancé
Author: Rachel Harris

Series: Love & Games
Published by: Entangled: Bliss
Date published: Oct. 14, 2013
Genres: Contemporary Romance, Romantic Comdey
Book Length: 211 pages
Steam Rating: Sweet/Steamy
Main Characters: Cane Robicheaux & Angelle Prejean
Buy on Amazon
"Seven Day Fiance is a super sweet and yet a teeennyy bit steamy! The things that Rachel Harris manages to put into your mind while the characters stay behind closed doors is incredible! I was very quickly sucked into Cane and Angelle's story of a Cajun Princess and a sexy playboy with a bad reputation." ~Becca

One bad boy. One good girl. One unforgettable week.
Angelle Prejean is in a pickle. Her family is expecting her to come home with a fiancé–a fiancé who doesn't exist. Well, he exists, but he definitely has no idea Angelle told her mama they were engaged. Tattooed, muscled, and hotter than sin, Cane can reduce Angelle to a hot mess with one look–and leave her heart a mess if she falls for him. But when she ends up winning him at a charity bachelor auction, she knows just how to solve her fiancé problem.
Cane Robicheaux is no one's prince. He doesn't do relationships and he doesn't fall in love. When sweet, sultry-voiced Angelle propositions him, he hopes their little fiancé game can finally get her out of his head. He doesn't expect her to break through all his barriers. But even as Angelle burrows deeper into his heart, he knows once their seven days are up, so is their ruse.

Well, I may quite possibly have read these books in one whacked out order…but they did not change how amazing they are! Luckily, each of the 3 Love & Games books can be read as a stand alone



Seven Day Fiance is a super sweet and yet a teeennyy bit steamy! The things that Rachel Harris manages to put into your mind while the characters stay behind closed doors is incredible! I was very quickly sucked into Cane and Angelle's story of a Cajun Princess and a sexy playboy with a bad reputation. When these two are pushed together by some pretty interesting circumstances (Mmmm, I may never view a Santa hat the same way again!), a romance like no other blooms and all hell breaks loose!

I think what I loved most about this story was the glances into their pasts. Both Cane and Angelle are scarred from past experiences and it was wonderful to watch them come out of their "shell" and share their deepest moments with one another. Rachel Harris managed to show readers that no one has a perfect past but that doesn't mean you have to let it make you a different person than you want to be. While the best friend's hot brother fantasy has been done before, Rachel Harris made it unique, fun and an all out wonderful romance!

Alright, enough rambling…what about the characters? Let's start with Cane, he is the sexy, tattooed bartended/business owner playboy. He has had an itch to scratch when it comes to the beautiful red head for months, but she just won't give him the time of day. While Cane is all of those things, he also has a side that he keeps to himself, a side that most people will never know about! Angelle is a sweet, loyal, clumsy, cajun girl that is determined to ignore her attraction for her best friend's brother and NOT become just another notch on his bedpost.

Angelle has quite a few secrets of her own, one of which is pretty freaking major! I still can't believe she waited that long to tell him!! Anyways, no spoilers I know!

Somehow over the course of 7 days (duh…title!) that Cane and Angelle spend together they manage to find a deeper connection to one another than they ever thought possible. Angelle finds that there is more to the playboy than meets the eye and Cane finds that Angelle makes him want to forget about his past and take a chance. The chemistry between these two is unforgettable! Just wow! For a closed door romance there is quite a bit of STEAM to be had! I often found myself blushing while reading this book…and that is definitely saying something! This was a total SWOON ROMANCE for me! 

This book has amazing characters, steamy romance that flows PERFECTLY, a story line that draws you in and won't let go, and an ending that will have you in tears! Trust me when I say that if you are looking for a book that will make you grin like an idiot while blushing and hoping no one is reading over your shoulder…this is definitely the book for you!
Check out the other books in the series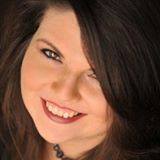 Award-winning and best-selling author Rachel Harris writes humorous love stories about sassy girls next door and the hot guys that make them swoon. Emotion, vibrant settings, and strong relationships are a staple in each of her books…and kissing. Lots of kissing.
An admitted Diet Mountain Dew addict and homeschool mom, she gets through each day by laughing at herself, hugging her kids, and watching way too much Food Network with her husband. She writes young adult, new adult, and adult romance, and LOVES talking with readers.
Website     Facebook     Twitter     Tumblr     GoodReads     Instagram
Be sure to comment below to let us know your favorite parts and as always show us some love and SHARE,  SHARE, SHARE!