Title: Unavoidable Chance
Author: Annalisa Nicole
Series: Running Into Love
Published by: INDIE
Date published: Jan. 13, 2015
Genres: Contemporary
Book Length: 204 pages
Steam Rating: Steamy
Main Characters: Ava & Jax
Buy on Amazon
"There are a ton of twists and turns along the way to Jax and Lana's HEA and each one left me grabbing for my tissue box!" ~Becca

Ava Wellington is a busy, prestigious Seattle lawyer with her sights firmly set on her goals. She's precise and calculated to a fault and doesn't have time in her career for relationships, especially with a man like Jax. Neither he nor what comes with him were ever part of her plan.
Jaxon Landry is ex-military, turned chef of his own thriving restaurant and the best single dad he knows how to be. He lives and breathes for the happiness of his two little girls. For the past two years he's lived in a dreary world of regret, loss, and disappointment. That is until he meets Ava. He never thought he'd see color again in his dreams, much less in a woman.
Can Jax show Ava that she is more than checklists and goals?
Can Ava keep her promise even when she's handed the golden opportunity to her ultimate goal. Will she risk love over her career?
Family is a feeling, not a definition. There are no words for it. It's a feeling in your gut, in your heart, and in your soul.
There's nothing you can do to stop true love, it's unavoidable.

The Wellington family has hooked me in so many ways. This series is simply to die for! The characters are well developed (we even get to revisit each of them a little bit in each book, which rocks) and so realistic that I'm pretty sure Annalisa found this family somewhere and is totally just writing what she sees hehe
Unavoidable Chance is an epic love story. This book is a major tear jerker and absolutely a swoon worthy story.
I won't say that this is my fave in the series…because I think Max and Chloe's story is still winning that one. But Unavoidable Chance was a wonderful read. 
Jax is so damn sexy that I could barely control the drool! He is so sweet and the whole dad side of things just added to his sex appeal. 
Ava is just as single minded in this book as she has been in all of the others. She is dead set on reaching her work goal and nothing will get in her way. Even when she makes a promise to slow down a bit she doesn't seem to be able to manage it.
The story line is interesting and definitely keeps you guessing. There are a ton of twists and turns along the way to Jax and Lana's HEA and each one left me grabbing for my tissue box! This is one book that will definitely take you on that emotional roller coaster!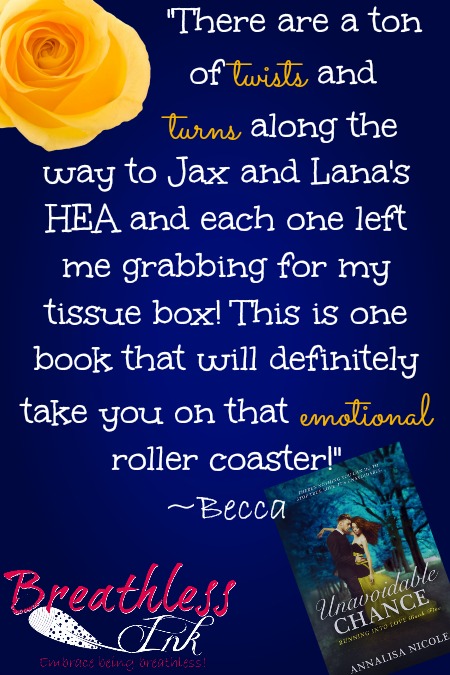 I have to say that I still love the "running into love" aspect of this series. In Unavoidable Chance they literally run into each other not once, not twice, but three times! It's epic!
I was a little amazed by how quickly things escalated. I'm not sure I would have been cool with how their first sexy scene happened. I mean…he never really said anything…it just happened out of no where. Oh well…even with that amazingly sudden sex scene, the romance flows really well and feels right.
Annalisa Nicole has such a natural writing style. I absolutely love reading her books and this one was no different. The little snippet we get into Aiden and Savvy's story has me already ready to get on my knees and BEG for her to give it to me! I HAVE to know what happens!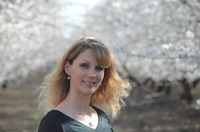 I am an "Indie" contemporary romance author. I live in California with my husband and two teenage boys. I love being a stay at home mom. My husband and I enjoy wine tasting and camping with our kids with our four wheelers in the middle of nowhere, where you can find me with my pink Ryder BB gun! We have a handful of pets, a dog named Lucy (who is in my books) and a guinea pig named Flufy (my son spelled her name that way) and a cat who adopted us many years ago and has never left. She is a spoiled outdoor cat with her own two story house and a heated bed.
I never liked reading as a kid. I only started reading romance novels in the past few years. My Kindle and I are inseparable now. A thought occurred to me in December of 2012 that maybe I could write a romance novel. So I went to work with the encouragement of my husband and my sister-in-law. It didn't take long to figure out that I really enjoyed writing.
Today I am a self published author and it has been an amazing journey.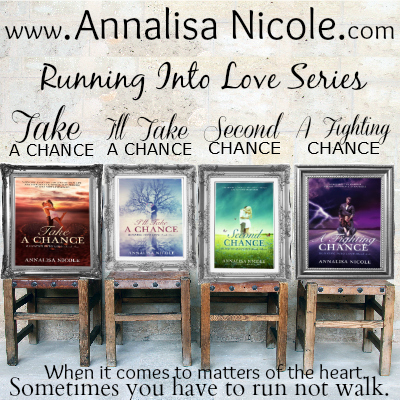 Are you a work-a-holic? Could you stop for love?